During the 2015 WWDC keynote, Apple released plenty of information regarding the future of their desktop operating system. In case you like to follow news regarding Apple's OSX and iOS platforms, then you have probably already heard about El Capitan, the upcoming twelfth major release of OSX. The company already told us about some of the highlights in terms of new features, but since everyone can take a part in testing this operating system before it officially appears in the Mac App Store, we decided to take it for a test and bring you an overview of the most exciting features.
El Capitan was named after a rock formation in Yosemite National Park, which was the name of the previous major OSX release. There are many Apple fans discussing the logic behind this decision, saying that OSX El Capitan simply brings enhancements and refinements to the previous OSX version, which is actually true. However, the newest OSX version will surely change the way you interact with your Mac by creating more flexible environment, where you can choose between several different ways of getting things done. Without further ado, it is time for us to give you a more in-depth overview of OSX's future.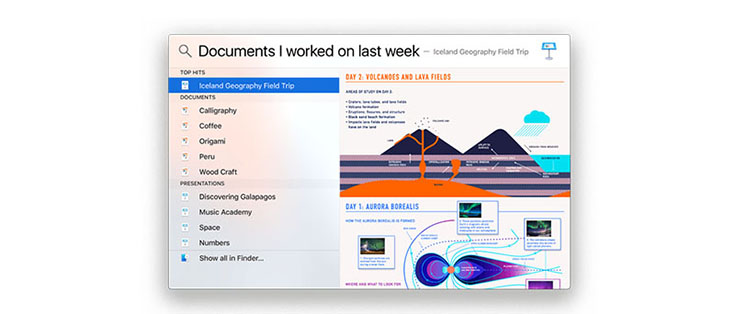 Spotlight Enhancements
Spotlight is OSX's tool that is used for finding files on your computer. During the last couple of years, we have seen Apple's efforts in creating the ultimate search engine, which resulted in several new additions.
Perhaps the most interesting new feature is ability to use "natural language input" in order to get very specific (and accurate) results. Yosemite connected Spotlight to the Internet, making it more powerful and more helpful than before. With OSX El Capitan, now you can ask something like "Documents I worked on last week", or even "Email from Harrison in April", and you can be sure that Spotlight will find the exact file you're searching for. You can also search for something on the Web, like weather information, sports scores, athlete information, and similar. I am sure this will be a direct hit to Google, since even after ten days of using the latest El Capitan beta, I can't even think of returning to Google to search for something.
There is also another tiny, but very important Spotlight change. Instead of being fixed to the middle of the screen, Spotlight can be now moved around the screen.
Safari Enhancements
Safari has been my number one web browser for many years now, and I appreciated it even more after returning from my PC where I tried Firefox and Chrome. Even though many can tell you that you can do much more with Chrome, Safari brings unprecedented ease of use, amazingly designed UI, and top of the line OS integration.
With OSX El Capitan, Safari will get a couple of interesting additions. You will be able to pin your favorite websites, where you can see a website's icon right under the address bar. I am sure we all have at least a couple of websites that we visit on a daily basis, so this is kind of a better way than RSS to stay on top of the last information.
Safari can also help you mute website that play videos and music automatically, which is not a major feature, but it can be very helpful at times.
El Capitan's Exposé
In case you've been using OSX for a couple of years now, and if you went through a couple of OS upgrades, you might remember now the older Exposé worked. I was really excited to learn that the older Exposé is coming back, but combined with the Mission Control view.
In Yosemite, when you press F3, you can see all you documents and windows gathered together, overlapping. The new Exposé will let you see minimized views, so you can see all of the documents that are currently open. You can also drag any windows to the top of your screen, and create a new virtual desktop.
Split View
In addition to the more capable Mission Control, OSX El Capitan introduces another way to handle your screen's real estate. Now you can have two applications (or windows) opened at once, where you can drag one of those towards the left or right edge of the screen, until you see a green window resize icon. This will activate the new Split View that fills the screen with two apps at once.
This is something that Windows users have been able of doing for quite some time, and this is actually one of those things that I missed when I switch to my Mac from a Windows-powered machine. What I would like to highlight here is ability to choose the amount of space given to each app, which currently works much better than on Windows 8.1.
 
New Notes App
I have never been a big fan of OSX's Stickies, even though I now that many people love having these pieces of paper on their screens. It seems like Apple finally decided to bring note taking up a new level by upgrading the Notes app, both on iOS and OSX.
Using the Notes app, now you can add clipping and checklists, and the good news is that the app finally abandons IMAP syncing in favor of iCloud. This way you can easily send data like photos, videos, URLs, or a map between your phone and computer. The app supports the new Attachments Browser, where you can see all the attachments you've added in one place.
It is important to say that you can expect numerous newly introduced smaller features and enhancements once OSX El Capitan finally reaches the Mac App Store. We told you about five of the most useful ones that we see ourselves using on a daily basis. It's good to see that Apple is taking time to improve their OSX by paying attention to even to the smallest of apps, in addition to improving their performance. The good news is also that Metal will be available on OSX El Capitan, giving a performance boost to applications, desktop-grade software, and games alike. We will surely be looking forward to the next OSX version, coming this fall.
[ad name="Google rechthoek"]