In 2003, Apple launched the iTunes Store, which managed to bring billions of dollars in revenue. Aside from that, the iTunes Store worked well with then-popular iPods, but continued expansion to iPhones and iPads, in addition to OSX and Windows computers. Even though Apple made a statement two years ago that the store had sold 25 billion songs worldwide, it was soon clear that the real threat comes from companies that are offering music streaming.
According to the Wall Street Journal, music sales at the iTunes Store have fallen 13% to 14% world-wide during the last year, making it clear that the Apple's digital music store is losing the battle against streaming media. This is the main reason why Apple bought the subscription streaming music service, called Beats Music, as part of its $3 billion acquisition of the headphone maker Beats Electronics. Starting this morning, we can finally see one of the end products of this decision, since Apple finally launched its newest streaming service and joined the race against services like Spotify, Google Play Music, Rdio, and many others.
If you have questions about Apple Music, or if some of its aspects confuse you, you are in the right place. This article will try to explain all about Apple's new streaming service, as well as how it works, how you can join, what to expect, and how much it costs. Continue reading to learn more.
What is Apple Music?
Apple Music is a subscription-based music streaming service that comes with global radio programming and social media features that allow you to stay in touch with your favorite artists. Differently from the iTunes Store, where you can purchase albums and tracks, and actually own them, you pay $10 per month to "borrow" more than 30 million songs from this service. This means that you can stream music and even download tracks for offline listening, making Apple Music a much better alternative to the iTunes Store (at least when it comes to music).
Can I use Apple Music right now?
Starting today (June 30th), you can access Apple Music using your iPhone, iPad, iPod Touch, Mac, and PC. For the app to appear on your iOS device, you will need to update the operating system. You can do this from the Setting app, where you'll see the newest iOS update ready to be downloaded and installed.
When it comes to OSX and Windows computers, you will need to update your iTunes to the newest version.
Apple Music is going to be available on Android smartphones and the Apple TV sometimes during this fall.
What can I expect from Apple Music? What kind of features will be available?
Apple is trying to differentiate its music streaming service by offering a set of features that can't be found on the most popular rival services. The app comes with five tools to enjoy in your music, and they can accessed from the bottom-positioned toolbar within the app. These are: For You, New, Radio, Connect, and My Music.
The first section, called "For You" is where you can find curated playlists based on your input. During the initial launch of the app, you will be able to select artists that you like to listen to, as well as your favorite genres. The app comes with an algorithm that suggests tracks and artists that you might like based on your preferences. In contrast to this, the "New" section is where you can find music based on recommendations by more than 300 curators that work at Apple. This section isn't tied to your own preferences, so instead it gives you a page where you can find highlighted artists and albums. This section is actually quite crowded with all kinds of playlists, music videos, top tracks, as well as playlists based on genres and activities (like dancing, working out, cooking, etc.).
[ad name="Google rechthoek"]
Apple Music will let you listen to a new type of radio station, called Beats 1. This radio station broadcasts from three studios, based in Los Angeles, New York, and London. This is not just about playlists, but instead the Beats 1 features radio shows, interviews, guest hosts, and much more. Apple has hired three music curators that are in charge of the radio station, and the good news is that you can tune in even if you decide not to pay the subscription price (it's free of charge).
The Connect section will allow artists to post information, as well as photos and videos that you can follow. It works like a social network. In order to keep track of your favorite artists, you will need to follow their social page. This is not the first attempt that Apple made in terms of building a music-focused social network, but it seems that this one might actually work. This is not a typical social network, but instead a way to stay on top of the latest information from your favorite artists.
My Music is where you can combine tracks that you own with those that are "borrowed" from Apple Music. In case you're a user of Apple's $25-a-year iTunes Match, this is where you'll be able to see your library. In other words, even if you don't subscribe to Apple Music, you can use the "My Music" tab to play your locally-stored tracks and access your iTunes Match cloud library. In comparison to the previous Music app, things work very similarly, but now you'll need to take a few extra steps to access your music.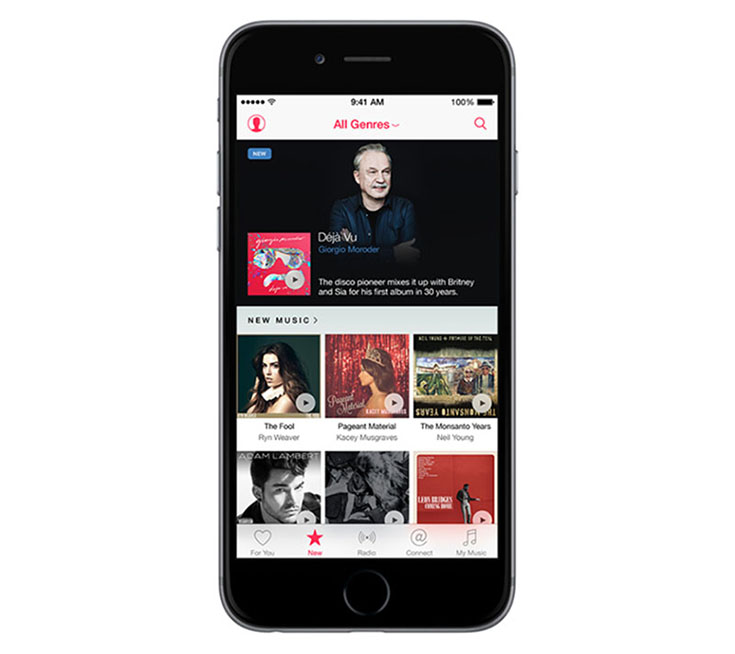 What about music quality?
In contrast to Spotify and Beats Music, which use a 320kbps bitrate, Apple Music will stream songs at 256kbps. Even though this seems like a drop in quality, you probably won't even notice it. In addition, the service won't be as hard on your data plan.
How much does Apple Music cost?
You can choose from two subscription models. You can pay $9.99 a month for an individual plan, or you can choose a family subscription that is priced at $14.99. The family subscription requires iCloud Family Sharing and can be used up to six individuals.
You can try Apple Music for up to three months, free of charge. However, there's no free or add-supported version. If you decide not to join, you will be still able to listen to the Beat 1 station and follow artists on Connect.