Based on the latest research data from Gartner and IDC, Apple's market share continued to grow while most leading Windows PC makers suffered setbacks.
Apple's total PC market share grew to 7.4 percent in the first quarter of 2016, up from 6.7 percent in the same period a year ago. However, the company's total sales actually fell 2.1 percent to under 4.5 million units.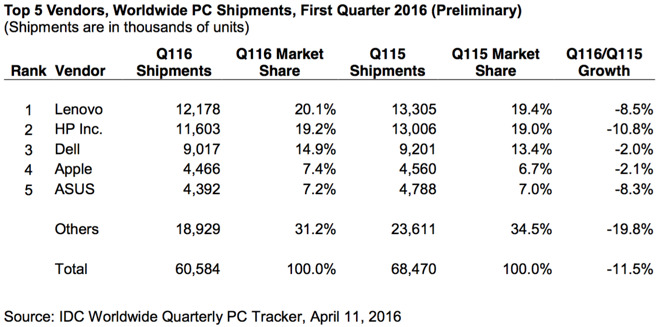 Interestingly enough, Lenovo is still in the first place with 8.5 percent year over year. This PC maker managed to sell 12.5 million units. HP comes in second with 11.6 million units sold. Dell takes the third place with 9 million units sold.
If we take a look at the United States, Apple comes in fourth place with a 13 percent share, and with 1.77 million units sold. In comparison to a year before, it could be seen that Apple's market share is up by 5.6 percent. In the same time-frame, PC sales were down 5.8 percent. This means that Apple is slowly taking over the PC market, even though this won't happen in the next couple of years.
Globally, the computer industry has been in decline for a number of years now. In 2015, global shipments fell below 2008 levels – with about 300 million units shipped.