According to a study published in a post on the AppFigures blog, Apple TV App Store now features over 2600 apps, with an average of 447 new apps coming each week. 
The study showed rapid and steady growth in apps available on the new tvOS platform, with a total of 2624 apps currently available for download. What is not surprising is that majority of available apps are games, accounting for 38 percent of all available applications. The second place goes to the Entertainment category, while the third place goes to the Education.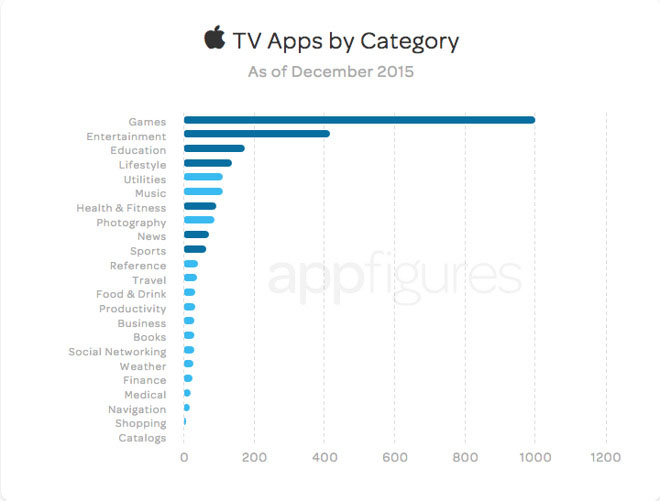 Interestingly enough, even though games are in majority of available apps on the Apple TV App Store, the numbers are different when it comes to the most downloaded apps. Entertainment applications lead the way in terms of downloads, with games coming in second. The third place goes to the News category. When it comes to the top 50 apps, 28 of them comes from the Entertainment category, while only 8 of them are games.
There is also another important aspect which differentiates this App Store in comparison to the iOS App Store. The majority of developers are choosing to charge for their apps, as opposed to the freemium model that dominates the iOS App Store. The developers seem to be charging smaller amounts of $2.99 and less, although prices go as high as $59.99.