Regardless if you wanted to buy a new smartwatch or not, it is safe to say that you were well-aware when the original Apple Watch came out. This is not only because of numerous rumors about Apple working on a new smartwatch but also because of the company's massive marketing campaign.
However, many of us believed that the Apple Watch will be a true fitness device. Still, the company made sure to push the Watch's non-fitness features as the main reason to buy it. These productivity features seemed interesting and certainly more capable than what we've seen previously with similar devices, but they were not enough to convince consumers why they actually need them. Even today, the Watch heavily depends on another iOS device for its full functionality.
Since the second-generation Apple Watch was recently announced and released to potential buyers, we can see that Apple tried with a different and a more thought-out approach. With the Apple Watch Series 2, the company has finally decided to embrace fitness by adding a built-in GPS, water-resistant design, and swim tracking abilities. The new operating system, called watchOS 3, adds on to these fitness features and fine-tunes some of the Watch's characteristics. Let's take a deeper look at what the Watch Series 2 offers.
Design & New Features
Not a whole lot has changed about the Apple Watch Series 2 and its external design. Even though the new Watch is a hair thicker and heavier because of the new built-in GPS, you likely won't notice this. In fact, if we place the first- and second-generation Watch side-by-side, we can hardly tell them apart. If you're worried about the added weight, you should know that the new Watch feels exactly the same as before, so it's very light and sits nicely on the wrist.
The Series 2 is still a rounded square with impeccable build quality. The crown and the same button are unchanged, as well as the band release buttons on the underside. What is changed is the display. Thanks to Series 2's AMOLED display, the new device features the display that's as twice as bright as the original. You will notice this if you set the brightness to the highest possible level while trying to read something under direct sunlight. On the other hand, this will likely drain the battery, so this is one of those features that many of us even won't notice.
The Series 2 comes in the same 38mm and 42mm cases, and you still get to choose between the aluminum and stainless steel options (starting at $369 and $549). The outrageously expensive gold edition has been discontinued, which could have been expected. Instead, there is a ceramic option available, starting at $1,249.
It is also worth mentioning that the Series 2 features a new fitness-oriented model, called Nike+. This is a standard aluminum model that comes with some Nike perks like a few exclusive watch faces, bold typography, and bright colors. However, you instantly identify this model thanks to its dual-colored and perforated band, which is noticeably different from regular Sports bands. This band should be easier to wear during rigorous workouts, and it allows your skin to breathe. The Series 2 Nike+ model will be available in October, and you won't be able to buy the new band separately. On the other hand, the new Nike+ Run Club will be available for download to any Watch owner.
When it comes to additional bands, this has always been one of the best sides of the Watch. You still get to pick from numerous bands like Sport, nylon, stainless steel, woven, and leather bands. In addition, the Series 2 comes with a new Hermes styles, including the "double buckle cuff". However, these bands can triple the cost of the Series 2 itself, with the final price of up to $1,499.
Workout App
The workout app will definitely be one of the most used apps on the new Series 2 Watch, so naturally, it is one of the most feature-packed. Opening the app will take you to a list of available workouts including hiking, walking, elliptical trainer, stair stepper, and more. There is also a special section that looks unassuming at first, called "Other". This option will let you record your activity, name it and choose from a very large list of exercises including soccer, basketball, and more.
No matter what kind of activity tracking your select, you will always have to set up a goal. This could be time-, distances, or calorie-based. As you begin to train with the Series 2 Watch, the device will try to remember and learn your behavior. This way, you will be able to see your results after a few workouts as well as to pick the same workout with the same goal by simply tapping once. As you are working out and progressing towards your goal, the device will send you a light haptic feedback to your wrist when you hit certain milestones. This could be much-needed motivation to carry on.
What is missing here is the auto-tracking option, which is something that many fitness trackers already have. This could be a problem if you forget to set up the Watch prior to your exercise. However, this is something that you will learn to do every time you want to run to track your walking.
One of the new features is the ability to track swimming. You will now be able to track how you swim and see all of the types of information like with other activities. This includes distance and calories.
Activity & Breathe Apps
The Activity App is yet another highly used app that sums up all your daily activity. This is shown by those recognizable pink, green, and blue circles. They show you much you've moved, how many minutes of exercise you've completed, as well as how many hours during the day you've stood up.
The Watch app shows the basic information, which means that you will have to turn to your iPhone for the full breakdown. This way, each workout will show you in detail your distance, total time, average heart rate, and calories burned. There is also some extra information like average pace, weather conditions, elevation gain, and a map of your route.
There is also another interesting app that comes with watchOS 3 and it's called Breathe. This app can guide you through a few minutes of slow, deep breathing. You will get to choose for how many minutes you'd like to relax and you will see a blue-colored animation that expands and contracts as a guide for you to inhale and exhale. Since the app uses haptic feedback, you can close your eyes and fully immerse yourself into this experience.
Both the Activity and the Breathe apps will send you notification throughout the day to remind you to take a few minutes for yourself.
GPS
Those of you who enjoy outdoor running or cycling will be happy to know that the Watch Series 2 now comes with a built-in GPS. In fact, Apple calls this technology "assisted GPS" since it is a combination of Wi-Fi, GPS, and locally stored satellite ephemeris data.
Once you go out for a run, the Watch will use the accelerometer to track distance and pace when GPS is unavailable. This is how different technologies come together to provide you with a reliable GPS route. These routes are rendered in Apple Maps, and they not only show your route but also how fast you were going. Your route will be divided into colored line segments: green for where you moved quickly, yellow for when you were slow, and red for where you stopped.
It is also worth mentioning that Apple bragged about how fast the GPS is when revealed the Series 2 during this year's September 2 Media Event. Once you start a run using the Workout app, you won't even realize the GPS is working. You will be able to tell this only after the device collection information about the elevation and pace data, and a map of your route.
Water Resistance & Swimming
Aside from the built-in GPS that should help those who like to run outside, walk or hike, the water-resistant design is another major feature of the Watch Series 2. The new Watch can withstand up to 50 meters of water, while new activities are added to the Workout app that reflects this feature.
There is one very interesting fact when it comes to the Watch's water resistance, and that is how Apple tweaked the speaker's design. This was something that was needed to be done since an opening like that one can allow water into the watch. What happens now is that the speaker physically ejects water after you take it out of the water-resistance mode. What this means is that you should activate the water resistance mode, which can be done by swiping up from the bottom of the display, and tapping on the droplet icon. You can also do the same thing by activating a swimming exercise in the Workout app. You should see a small droplet icon in the top portion of the screen, indicating that this mode has been activated. What now happens is that you won't be able to use the touchscreen, but the device can be unlocked by turning the crown until you hear the speaker start to eject water.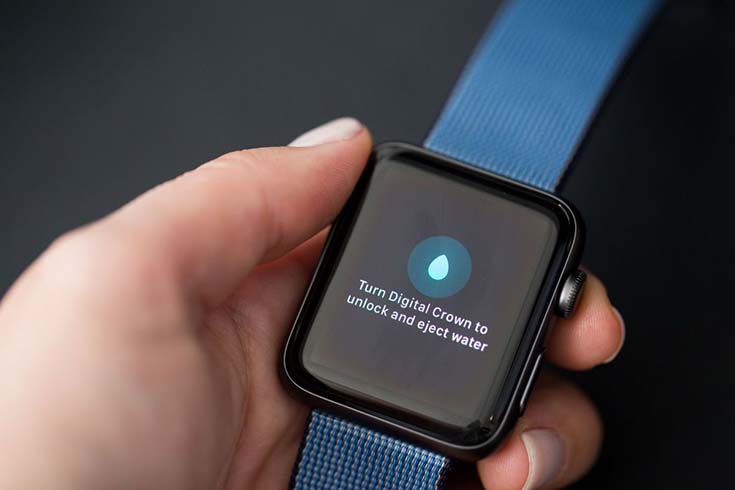 When it comes to the new Workout app and its swimming-related features, you can pick from a pool or open water swimming. The former will let you pick how long your pool is in yards, while the latter will turn on the watch's GPS. Once the app starts tracking you, you will see numerous types of information like time, pace, laps, distance, calories, and heart rate.
Open water swimming is a nearly identical feature as pool swimming, with only one main difference. This mode turns on the GPS to capture and track your location. What's interesting here is that the GPS doesn't work underwater, but instead it automatically grabs your location when you raise your arm out of the water.
Battery Life
The biggest problem is the majority of smartwatches are their battery lives. However, the best models last a whole day, which I guess is acceptable but still means that you have to recharge their overnight. The Series 2 Watch has a slightly larger battery than the original device, allowing it to last up to two days on a single charge.
As you can expect, this greatly depends on how you use the Watch, how many notifications you receive, how much you use the GPS and bright the watch's screen is. According to Apple, you should be able to use the GPS for 30 to 90 minutes per day without seeing a significant battery drain. However, if you heavily depend on this feature, the Series 2 is built to last 5 hours and 15 minutes while using the GPS consistently.
Conclusion
It seems like Apple has made a very smart move with the Apple Watch Series 2 by promoting it as a fitness device with some productivity features. Some of the hardware improvements will benefit those who like to swim as well as run outside, making this watch one of the best activity trackers out there. Just like with other Apple's device, the company didn't actually come up with these features but instead created a completely new experience. This is what makes this device as useful as it is.
Still, the Watch Series 2 is still an optional device. Even those who are very serious about tracking their fitness activities will find it hard to invest $400 in this device, especially when some of the devices like Fitbit Blaze, Samsung Gear Fit 2, or the Microsoft Band are more affordable. On the other hand, none of those devices can match the Watch's intuitive interface and productivity-related features.
In conclusion, the Watch Series 2 is an amazing device and one of the best smartwatches you can currently find on the market. However, it will take some time until Apple finally convinces us that we actually need to use this device to enhance our everyday life. What this means is that the Watch Series 2 will still cater a relatively small niche.