Apple's flagship store at Union Square in San Francisco is now structurally complete as massive movable glass doors are being installed to its front.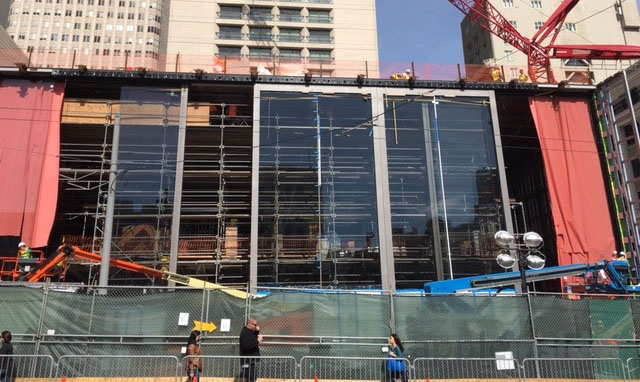 We have been hearing a lot about Apple's flagship store at Union Square, which will replace the company's well-known Apple Store at Stockton and Market Street. The existing flagship store opened in February 2004 and was one of the first "high profile" retail locations as well as an iconic piece of architecture. The store is located about three blocks away from the new construction site and has been obstructed for years with the construction of the Central Subway.
Work on the new flagship store at Union Square began last June when we saw renderings of the future building. The new store is unique because of its giant sliding doors on the front of the building, enabling the San Francisco location to take full advantage of pleasant climate during business hours.
Apple is also busy with other major construction projects nearby in California, which include the new Apple Campus. In addition, an $850M solar farm is also being built in Monterey County which is the project that should provide enough renewable energy to offset electricity used by Apple's new Campus as well as all 52 Apple Store locations in California.