Apple's September Events are one of the most talked-about annual IT events, which are being followed by professionals and consumers as well. By now, we learnt to expect one major announcement per event, along with plenty of smaller announcements. This fall's Apple's September Event was one of the most interesting, as it was one of the most news-packed events. The company delivered news from all fronts, from the significantly refreshed Apple TV, up to a giant iPad. Many were also wondering about the newest iPhone generation, and the company didn't disappoint us with the 6S and the larger 6S Plus.
iPad Pro
For several years now, we have been hearing about some kind of a large iOS tablet, along with numerous 3D concepts and renderings that had been published. As it turns out, these rumors were true. The new iPad Pro has the biggest screen of any iOS device, and it is even bigger than some OSX devices. The most notable feature is its 12.9-inch screen. However, we can also make very interesting observations by looking at the tablet's internal specs. The Pro will have an A9X memory chip, which according to Apple is 1.8X faster than the A8X chip – currently found in the iPad Air 2. The official website also claims that the Pro is faster than 80% of portable PCs that were shipped in the past six month, but I guess we will have to wait on the official release until we see this for ourselves. What is also interesting to mention is that iPad now has four speakers that rebalance the sound based on how you hold it, and there is the 10-hour battery life – which really does sound impressive. I am very curious to see how many hours this tablet will need to be fully recharged.
Styluses and Keyboards
It is a well-known fact that Steve Jobs rejected styluses when the original iPad came out, but it seems like times have changed. This is the first time Apple decided to create their own stylus and make it highly compatible with one of their products. The $99 Apple Pencil is a dedicated iPad Pro stylus that allows precision drawing and can be used simultaneously with a finger. After reviewing a number of iPad-compatible styluses, I can say that there are some very good ones, but I still felt very excited about Apple Pencil due to its incredibly thin tip.
A $169 Smart Keyboard Case is yet another iPad Pro accessory created by Apple. Many are saying that Apple was inspired by Microsoft's Surface, and I believe this to be true. The Smart Keyboard is only 4mm thin, and it is coated in a water- and stain-resistant finish.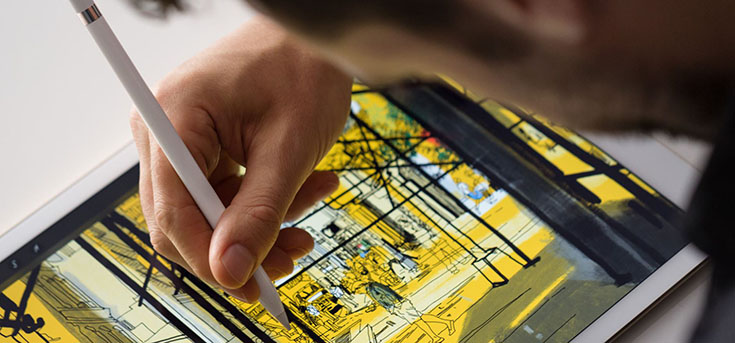 A new Apple TV
Apple has been working very hard these past few years on reinventing one of their not so successful products – the Apple TV. The long overdue Apple TV is finally here, along with numerous innovations and very interesting features.
In its core, the new Apple TV will run a separate OS, called tvOS. One of the most prominent features, along with a completely overhauled UI, is a Universal Search that lets you search across apps like iTunes, Netflix, and Hulu. This input method seems very intuitive and I hope it will work well. Now you can activate Siri from a new remote and ask anything that you want to know, see, control, or open. In addition, we can see that the new Apple TV is being advertised as a gaming console, with games like the new Guitar Hero that were previously only available on consoles.
The new Apple launches in October, at $149 for the 32GB version, and $199 for 64GB. You will still be able to purchase the previous AppleTV, priced at $69.
The newer iPhone 6S/6S Plus
Those who were waiting on the newest iPhone generation will be happy to hear that the new iPhone 6S and 6S Plus are finally arriving. Built from a new, custom aluminum alloy, these phones will be about 10% heavier than the current generation. However, the new aluminum body should be much stronger and sturdier. There's one additional color variant to choose from, so the new phones are going to be available in silver, gold, space grey, and rose gold.
Even though on the outside the new 6S and 6S Plus look pretty much the same as the current iPhone generation, where the 6S will have the same 4.7 inch screen as the iPhone 6, and the 6S Plus will have its 5.5 inch screen – these screens now support a new technology called 3D Touch. In case you own one of the Apple Watch modes, you are already familiar with this input method. 3D Touch will let you learn two new gestures: peek and pop. Peek allows you to preview information, while pop will open contents of apps. It is also interesting to note that new glass displays are also arriving, built on Ion-X, the same display found on the Apple Watch Sport.
Internally, the refreshed iPhones come with a new A9 chip, 70 percent faster than its predecessor. There is also a new 12-inch rear iSight camera, capable of shooting video in 4K, and a 5 megapixel front-facing camera with Retina Flash that is 3x brighter than regular flash.
New payment options
Entry-level iPhones are still starting at 16GB, which also means that we can expect traditional pricing tiers. The 6S is priced from $199 up to $399, while the 6S Plus is priced from $299 to $499 – on a two-year contract. However, Apple is also introducing two new payment options.
Now you can choose to pay for the 6S in installments of $27 per month, or lease an iPhone for $32 per month, which allows you to trade in your phone for a new one every year.
Preorders for the newest iPhone generation have already begun, and general availability will follow on September 26th. The latest version of iOS, called iOS9, will be released in a few days' time – on September 16th.