Buying the right Apple Watch model is not an easy task due to a number of different combinations that Apple is currently offering. Even though these options range from $350 all the way up to $17,000, your options don't have to stop once you get the Apple Watch in your hands. There is a wide range of available Apple Watch accessories made to safeguard your timepiece, or to help you recharge it, or even to completely change its looks.
JustGoodBites has compiled a list of the most attention-grabbing Apple Watch accessories for you to consider. No matter what kind of style you like, you will most definitely find something of interest in the following list.
JustGoodBites' List of The Best Apple Watch Accessories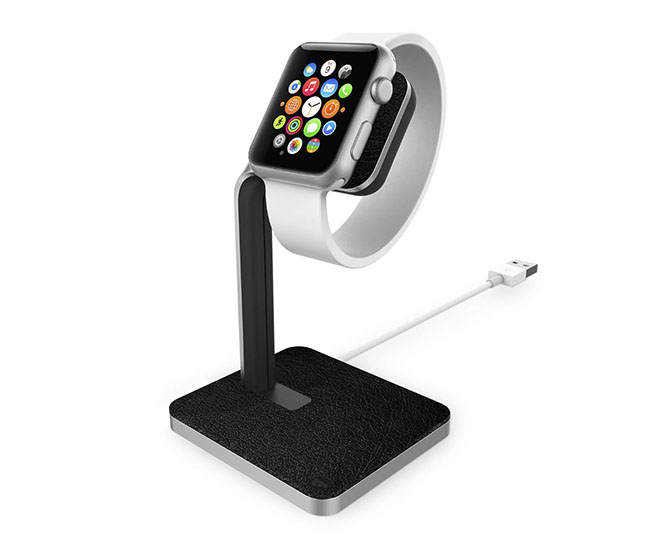 Mophie Dock
If you are looking for a simple and elegant dock for your Apple Watch, look no further than Mophie's Dock.
Priced at $50, this Apple Watch dock comes with a minimalist design that takes care of your charging cable by hiding it out of sight. It comes with a solid aluminum frame, so it's quite sturdy and keeps your Watch properly protected, while the leather accents are what makes this product premium-looking.
Mophie Dock supports any Apple Watch size or strap. The only thing is that you will have to supply your own charging cable.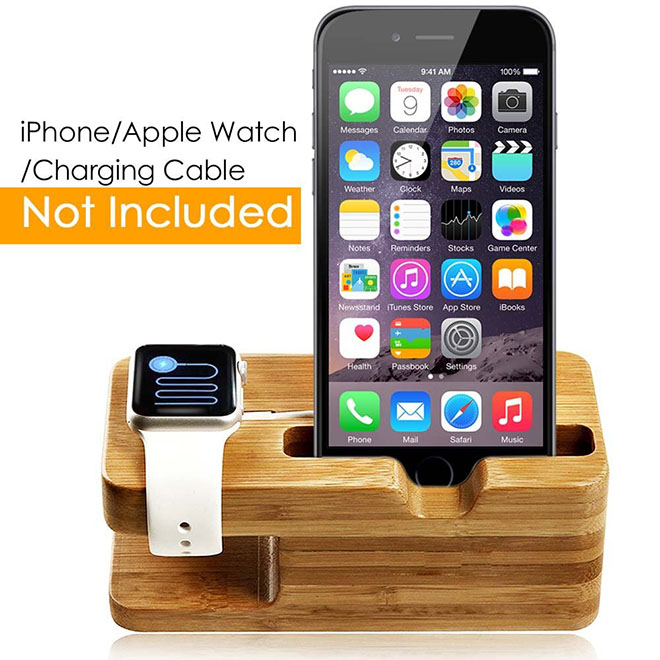 Aerb Bamboo Docking Station
If case you are a fan of natural materials when it comes to Apple Watch accessories, we recommend taking a look at Aerb's Bamboo Docking Station.
As can be seen from the image, this dock takes care of your Apple Watch and iPhone. This is a very simple solution for keeping your two iOS devices charged, which also comes with a very simple installation method. Just like with Mophie's Dock, prepare to supply your own charging cables for the two devices.
The dock is priced at $20, which definitely seems like a good deal. The dock is gentle to your iOS device, so you don't have to afraid of making accidental scratches.
Composure Collection
Keeping your things tidy is always a good habit. This is why you can find differently designed organizers for your gadgets as well.
Composure Collection is made of three products, so you can build a system according to your needs. There is a phone bed, a dock for your Apple Watch, as well as a traditional organizer for other things like keys and coins. Each of these parts of the Composure Collection is priced at $39.
Even though this is not the most affordable way to getting yourself organized better, there is a reason for this price. These products are made of premium-grade walnut and they are quality made. Machined for precision, this collection is made in San Francisco.
Pad & Quill Roll Up Kit
Our previous suggestion was for those of you who like for better desk or bedside table organization, but there's an amazing product for those who are looking to keep things tidy while traveling.
Even though the Apple Watch is made to go everywhere with you, you still have to carry its charging cable and maybe an additional strap when you travel. The Pad & Quill Roll Up Kit is offering a pouch made from full grain American leather, which is also lined with a soft, linen interior. Theirs is not a part of this pouch that doesn't look and feel amazing.
There is a room for your Apple Watch, the charging cable, and an extra strap. The pouch can be rolled up, so you can easily take it with you. This product is priced at $50.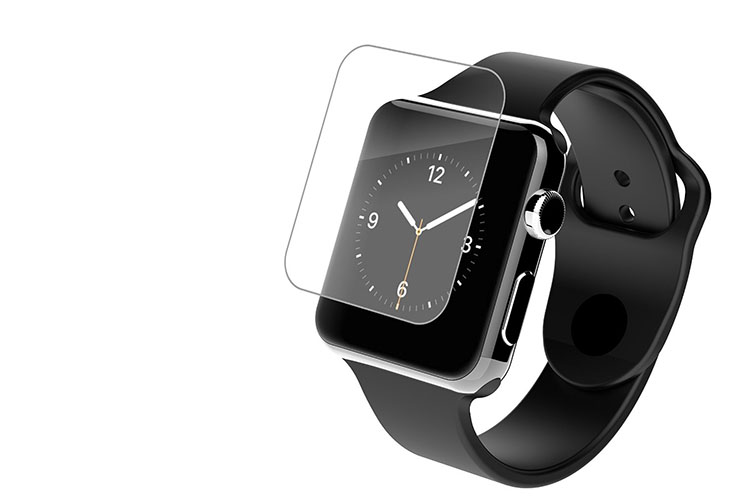 ZAGG InvisibleShield HD
Even the entry Apple Watch model is expensive, so naturally, you will want to protect it.
The ZAGG InvisibleShield HD is a thin screen protector for your smartwatch that keeps it protected from scratches and more serious damages. This is a very thin and transparent layer of film that goes over the smartwatch's screen, without interfering with the functionality of the screen.
Priced at $15, this screen guard comes with a life warranty. Furthermore, it offers "military-grade" protection that keeps the display safe. This is the must-have product, so naturally, it has found a way to our Apple Watch accessories guide.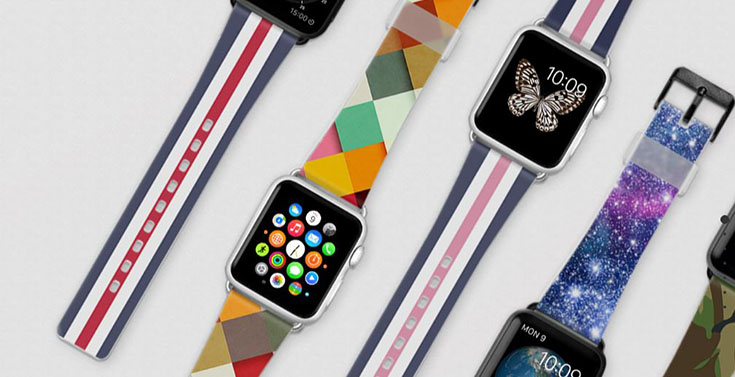 Casetify Bands
In case you can't find a suitable band for your Apple Watch from those that Apple offers, there is a way to create a unique one.
Casetify is an online service that allows you to create your own band. For example, you can upload an image, edit it, and then paste it across an Apple Watchband. There is also an option to use a pattern from the site's stamp library. In case you feel like your inspiration is missing, then turn to Casetify's range of artist-designed bands.
You can visit Casetify's website or download its free iOS app on your iPhone to start designing your own Apple Watchband.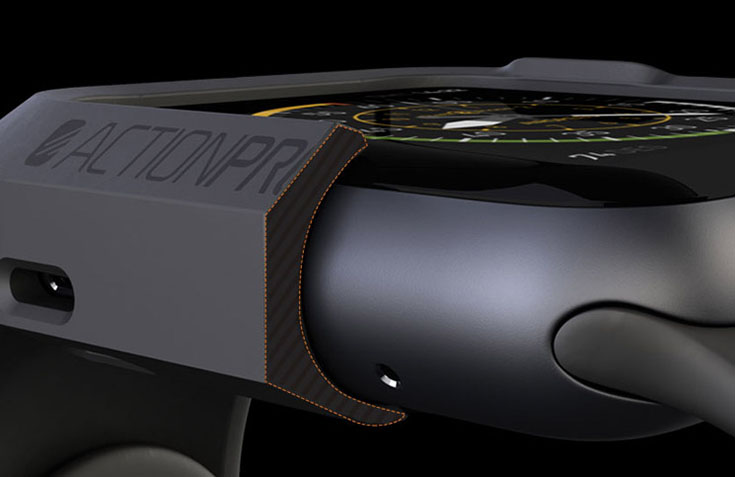 ActionProof Bumper
In case you really care about keeping your Apple Watch looking as new as possible, you should turn to rubber bumpers.
ActionProof is a bumper that came to life thanks to an Indiegogo campaign. This product is made from strong rubber called laprene, able of protecting your smartphone from picking up scratches or cracks.
This bumper comes with cut-outs for all the buttons and sensors, the microphone, and the speaker. You can choose from three color options: black, white, and orange with different colored dots. It can be yours for $35.
We hope you've found a few interesting options that might keep your smartwatch protected to that might extend its functionality. There are many Apple Watch accessories out there, and we can only expect to see new and interesting products arriving regularly. This is why we'll keep this list updated.
In case you are looking for interesting and unusual Apple Watch bands, take a look at our recently published guide. There you'll find a list of interesting bands which look amazing and are quality made.
In case there is an accessory that you would like to suggest, feel free to post a comment and share it with our readers.