The latest iPhone generation is more capable than ever, providing us access to advanced applications and high-end cameras. However, this also means that many recently released apps are very demanding in terms of processing power and storage space. This especially goes to console-grade games, which are known to be very high in size. For example, Batman Arkham City Lockdown will take up to 1GB of space, and Call of Duty – Strike Team takes 1.7GB, while The Walking Dead Season 1 with 400 Days DLC requires up to 2.6GB.
Additionally, even though it is great that the iPhone 6s and 6s Plus come with high-end cameras capable of producing detailed photos and quality video, this also comes at a price. For example, one minute of 4K video recording takes about 375MB. This means that you would fill up a full 16GB iPhone in about 40 minutes of 4K recording.
Even if you don't have the base model which comes with 16GB of storage space, you must have struggled with the available disk space. What is even more interesting, the base model doesn't really offer all of those 16GBs, since a portion of that space is taken by iOS and its built-in apps.
Free Up Space on Your iPhone
In case you have been wondering how to free up space on your iPhone, you are in the right place. JustGoodBites has taken a closer look at iOS, and we bring you a couple of tips on how to regain that valuable space.
Check Your Usage
First of all, it is important to check what is taking up the most space on your phone. You might be surprised by how much space some applications are using.
This can be done by going to your Settings app, and then to Usage > Manage Storage, located in the middle part of the page, under the "Storage" section.
After opening this page, you will see how much used and available space there is, along with a list of apps ranked by how much space they are using.
What is important to be said is that you need to pay attention not only to the app's install size but also to the amount of in-app data. For example, you might see that Spotify takes only about 50MB, but this can easily go up to several gigabytes if you download songs for offline listening. In the same manner, the Newsstand app is very small in size but can store a lot of digital magazines, which can easily eat up a lot of space. Well, it is clear by now how easy it is to free up space on your iPhone.
Delete Useless Apps
While in the Manage Storage section, you can tap on individual apps to see how much space they have taken, including files that are associated with those apps. By going to the individual view, you can see a button using which an app can be deleted. This is an easy way to free up space on your iPhone.
In case you plan on returning to an app in the future, you can easily re-download it from the iOS App Store page, since this information is stored in your iCloud storage. As you might expect, you will lose any progress in games and apps.
Movies, TV, and Music
If you like to watch movies on your iPhone, then you are already aware how space-consuming they can be. For example, HD movies take about 3 to 6GBs. In addition, iTunes TV shows can be a quarter to half the size of movies, and there's usually a lot of episodes that you plan on downloading. The same goes for music.
First, it is always a good idea to offload those unwanted files by transferring them to your computer. In general, you should always have a backup of your phone, not only including your messages, contact numbers, and email. Using iTunes, you can sync all kinds of data and transfer it to your Mac/PC.
There is also another interesting solution, especially if you like to watch movies and listen to music. There are numerous streaming services (like Netflix for movies, and Apple Music for music) that are offering millions of movies, TV shows, and music ready to be streamed on demand. Note that you'll have to spend a couple of dollars on these services, per month.
Tame Your Photos
It is common knowledge that photos take up a lot of space, so it's always good to go through and delete those photos that you don't plan on keeping. However, there is also another interesting thing that might free up space on your iPhone.
Many people don't realize that a lot of the time your iPhone saves two images instead of one. The reason behind this is because the iPhone captures HDR (High Dynamic Range) images. These are actually three images taken at three different exposures and combined into one image. However, this way you end up with two images, HDR and non-HDR.
If you'd like to disable saving the original, non-HDR image, go to the Settings app, and then choose Photos & Cameras. Now toggle the "Keep Normal Photo" switch to off.
Use a Cloud Service to Store Your Images
There are a lot of interesting cloud services that can automatically upload your photos. Many of them are free of charge.
In case you have a Google account, you can use the Google Photos app to preview, edit, and upload your images. However, this is not just a cloud service, but instead a full-featured app for editing and filtering photos, as well as organizing them.
The best thing about Google Photos is that it's free and unlimited, and supports images up to 16 megapixels and videos up to 1080p. Larger files will use your Google Drive. This is an easy and safe way to free up space on your iPhone, without sacrificing your photography skills. 
Delete Your Old Messages
Starting with iOS 8, you can delete your old messages. If you receive a lot of messages with photos, this can take up a lot of space.
To enable this feature, go to Settings > Messages, and then under "Keep Messages" set it to 30 days or 1 year.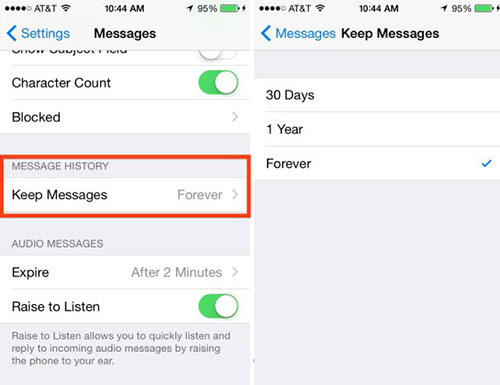 You can also delete entire threads by opening the Messages app, swiping left across a thread, and hitting the Delete button. Make sure you save any photos that you'd like to have on your phone before deleting threads.