I am sure that you're already well-aware that your phone can't be only used to make calls and send texts. With their current capabilities, smartphones are connecting various services that can be of great help. Still, I am not sure if most of you are aware of some of the lesser known roles, like using your smartphone to control a padlock.
Review: Dog & Bone Locksmart
The Dog & Bone Locksmart is a smart Bluetooth padlock that can be yours for $90. This gadget allows you to secure your bike or anything else, and then use your iOS device to unlock the padlock. Here we'll discuss its design and functionality, so continue reading to learn more.
It is also worth noting that I have very pleasant experiences with this company, which is best-known for Apple device cases. Dog & Bone's cases are nicely designed and very functional, making me very excited to try out this product.
Design
What is important to be highlighted is that the Locksmart is full of smart tech, but it's also made to be very strong and durable. Thanks to its Zamak-3 zinc alloy body, you can be sure that this padlock is as strong as any traditional one. It also comes with a hardened steel 7mm shackle. I am saying this because I know that many of you will think that this product looks like a toy. This is because of its outer colorful layer, which also has its role. Inside, you can find a Bluetooth 4 LE chip and two-year rechargeable battery.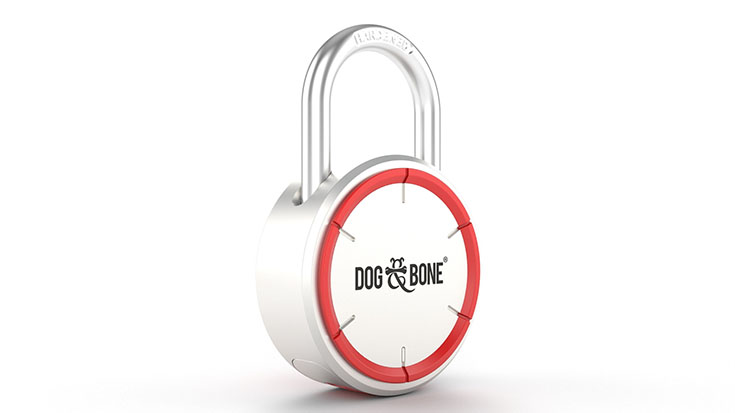 The external layer (which comes in three colors) is what makes this padlock weatherproof. It can survive the rain, hail, snow, and sun. In other words, you can use it outside without any fear. There is the micro-USB port on the bottom side with a flap, so you'll have to make sure that this flap is properly positioned to prevent any moisture.
Packaging
It is interesting to note that if you decide to purchase the Locksmart, you will receive the lock, a micro-USB to USB cable, and a sheet of paper that points you towards the official iOS application. You won't find a physical lock or anything similar, so there is no way to cheat your way around and unlock this unit. Upon downloading the app, it will turn your iOS device into the device's first digital key.
Installation & Security
In order to use the Locksmart, you need to download the Locksmart app for iOS. The installation is very simple, and you just have to ensure that Bluetooth is active on your phone. Once ready to unlock it, open the app and press the button.
The app offers three types of security: tap to unlock, passcode, and Touch ID. Tapping is a simple one-tap mechanism that opens the lock in a second, while a passcode uses a four-digit code to secure the lock. Furthermore, Touch ID turns the Locksmart into a biometric padlock, and these are usually priced $100+. Apple's Touch ID works really well and you can count on it to recognize your finger every time you use it.
In case you decide to change the security level, you will be asked to enter the master passcode or you will be asked for a fingerprint, which is how the app prevents an unauthorized user from downgrading the security level.
Shared Access
The app also comes with the support for shared access. This means that you can provide digital keys to other users. The only requirement to this is to have the Locksmart app installed on a phone and to follow the instructions that will be sent via SMS.
The app keeps track of exactly who and when accessed the padlock, which can be an important piece of information.
When you decide to take back the digital key, this can be also done from within the app. This feature allows you to authorize up to 50 users to a single lock, as well as to de-authorize them at will.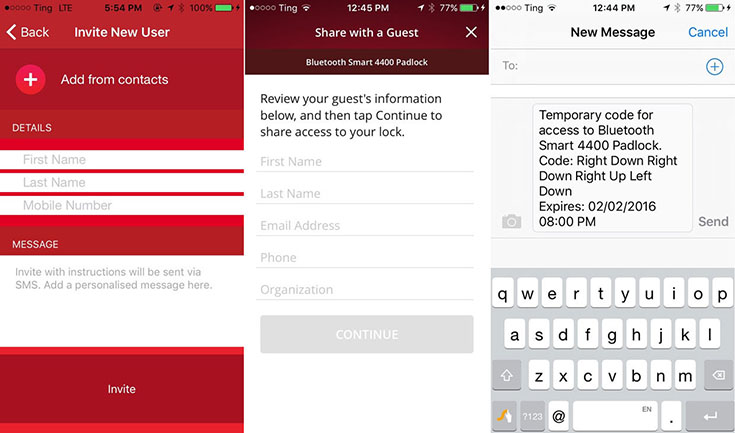 When it comes to the Sharing feature, this is where I found something annoying. Even though sending out digital keys works without a problem, you cannot require a shared user to follow a certain level of protection (security). Shares users can just "tap to unlock". Even though I understand why this would make sense for fingerprints, having an option to enter a passcode wouldn't be such a bad idea.
Battery Life
What I also need to say is that you can count on 3,000 unlocks before needing to recharge the battery. Power is supplied by a built-in lithium-ion battery, which can be charged using the micro USB port. This is an amazing achievement for a product in this category, where most smart-locks come with the battery life of about six months to one year. This one can last much longer.
Precaution
The Locksmart uses 128-bit Bluetooth encryption and a 256-bit cloud-generated private key. What this means is that the padlock is far less likely to be hacked and accessed than to be opened by an authorized device.
Since your iOS device is the primary digital key for the lock, it's imperative to keep your phone protected at all time. In case you lose your device, or if it gets stolen, Dog & Bone suggests that you log into the app from another device, and lock out your lost device. The next step would be to change your account's password and delete the lock, setting it up once again using a new device.
Conclusion
The Dog & Bone Locksmart is an amazing all-around smart lock. In comparison to similar products, you will get to share access, use Touch ID, and count on a two-year battery life. It doesn't get better than this.
Viewed as a more expensive alternative to a conventional padlock, it might be hard to justify this purchase. However, if we compare it to the biometric padlock, which is usually very expensive, you can see that the Locksmart is an amazing deal.