Ever since Apple's iPad launched back in 2010, the company has been working hard on producing new generations. Even though iPads are highly useful on their own, having a couple of accessories can drastically improve how you interact with the tablet. In order to help you find the best products, we have compiled a list of essential iPad accessories.
The following list tries to answer to all of your questions and needs, regarding your iOS tablet. No matter if you need a reliable keyboard, a charging cable, or perhaps a specialized accessory, you will find it in the following list. So, let's jump right in.
JustGoodBites' List of Essential iPad Accessories
Apple's Smart Keyboard
In case you own one of the two iPad Pro models (which come in 9.7- and 12.9-inches), Apple's Smart Keyboard is the way to go when it comes to keyboards.
Even though there are several Bluetooth-enabled keyboards available right now, which are compatible with all iPad models, they are often bulky and require charging. Apple's own keyboard takes advantage of the iPad Pro's Smart Connector, so there is no need for internal batteries or recharging. In addition, it provides pleasurable typing experience, which I feel many of you are going to love.
Logitech Create
In case you don't like Apple's Smart Keyboard for some reason, there is an amazing alternative. Logitech is known for highly useful and quality-made accessories for iOS and OS X as well. One of the recently released products is called Create – a keyboard designed for the larger iPad Pro.
This keyboard will work great for those of you interested in traditional-looking keyboards. It comes as a folio case, covered in fabric. The outside layer is made of ballistic nylon, and you can choose from several bright colors.
The keys feature a nicely designed Futura font, while the entire case looks very modern and stylish. There is no need for any adjustment period since the layout is very familiar.
You can read our full review by heading over to this link.
SandDisk iXpand Flash Drive
In case you strive for productivity, then you need a reliable and fast data transfer.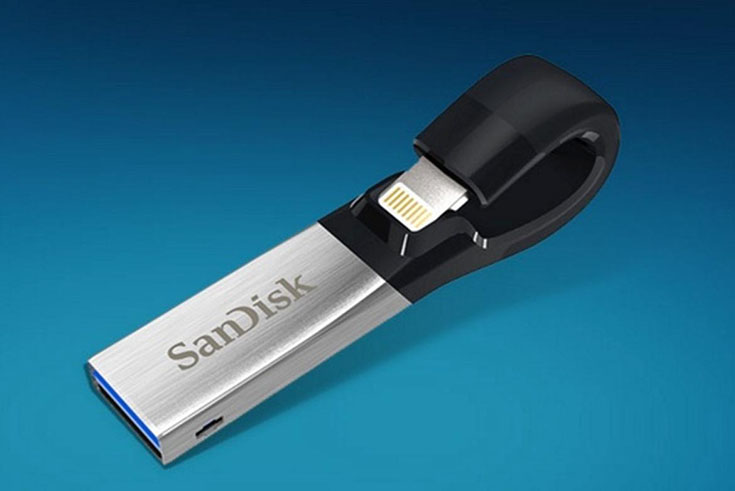 There is no easier way to transfer documents and other files from your computer to your smartphone/tablet, and vice versa, but to use a USB stick. The iXpand Flash Drive works like any traditional USB stick. After downloading the official app from the iOS App Store, you will be able to transfer and preview any kind of files. I believe that those of you with the 16GB iPad models will find this product to be a must-buy.
MOS Spring Cable
My experience showed me that I can never have enough charging cables. Maybe I am not as careful with them as I should be since they tend to get broken quickly.
MOS Spring Cable is close to indestructible and the very best you can find at the moment. Its cable is made of a woven jacket and features high-grade TPE polymer that keeps the inner wires protected. There is also the steel spring that adds strain relief. This is where most of my charging cables showed signs of age. Thanks to this steel spring, you can be sure that this charging cable will work for a very long time.  Finally, the lightweight housing is made of anodized aluminum.
MOS Spring Cable comes with a great price as well. You can choose from two colors: white and dark gray. The cable comes in different sizes (lengths): 1ft for $20, 3ft for $30, 6ft for $40 and 10ft for $50. It is easy to see why this charging cable takes place on our essential iPad accessories list.
Anker PowerDrive+ 3
Since you can never leave enough charging cable and sources of power, Anker's PowerDrive+ comes as a great solution as a car charger.
This little device comes with three ports that pump out 36 watts of power. What this means is that you can charge three iPads simultaneously at max speed. It also brings great design, while the unit is made of aluminum. There is also a LED ring that helps you easily find USB ports at night.
What is also important to be mentioned is that the PowerDrive+ comes with surge protection, temperature control, and other advanced safety features to keep you and your devices safe.
Anker's PowerDrive+ is priced at $15, so it's clear why this is one of our essential iPad accessories.
RAM Mount System
We previously told you about the in-car charger, but now we are showing you the car mount for your iPad.
There are numerous reasons why having an iPad in your car is a good idea. This especially goes for those of you who need reliable navigation. The RAM Mount features a high strength composite holder and patent pending roller design.
This kind of design allows smooth placement and removal of the iPad while keeping it secured on the go.
The RAM Mount is priced at $35.
Apple Pencil
In case you use one of the two iPad Pro models, having an Apple Pencil seems essential.
Made by the same company who created the iPad Pros, this stylus is a must-buy for anyone who likes precision control. It is also made for designers, artists, and illustrator since it works great with drawing and sketching apps.
The Apple Pencil is the most advanced and easiest to use the product, and it definitely beats other products in this category.
Apple Pencil is priced at $100, so it's not the most affordable stylus, but it's worth the price.
IOGEAR MediaShair Hub
In case you need a media hub that works effortlessly with your iPad, look no further than IOGEAR's MediaShair.
This device comes with an SD card support, USB flash drive, and even a portable USB hard drive. You can use Wi-Fi to share content to seven iOS devices, and also comes with an integrated internal battery. Interestingly enough, this battery can be used to recharge your devices as well.
The MediaShair support pass-through, so you can connect the hub to a Wi-Fi connection, and then connect your devices to the hub. This way you can access its files and the Internet as well. Access to the data is handled through a free app.
The MediaShair is priced at $100.
We hope that you found something of interest in our list of essential iPad accessories. By using these products, you can greatly enhance your iPad's functionality. In case you have something to add, feel free to contact us or leave a comment.