Does hurting fluffy kittens sounds any fun? I am sure you will say no, but there is an iOS app that might prove this otherwise. A newly released game called Exploding Kittens ($1.99) has recently hit the iOS App Store and is quickly climbing the app charts. This seems like a rarity in today's App Store full of freemium games, so it's always good to see a game like this one.
This iOS game started as a physical card game that went through its Kickstarter campaign. It brings a combination similar to Cards Against Humanity, but with a quirky art style and the totally inappropriate theme of hurting little, but not-so-innocent kittens. Nonetheless, this is an incredibly fun game that brings just the right balance of being casual and complex enough to keep you occupied for hours to come.
What is interesting is that Exploding Kittens was the most funded tabletop card game on Kickstarter, which managed to raise more than $8 million from close to 300,000 contributors. This only shows that people really like the concept behind this game, which should be more than enough for a good iOS game as well.
In case you don't like playing board games, or if you're more inclined towards playing games on your iOS device, you will be happy to hear that there's an iOS version of this card game. I am glad to say that Exploding Kittens had already fully developed concept and was known for its wittiness, which perfectly translated to the iOS app. In addition, it is, even more, fun due to hilarious animations and sound effects.
The Creators of Exploding Kittens
The tabletop game was created by Elan Lee, the creator of Edoc Laundry; Matt Inman, the creator of The Oatmeal online comic; and Shane Small, who is the former principal art direction at Xbox Entertainment Studios. As can be seen, the creators have a very interesting background, where the final product clearly reflects their experience and knowledge.
Concept
The game's central point is an Exploding Kitten (EK) card. This card goes hand in hand with a Defuse card. If you draw and then defuse the EK card, you will get to place it back in the deck – otherwise, the game is over.
Every other card from the desk is designed to help you mitigate the risk of using the EK card, but the rest of the cards can be also used against your opponents. Even though this might sound overly simple, it is actually not, since you will be doing your best not to draw the EK card which leads to some funny situations.
You can also neutralize attacks by using cards like laser pointers, kitten therapy, and catnip sandwiches. On the other hand, you can play against your opponents by deploying a tacocat, magical meat bikini, and catterwocky.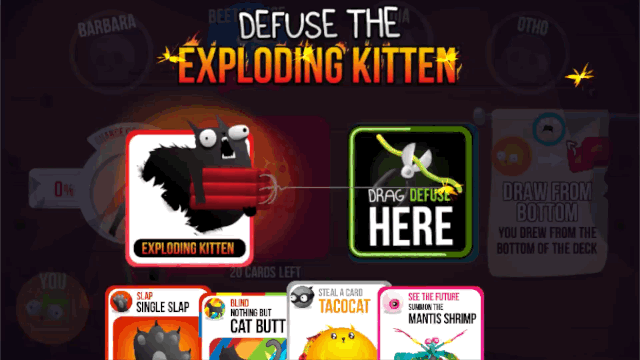 Just like in every addictive card game, you have to have a good strategy and timing. Decide which cards to play, when to play them, and which one of your opponents should be the perfect target. As you can see, there is a lot of thinking (and luck) involved.
Visuals & Sound
I am happy to say that the addictive gameplay is followed by the game's amazing visuals. The translation from the physical to the digital product couldn't be more successful.
The UI style is a bit cartoonish, with just the right amount of humor. What I liked the most were card illustrations. However, as you play the game, the card will be half hidden at the bottom of the screen, which truly is a shame. This kind of art style deserves to be shown in all of its glory.
The art style is also nicely complemented by the sound effects, which are making sure to make this game come alive. Every move you make in the game will produce a sound effect. These can be very silly and they make the game more entertaining.
Local/Multiplayer
Exploding Kittens can be played locally or via multiplayer sessions. Just like with the physical version, you can play face-to-face with a friend, but you can also play on your own – against other fans of this title, worldwide. Each match will last from 5 to 10 minutes, so it's not bite-sized, but it's not time-consuming either.
Replay Value
When it comes to the replay value, I think that you can get tired of this game after a few days. There are only so many cards, and you can easily master the game in a short period.
However, the replay value here is high due to the multiplayer component, since you never know how your opponent is going to play.
Still, I recommend playing Exploding Kittens locally, with a couple of friends. The game is much more fun when you face to face with other players since comical situations will make you all laugh.
Performance
Even though the game ran fine, for the most part, I also encountered a few glitches that prevented me from playing it.
After playing the game for a couple of days, Exploding Kittens suddenly stopped working. The game no longer allowed me to create of join locally played games. On about five other occasions, multiplayer malfunctioned as well. Even though these were not serious problems since they seemed to get resolved after a few hours, this can be annoying.
The team behind this app seems to be working hard on the app by pushing regular updates, so I am sure the game will be fully polished soon.
Conclusion
I highly recommend checking out Exploding Kittens if you're a fan of card games filled with great humor. I also think that every Cards Against Humanity fan will love Exploding Kittens as well. Either way, this game definitely can provide a lot of laughs and is highly enjoyable.
EK is priced at $1.99 and comes as a universal download, so you can play it on your iPhone, iPad, and iPod Touch. There are three in-app purchase options at the moment, which can be used to customization and unlock special cards.