Apple's iOS 9 was released back in September, with numerous refinements at every level. However, perhaps the biggest changes aren't as visible as they should be, and as this operating system grows larger, it can be hard to catch some of those new features.
A couple of weeks ago, Apple has released iOS 9.2, after months of intensive beta testing. This is the second major update, which brought new features and enhancements in several apps, such as Apple Music, News, Mail, and iBooks. Just like with every major update, we like to take a deeper look in order to uncover interesting tools and shortcuts. It certainly is very hard to detect every single hidden gem, but we created a list of some of the most useful ones. Continue reading to learn some of the iOS 9 tips and tricks.
iOS 9 Tips and Tricks
Mail Drop on iOS: A while back, Mail Drop was introduced in OS X to ease up sending large attachments via iCloud. This way, you can send files up to 5 GB in size, which are then seen as links and previews. These files are kept in your iCloud storage for 30 days and you can delete them earlier if you want.
The same feature in now a part of the iOS Mail app and this is actually one of our top iOS tips and tricks. When you decide to attach a file, you will see a new popup window with the option to use Mail Drop.
iBooks and 3D Touch: Apple's new way of input and viewing information, called 3D Touch, has been finding its way into numerous apps. With iOS 9.2, the iBooks app is now compatible with this method of input. If you press down on the app icon, you can see some of your recent books or use the search feature. The same could be used on the table of content links, bookmarks, and notes.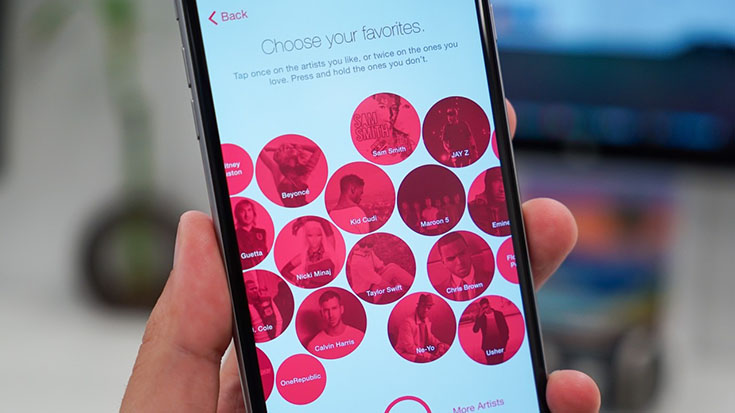 New Apple Music Features: Apple's music streaming app stills seems not as refined and polished as it should be. However, it is evident that Apple is making small steps towards simplifying the app and adding new features. As one of our top choices when it comes to music streaming, this app has found its way into our iOS tips and tricks article.
Here's how to create new playlists in Apple Music. While listening to a song, tap on the three dots in the lower-right side of the screen. This is where you'll see a new option to create a playlist. On the other hand, you can also download songs and albums. While listening to a song, tap the title at the bottom of the screen to pull up album art, which is where you'll see the three dots icon. Once the new window appears, tap the plus sign to add the song to your music section.
Use the Low Power Mode: The newest iOS version lets you save some power, which can be very handy in critical situations. Even though you should see this option once your battery level hits 20 percent, you can turn it on manually as well. Go to the Battery Section of Settings to find this feature.

Fight against slow and unreliable Wi-Fi networks: When you go to Settings, you will see a new item hidden at the very bottom of the Mobile Data menu, called Wi-Fi Assist. This feature is designed to switch your iPhone's signal back to 4G/3G in case a current Wi-Fi network becomes problematic. For example, if it's too slow or too unstable. In other words, this feature is designed to save you the trouble of manually switching off Wi-Fi.
Change Video Recording Resolution: Even though it's great that the newest iPhone generation can record 4K videos, this can be very problematic for those who use 16 GB models. As you probably know, 4K videos take a serious amount of internal storage. So, you can go to Settings, Photos & Camera, and then choose Record Video. This is where you can choose a new resolution for regular and slo-mo videos.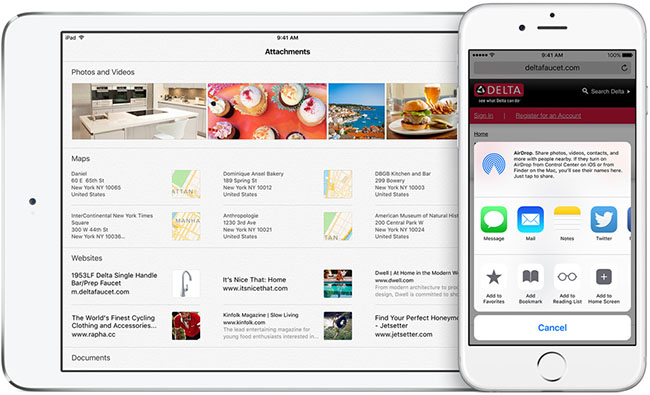 New and Improved Notes app: If you're a long-time iPhone user, you know that Apple updates its iOS apps all at once when a new version of iOS gets released. With this said, I would like to remind you to take a second look at the new Notes app.
The Notes app gets probably the biggest overhaul in iOS 9, and now you can add photos, maps, doodles, checklists, and Web lists to your notes. We have been somewhat disappointed by the old app, but the new version is a serious contender in its category.
Additionally, you can also share information between apps and store information into Notes from some other app. For example, when you're in Safari, you can use the Share button to save attachments and other bits of information which will be sent to the Notes app.
Hide Sensitive Photos: I guess every one of us has a couple of photos that aren't meant for anyone to see. This is why Apple included a new Hide feature, which could be found in the Share menu. The chosen image will disappear from the Moments, Collections, and Years screen, but somehow they still remain visible on the Albums page.
Play Videos in a New Window: In case you have one of newer iPads, now you can use a feature called picture-in-picture video. This allows you to see a small a floating video playing on top of other apps.
Note that this feature is app dependent, so developers need to support it by releasing an update. Incompatible apps, you will see a small double-rectangle icon in the lower right portion of the video player, which activates this feature.
We sincerely hope that you found at least a couple of interesting iOS 9 tips and tricks that you'll frequently use. As we said earlier, the newest iOS 9 is full of interesting tools that are somewhat hidden, so feel free to share in case you find something useful.