Macs have always been known for their ease-of-use and tools that are designed for everyday users. If you are a long-time Mac user, you probably remember Apple's software suite called iLife. First released back in 1999, iLife was the central part of the company's advertising since it brought tools like iTunes – for listening to music, iPhoto – for storing and editing images, iWeb – for creating simple web pages, and iMovie – for editing videos, among other apps. Today, we still get to use some of these apps as Apple decided to turn them into standalone apps, even though they are still intertwined.
Today, anyone can shoot, edit, and upload movies quickly and easy, thanks to iMovie. There are also other important factors that come into play to make this happen, like better mobile camera quality, accessibility to video sharing services, and high-speed Internet connection. However, iMovie is what connects all of these factors as it provides a way to turn your raw footage into videos that look good.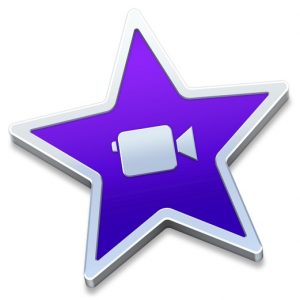 By reading this tutorial, you will learn how to use iMovie for Mac as well as how to produce great looking videos that can be easily uploaded to services like YouTube and Vimeo. Even though we are using the latest iMovie version (10.1.3), users of older version can also benefit from this tutorial since iMovie hasn't really changed that much in the last couple of years. So, let's start, shall we?
Pre-Production
Let's spend a couple of sentences to talk about what goes into creating an amazing video. Every videographer will tell you that a good movie is a well-planned one. What this means is that you should have an idea of what you want to achieve, which will help you work faster and easier. On the other hand, it is also perfectly fine to experiment, especially if you just started working with iMovie. Sticking too much to a script might take the excitement out of the process.
Before digging any deeper, it also important to say that you should do some research on basic filmmaking techniques. For example, you should know a few basic composition rules, camera angles, and lighting techniques. Luckily, the Internet is an amazing source of information, so you should explore tutorials that talk about these things.
Finally, it is highly important that you backup your work. This is not highly important for videographers only, but also for anyone who wants to save their precious digital memories. You can backup your data by buying an external hard drive, or by using a cloud hosting service.
Getting Started with Trailers
The first time you open iMovie, you will have the option to create a New Movie or New Trailer. The main difference here is that the Trailers methodology is designed for brief movies (up to two minutes on average), and it also provides lots of pre-designed visuals and audio templates to help make the process simpler. Since this tutorial is for those who are just getting started with iMovie, we will stick with Trailers.
No matter if you choose to create a new movie or a new trailer, iMovie will present you a list of preloaded templates that you can use. You will see a grid of available templates where you can hover your mouse pointer over a template and click on the Play button to preview what kind of end product you'll get. Once you're ready, select a template and click Create at the bottom right corner of the window. You will be asked to name your movie, and after you click OK, you will get to see the main iMovie view.
When creating a new Trailer-style video, the first thing you'll want to do is to edit the Outline. The information you enter here will be used in your video, so you need to make the necessary changes to the details such as the cast names, gender, logo, etc. Different Trailer templates come with different sets of needed information, so don't be surprised to see that iMovie asks for a different kind of information once you decide to use some other Trailer template.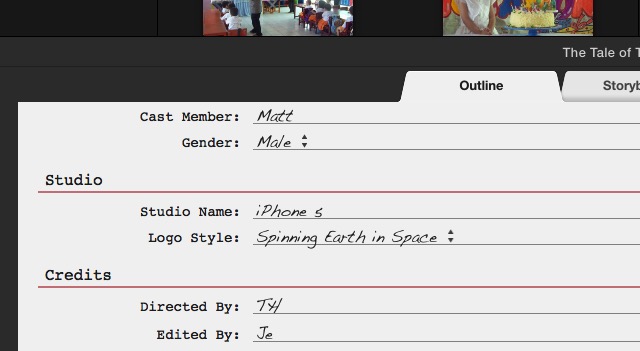 The next step is to pick the middle tab called Storyboard. This is where you can edit the text inserts if you want it to, and then you can go to the media library to pick the videos and/or photos that you wish to use. In order to make the most effective clip, make sure to pick a suitable type of video. For example, if the storyboard says Action, you should choose an action clip. Pretty simple, right?
The placeholder will move one by one as you insert clips until you reach the end. You can also go back and replace some of the used clips or photos until you're happy with the final product.
Trailers also allow you to dabble further with the audio, titles, background, and transitions, but we'll cover these topics in the next segment, where we'll talk about creating a new movie from scratch.
Once you're happy with your Trailer-style movie, you can share it via the File > Share menu. There are numerous options to share your video, like email, YouTube, Facebook, as well as to save it locally.
Creating a New Movie from Scratch
If you're just getting started with iMovie, we recommend playing with Trailers before you start making your movie from scratch. This way, you will get to learn how iMovie works and as well as a basic understand where everything goes.
Once you're ready to create a new movie and dig a bit deeper into this amazing application, you will first need to create a new project. This can be done using the File menu, or you can simply click on the "+" button at the top-left corner of the window.
What you should be seeing now is the list of available templates. You can preview each template by clicking on the Play button, to see what kind of visual elements you'll end up with. However, we are going to pick the "No Theme" option, since we are teaching you how to fully unleash your creativity. Once you select a template, you will enter the main view, which has a few important segments.
The main view of iMovie can be divided into three parts: Media Library, Preview, and Timeline. Media Library is where you can see your video clips (and photos) that can be further edited and used. On the right side, there's the Preview, where you can see how your video is going to look like once exported. This is where you can see how different transitions, visuals elements, and audio effects will sync with your clips, so you can make further changes.
Importing Your Media
As you probably know by now, a movie is a compilation of clips. What this means is that you need to have a series of raw footage (presented as clips) that you'll need to import into iMovie.
The easiest way to import clips into iMovie is to click on the Import button that is represented by an arrow that is faced downward. You can also use File > Import Media, or a keyboard shortcut – Command + I. This will open a new window titled "Import", where you can see different import options.
In the left-positioned sidebar, you can see different places from where you can import your clips. If you connect your iOS device or any other camera, or perhaps an external drive where you have your clips stored, you will see these items in the sidebar. What is also interesting to note here is that iMovie allows direct recording as well, where you can see your available cameras from the Camera section in the sidebar. As you know, many YouTubers are using cameras built into their computers to record videos, so this is one of the ways to directly record and import raw footage into iMovie.
It is also important to say that you can use iCloud to import new media. This is very helpful if you use your iPhone to record video clips, which means that those clips will be synced with your Mac thanks to iCloud. In the main view of iMovie, you can see a left-positioned sidebar which contains a segment called Libraries. This is where you can find an item named "Photos Library" where you will see that contents of your iPhone. This way, you don't have to connect your phone to create a new movie.
Adding Media to Timeline
After you import your video clips into iMovie, they will become a part of the Project Media. At any moment, you can switch between your Project Media and Libraries (if you want to add new clips) by using the left-positioned Sidebar.
One you add your clips, you will get to see them in your Project Media. In order to add them to your movie, you need to determine the segment of the clip that you want to use by clicking and dragging on the clip. As you can see, you can use your entire clips or only portions of them. The selected part will be framed by a yellow border, and you can add them to the movie by clicking on the Plus icon found at the bottom right part of the yellow border.
It is also worth knowing that you can add other types of data to your movie, aside from movie clips. You will see a menu right at the top of iMovie's window, where you can see options like My Media, Audio, Titles, Backgrounds, and Transitions. This way, you can add audio files that will serve as the background music, in addition to other elements. The process is very similar to adding clips. Choose your music collection in iTunes as the source, or you can use Sound Effects, or GarageBand if you want to produce your music. We will talk about Titles, Backgrounds, and Transitions in later chapters of this tutorial.
Editing Video Clips
By this point, you should know how to import your video clips and photos, as well as how to select which portions are going to be used in your movie. Now we'll talk about how you can edit your clips.
Split Clip – One of the most important things when it comes to iMovie is to know how to split clips. For example, let's say that you have a clip that is about 3 minutes long, but you don't want to use the entire clip. What you'll need to do is to split your clip, which should give your more flexibility. This way, you will be able to use effects, transitions, or backgrounds between different chunks of your clip.
To split a clip, you need to hover your mouse to a location in the clip, click the mouse to fix the position, and then go to Modify > Split Clip. You can also use Command + B shortcut key. This will produce chunks of clips that can be further edited.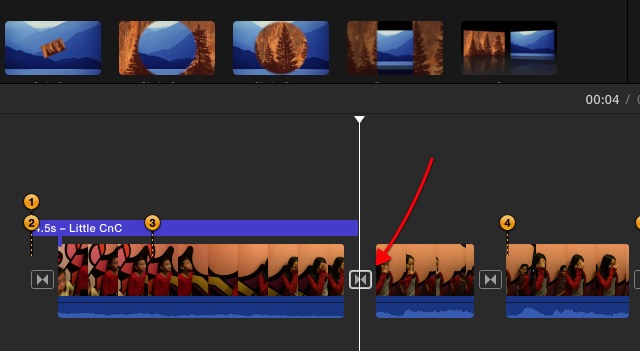 Adding Transitions – Transitions are a great way to combine two clips and to create a seamless transition that will blend your clips into your movie. You can insert transitions from the Insert tab. There are numerous preloaded transitions where each video theme comes with its own set of unique transitions.
To add a new transition, you need to select an inserting point between clips marked by two arrows facing one another. We are talking about iMovie's Timeline here. Pick one of the available transitions and drag it to the inserting point in the Timeline. Furthermore, you can edit the length of the transition by double clicking on it. Type in the value that you want, and finally, click Apply.
Fade In & Fade Out – You can also create a fade in and face out effect at the beginning and end of a clip. It's easiest to do this by using Project Settings, which can be found in the middle of the screen's right side, where you should see the Settings button. This will open a new window, where you can check the Fade in from black and Fade out from black checkboxes.
As you will also see, the Project Settings window also allows customization of other options, such as changing the project's theme and applying different filters. This is also where you can adjust the Clip Size. This will enlarge the clips on the timeline, which can be very handy if you're using a large-size monitor.
Rotate and Crop – Sometimes you'll want to rotate a clip to fix rookie mistakes. You can do that easily by choosing the Rotate tool above the preview pane. However, there is a limitation here since you only rotate the clip in the 90-degree steps. iMovie doesn't provide granular control of this feature.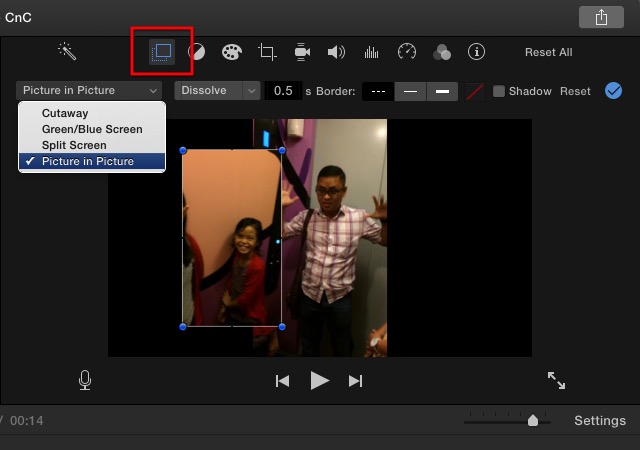 Picture in Picture & Side by Side – Another great effect that you can achieve by using iMovie is the so-called "Picture in Picture". Also, if you shoot your clips in portrait mode, you can use the Side by Side effect to put two different clips side by side, which creates an interesting-looking scene.
To create this effect, you need to select a clip and simply drag it onto another clip. When the clip is applied, click on the Video Overlay Settings tool located above the preview pane, and choose the effect you want to apply. Every effect comes with its own set of settings that can be used to fine-tune your movie. There is not a good of a bad way to apply these kinds of effects, so the best advice is to play around with them and see how they can be implemented into your project.
Video Speed – To achieve a dramatic effect in some of your action scenes where a lot is happening, you can put a clip into a slow motion. To do this, you first need to select a clip (you can also select a portion of your clip as well) and choose the Speed tool, located above the preview pane. This is where you can choose the speed effect that you want. These are the options: Slow, Fast, Freeze Frame, and Custom.
You will also see a checkbox that lets you preserve the pitch of the sound. However, it seems like this effect would be more dramatic if the slow-motion clip is accompanied by a slow and low pitch sound. Additionally, you can also go for fast motion, where you can choose the speed factor percentage. Finally, the freeze frame is designed to hold a frame for a few moments. This can be used if you want your viewers to focus on a certain aspect of your video.
Color Balance & Correction – Just like with photo editors, video editors like iMovie can help you enhance the color of your clips and to overcome your camera's limitations. There are two options that you can use: Color Balance and Color Correction.
Color Balance is used to help you fine-tune the color of your clip (and its name implies). You can decide if you want iMovie to automatically adjust the color, or you can use Match Color to imitate to the tone of another clip. You can also use White Balance or Skin Tone Balance to pick a color from the clip using the eye dropper tool.
On the other hand, Color Correction lets you use highlights which make your video clips lighter or darker. Furthermore, color saturation makes your photo more saturated with color (or you can make your clips black and white by removing the color), while color temperature lets you create warmer or cooler tones.
Audio & Video Filters – Finally, among the tools above the preview pane you can also find Clip Filter and Audio Effects. Both of these options give you plenty of preloaded filters that you can play with. For example, the Clip Filter allows you to apply a filter that completely changes your video's aesthetics. Some of these are noir, romantic, cartoon, sci-fi, or x-ray. It is also worth knowing that you each of your clips can have a different filter, which could come in handy at times.
On the other hands, audio effects allow you to change the sound for a clip to sound like robot voice, landline telephone, or like you're in a cathedral. This is also where you can change the pitch, which we talked about earlier (great when you're using a slow-motion tool).
Backgrounds – iMovie with numerous backgrounds that can be easily implemented in your project. This option is found above your available clips that are ready to be placed onto the timeline. One of the possible uses of this feature is to combine it with the picture in picture tool to create a very interesting effect. Simply click on the background tab above preview pane, pick the one you like, drag it to the timeline, and put it between your clips. Now you need to drag a clip above the background select the picture in picture tool.
Playing with Audio
You should remember that the sound is as important as the picture. Even though the audio is often overlooked when it comes to amateur video editing, it can set a different mood or emphasize the message you're trying to send.
Controlling Volume – The most important thing is to know how to control the volume, which is something that can be easily done in iMovie.
When you go to the timeline and after you select a clip, you will see a horizontal line in the middle of the audio part (represented by blue blocks). This is a general volume control, so you can drag it up to increase the volume or drag it down to decrease it. If you start to see yellow spikes, this means that the volume is over the recommended level. If you see red spikes, this means that you should lower the volume to avoid distorted sound output.
Inserting External Tracks – There are times when you want to add another layer of sound from external sources, like music and sound effects. This can be done by going to the Media Library and picking a sound from the following sources: iTunes, Sound Effects, or GarageBand. The procedure is the same as with adding the clips. Drag the chosen audio file below the video, and adjust the volume like explained in the previous paragraph. Remember to avoid red spikes.
Fade In & Fade Out – It is also possible to use fade in and fade out effect on the sound. If you look very closely at the green audio bars on the timeline, you will see small dots (or circles) at the beginning and end of every sound clip. These are the Fade In and Fade Out markers. All you need to do is to drag them horizontally along the volume line create this effect. The effect will be visually represented by a curved line.
Split Audio – Just like with video clips, you can also split audio for easier editing. This can be easily done by using the Command + B key combination. Furthermore, you can split the clip to isolate a part where you want to use a different audio setting. This is a great way is there is something very loud at some point in your clip, so you can decrease the volume of this segment. There are also numerous other scenarios where splitting the clip would be a good idea.
Voice Over – Sometimes you'll want to add a comment or narration to your clips. This is where the VoiceOver feature comes to the scene. In order to use it, you need to pick a clip so it can be viewable in the preview pane. You will see a Microphone icon just below. After clicking on it, you will see the record button being available under the clip. Simply click on the Record button to start recording after you see the 3-2-1 countdown. You can also adjust the voice over settings by clicking the icon on the right side of the Record button. This is where you can choose a different input source (if you want to use an external microphone), as well as change the volume and choose if you want to mute the project of not.
Just like with any other audio source, you will set the volume and made further edits by editing the green audio file located below clips on the timeline.
Adding Titles
Titles are an important part of every movie. You can place titles at the beginning as the film title, or at the end of the credit title. Also, you can provide additional information by placing titles within the movie.
As previously explained, Titles are available from the toolbar located above the preview pane. Click on the Title tab and choose one of the available options. Even though you will be able to use the standard choices, there are also more additional theme-specific options as well. On top of that, there are also many title effects that you can use like Pull Focus, Boogie Lights, Scrolling Credit, and much more.
To use any of the available titles, you need to drag and drop them to the location you want. Remember that you can also add titles in sports between clips as well as in overlays to clips.
After you place a title in its position, you can start the editing process in the preview pane. For example, you can change the font, font color, and font size. You also have the option to make the font title bold, italic, or outlined.
Publishing Your Movie
One you're happy with how everything looks, you will need to publish your movie. This will export a movie file locally to your Mac, or you can decide to upload it to an online service.
You can see all of the available options by going to File > Share menu. The default option is called Theater. What this means is that your movie will be available locally, so you can play it by going to iMovie's Theater. You can access this option by going to Window > Go To > Theater. In addition to being locally saved, your movies will be also stored in your iCloud storage. A good side of this is that you can play your movies on any other iCloud-connected devices – like your iPhone, iPad, and Apple TV.
In addition to being able to send your movies in an email, you can also share it via YouTube, Facebook, or Vimeo. Uploading to any of these websites will require you to log in with your account. Remember that uploading will take some time, depending on the size of your video and the speed of your Internet connection.
Finally, you should be careful when uploading your videos due to copyrights. You shouldn't upload content which contains copyrighted material, like images, movies, or audio clips. Everything that Apple provides within iMovie is copyright-free material that you can use. Other than that, you should check what kind of material you're adding to your iMovie project.
That's a Wrap!
After reading this entire tutorial and practicing some of the things that we tried to explain, you will have the basic understanding of how iMovie works.
It is actually amazing to see what kind of projects people can make using the same set of tools, which is why you should also read other tutorials and tips & tricks as well. After all, Apple has made a good job when it comes to iMovie, which is one of the most user-friendly videos out there.
We would love to see some of your iMovie creations, so make sure to share them in the comments section.