A couple of months back, we wrote about a game named Lumino City. This was one of those games that I know I will remember for a long time. Lumino City's graphics, as well as its interesting storyline, is what is captivating about this game. The developer, called State of Play made sure to show us how much time and effort was needed for this game to be made, which included making scenes in real life, which is an amazing achievement. After making entire sets by hand, the developer continued by adding CGI-like elements to bring this game to life. In case you missed our review and if you like elaborate storylines and amazingly designed graphics, don't forget to read our previously posted article.
Review: INKS.
In this article, we will take a look at the newest creation by State of Play, a game named INKS.
Even though this developer is known for highly conceptual and very creative games, this studio has decided to create something more conventional this time. INKS is a pinball game, but just as you can expect from State of Play, this is not your typical pinball. Continue reading to learn more about this game's visual style, as well as about what's sets INKS apart.
Visuals and Concept
INKS comes with 72 stages, which means you will have 72 different pinball designs. However, what you will see at the beginning of each stage are white fields with several sources of color that you need to hit with your ball. Some portions of those pinball table designs will come with certain "gear icons", indicating different areas that contain paint. The goal is to hit every colored target, at which point a hole will open up and the stage will be clear. A gold medal can be earned by opening that hole in a predefined number of shots, even though you can take your time to create very elaborate and colorful pinball designs. You can also go through the stages of going beyond the limit, which will still earn you a star. Also, make sure to take too many shots since this will drain the ball, and your grade will decrease with every ball lost.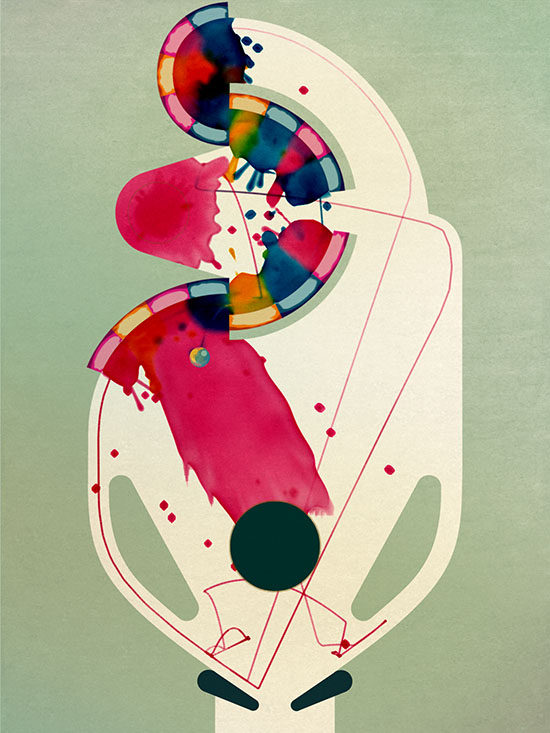 I am sure you will enjoy in creating colorful designs. This game relies heavily on its presentation, and this simply shines through. In addition, these cool-looking visuals are complemented by well-placed audio effects. Even though there isn't any music, these sound effects are more than enough to create a certain atmosphere. I recommend grabbing your favorite earbuds in order to get the best possible experience.
Gameplay
Now, let's see what is so creative and authentic about this game, as well as why this is not a typical pinball game. When you hit those colored targets, the paint will explode out of them. Make sure you hit the targets as hard as you can since this impacts the amount of paint that will explode and splatter all over the pinball table. Furthermore, as your ball moves, it will leave colored trails, which can create some very interesting visuals. However, these trails also show your ball's trajectory, so this is not just a visual gimmick. For example, if you miss a few shot and lose a couple of balls, the ball will become inky black, which will leave dark trails behind it. Take a closer look at your ball's trajectory, since this will be crucial in some of the complex pinball tables.
When it comes to its difficulty, INKS is a pretty decent pinball game. You will first encounter several easier levels, designed to show you what this game is capable of. After that, you will encounter some devious tables that come with one or more tricks. Still, there is no spike in difficulty since new and enhanced mechanics are introduced gradually.
What is also important to be said is that you can't expect the same level of realistic physics as in some high-grade pinball games. However, the developer has done a good job of trying to create a realistic mechanism, which I believe could be further optimized. I noticed several glitches (nothing to be worried about) that made me lose a couple of stars. The bottom line here is that INKS is realistic and reliable enough that most people won't even notice these little glitches.
Pricing and IAP
The base game comes with three packs of 24 level each, which means that you'll have 72 tables, to begin with. In case you really get addicted and want more, you can purchase additional two level packs of 24 stages each, for $0.99. This seems like a fair price, especially considering that INKS is priced at $1.99.
As you will see in the App Store's description of this game, there are credits that you can buy. These are used to buy power-ups and there is no way to earn them simply by playing the game. However, even though they can play with some of the more difficult stages, they are not necessary. If you really strive for unlocking achievements, you might want to spend a couple of dollars more on additional credits. Either way, both of the additional level packs are worth the price and I am sure you will enjoy playing them.
Conclusion
INKS is a very interesting spinoff of a well-known genre. I am sure most of us played a pinball game at some point, but with this game, you will most certainly find your long-forgotten love for pinball games. There is nothing that I can say against INKS, since the level designs are well thought-out, and the game's difficulty hits the right balance.
In case you're interested in INKS, you can download it from the iOS App Store. This game comes as a universal download, which means that you can play it on your iPhone and/or iPad. Just prepare to lose many hours on solving all those levels.