The next major version of Apple's mobile operating system, called iOS 10, is coming this fall. Thanks to Apple's WWDC keynote speech, we exactly know what to expect when the final version gets released in a couple of months.
Even though Siri is the big star, there are plenty of other features that will make many users happy. Here are all the features that are coming to your iPhone and iPad. Continue reading to learn more.
iOS 10: New and Enhanced Features
Expanded Siri's Capabilities
Apple has done a good job of integrating Siri with third-party services, even though there are just a few of those connections. For example, Yelp and OpenTable already work great with Siri, but this was due to Apple's effort to establish a business relationship with those services.
As rumored in the past months, the iPhone maker has created a Siri SDK (Software Development Kit). This means that developers will be able to expand Siri's capabilities and make this technology work with their applications and services. This news doesn't come as a surprise since one of the main competitors of Siri – Amazon's Alexa is capable of working with over one thousand services. This leaves Siri behind, but we are sure that developers are going to take this chance and prepare their apps before the final iOS 10 version gets released.
As we saw a couple of days ago, WeChat, Slack, and WhatsApp made an appearance on stage at WWDC. This means that you can count on these services to become available on day one.
iMessage: The Platform
The world of instant messengers is highly competitive. We have seen how these services evolved in just a couple of years. What this means for Apple is that it needs to push iMessage even further in order to stay relevant.
There are a lot of new features when it comes to iMessage, where some of them are built to catch up to its rivals, while a couple of those are never before seen.
iMessage will have rich links inline, so you can play YouTube videos or listen to music without leaving the app. In addition, there is numerous new emojis that are three times bigger now. A new piece of technology will scan your written words and ask if you'd like to replace some of those words with emojis.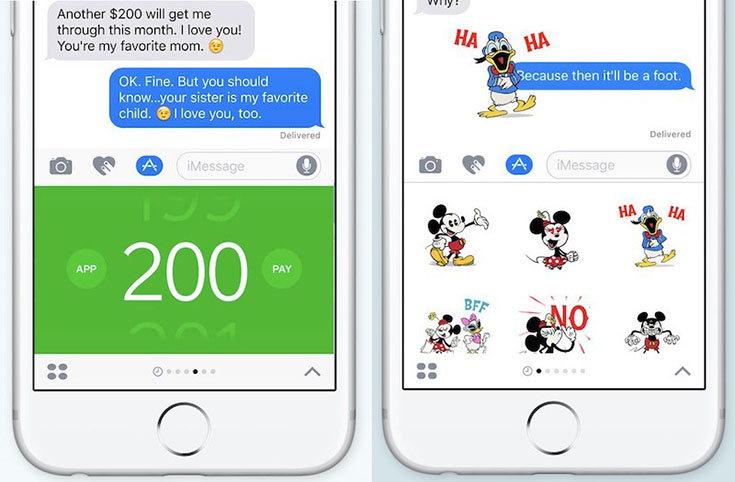 There are new effects with the text in bubbles, so you can make it larger if you want to shout or make it smaller if you're feeling meek. You can also write messages in "invisible ink" that the recipient can only read after swiping, or you can blur the letters until they tap.
Just like Siri, iMessage has been opened for developers. There is a new in-app drawer, so you will be able to use third-party apps as integral part of iMessages. For example, you can send money using Square, or order food with DoorDash.
The Redesigned Music App
Apple Music has turned out to be highly popular, with about 15 million active users at this moment. However, what critics and users agreed on is that the current Music app is overly bloated.
In iOS 10, the Music app will receive a complete redesign. The company is making the app much simpler, without affecting the number of available features. You will see much cleaner lines and icons that clearly represent their roles. No more tapping around to find something you need.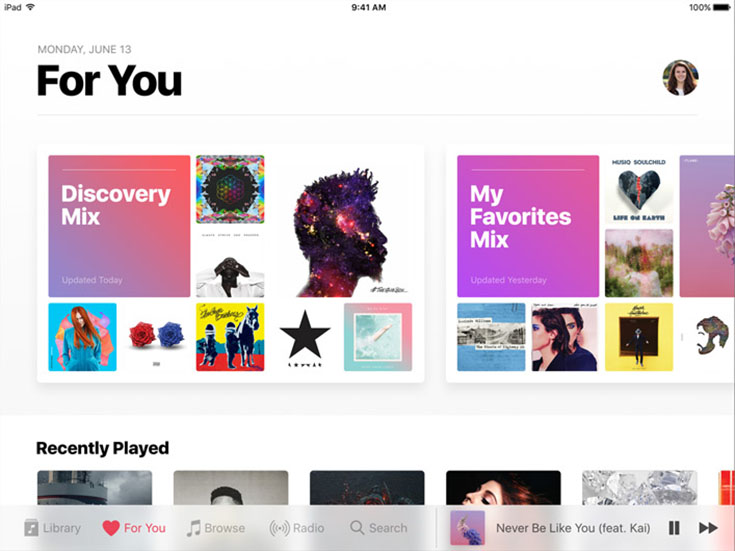 If you're wondering what the future holds for Apple Connect, which never managed to find its role among iOS users, this feature will be tucked away. This means that you can still find it in the redesigned Music app, but you can also forget it exists in case you don't use it.
Redesigned Notifications
The Lock Screen in iOS 10 will be much more functional. First of all, now you iPhone can show what's on your lock screen when you pick it up. However, what you'll see are much more interactive notifications.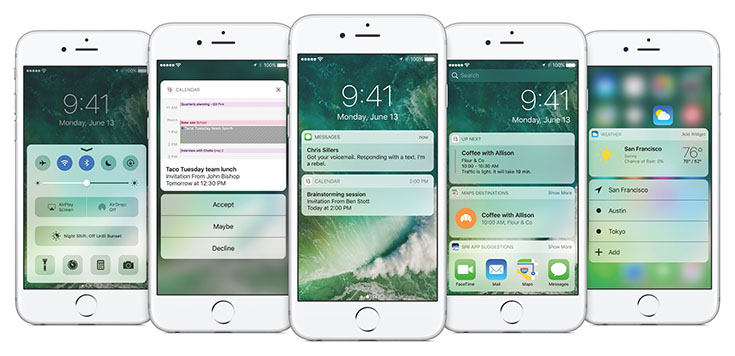 Applications that serve real-time information can now have notifications updated live. Some of these apps are Uber, which shows where a car is at any given moment, or ESPN showing you the current score. Furthermore, there is a new screen which can be accessed by swiping right from the lock screen, which shows widgets. These widgets can be seen inside the operating system while opening a quick menu through 3D Touch. 
Better Organized Photos App
Many of us are struggling with very large Camera Rolls and thousands of images. Once you collect a huge collection of images, it can be very hard to create an organized space where you can see some images from a trip that happened a year ago.
With iOS 10, the Photos App brings a much-needed update. Face recognition, clustering, and sorting by person, date, and place are one of a few new features. Now you can automatically create albums with certain kinds of images, so it will be much easier to handle your photo library.
Enhanced Maps App
Apple has been struggling with its Maps app ever since it replaced Google's Maps on our iPhones. Millions of iOS users are still turning to Google Maps and it seems like Apple is well aware of this.
The iOS 10 Maps App comes with a design tweak so your maps should look cleaner now. However, another interesting feature is what could make this app much more attractive.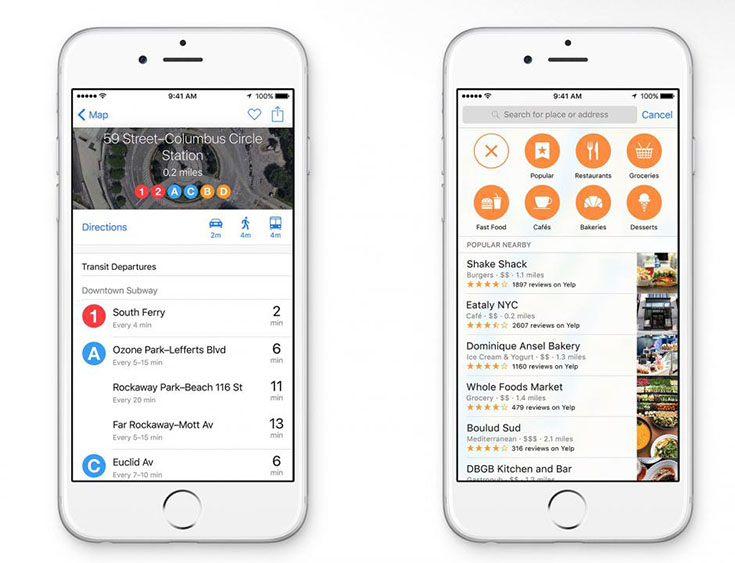 Just like Siri and iMessage, the Maps app is now open for third-party developers. It is up to them to build a bridge between this app and their apps, so we can have a better user experience. For example, you will be able to use OpenTable to make a restaurant reservation within the app.
In addition, now you will be able to gas stations and other helpful listings while using the turn-by-turn navigation. If you decide to stop for a meal, the Maps app will tell you how this affects your trip and it will give you recommendations on-the-go.
Siri Watches When You Type a Message
Apple's QuickType keyboard now comes with contextual awareness and works with Siri to help you do more. Some of the information that Siri will recognize are your location, calendar, and more. This way, if you receive an invitation to dinner, Siri make create a new calendar entry automatically.
A New Approach to Apple News
Apple's News app is a mobile app that came with iOS 9. The company tried to capture readers by offering exclusive news stories from The New York Times and other prominent publications. It can be said that this mission partially succeeded.
However, the app is struggling in the world of news catering apps, where Flipboard is one of the leaders. This is why Apple decided to change its approach and enhance the app once iOS 10 gets released in the fall. Now, News sorts the news into different sections that actually make sense, but also comes with support for subscriptions. It seems like this approach might actually succeed since we are sure that Apple learned a lot from the first version and from the Newsstand as well.  
The New Home App
No, this doesn't mean that you'll be getting a redesigned Home screen, even though this is something that comes up every now and then. Apple is still not ready for any major jumps, so you'll still have to settle with the grid of icons.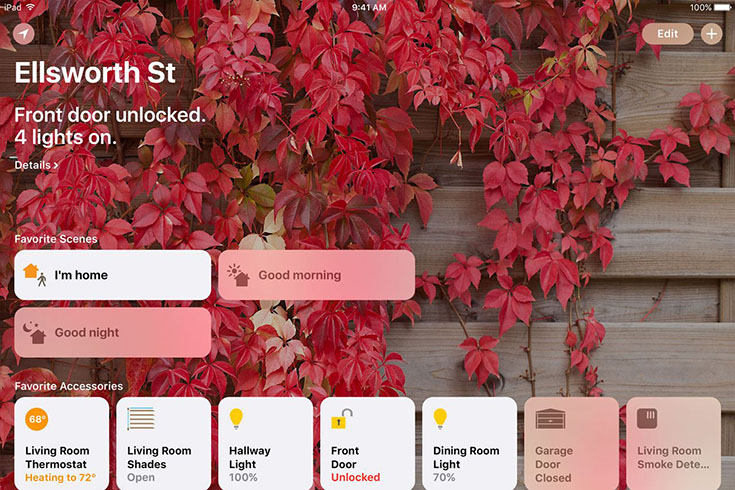 The new Home app is a new app that combines all your HomeKit-supported devices. From inside this app, you will be able to control all your smart home devices that come with compatible applications. This is a good way to create one place for everything about HomeKit, since the current iOS version has different HomeKit features scattered around the system, and not to mention different third-party applications.
As Apple says – the new Home app lets you turn on lights, unlock doors, and even raise your window shades – all at once if you like.
Phone-related New Features
Apple hasn't forgotten the core of its iPhone – making calls. One of the new features that are coming is voicemail transcription.
This move came after Google's decision to offer voicemail transcription, however, this service is still struggling to automatically convert spoken words into written text. It will definitely be interesting to see how Apple manages to overcome limitations of this technology. In case it really gets to work properly, this would be a game-changer.
Aside from voicemail transcription, there is a new VoIP API that lets incoming calls from apps like WhatsApp, FaceTime, and other apps, to look like a normal phone call. This means that a unified call-related UI is coming, regardless of which application or service you use. In addition, your phone will automatically check calls which seem like spam, and let you know.
Delete The Built-In Apps
Even though Apple decided not to show this feature on stage during this year's WWDC keynote, you will be able to delete the iOS stock apps. I guess it wouldn't look good if people in the room got excited about removing Apple's own apps, even though this is something that many of us want.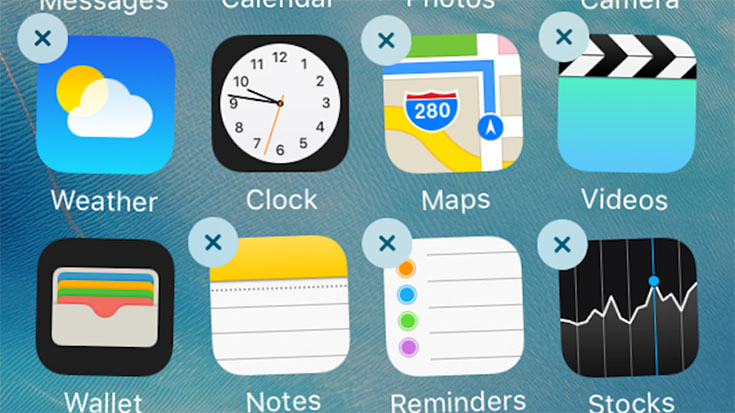 When iOS 10 comes to your phone, you will be able to delete apps like Tips, Calculator, Music, and more than a dozen other preloaded Apple apps. Yes, the Stocks app is included on this list.
Read Receipts on a Per-Conversation Basis
Now it takes to take a look at a series of smaller features that didn't make an appearance during the keynote. This certainly doesn't mean that they are less important, and I am sure you are going to love some of them.
For example, now you can choose to send, or not to send, read receipts. This is a good way to check if someone read your message. Once you receive iOS 10, you will need to click on the "i" icon in the top-right, and tap the toggle next to "Send Read Receipts".
"Slide to Unlock" is Gone
Well, this is going to be a bit sentimental. I am sure you all remember the "Slide to Unlock" which came with the original iPhone and has been a part of iOS since the beginning.
On iOS 10, you will need to press the home button to unlock your phone. In case you use Touch ID, it automatically unlocks your phone using your fingerprint.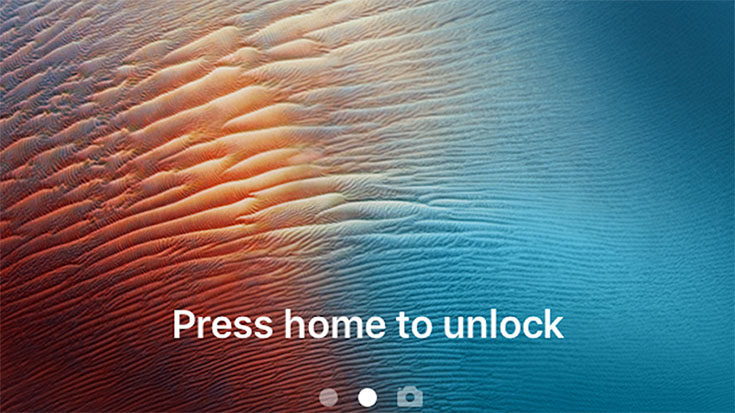 Interestingly enough, you can still swipe on the lock screen through. However, this will bring up the new Widgets screen, or start your Camera app is you swipe from the right side of the screen.
The New "Wake Alarm"
Aside from the normal alarm clock that we all know and love, there are a new "Wake Alarm" settings. This feature works similarly to any app that tries to analyze your sleep and provide you with a comfortable way to wake up.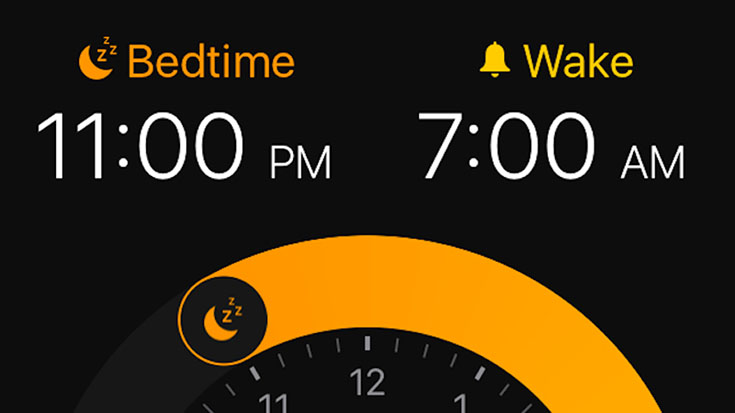 The new feature will ask you how much sleep you need, and then you'll get two alarms: one that will wake you up, and the other one that will go off when it's time to go to bed. This sounds a bit strange, right?
Easily Unsubscribe from Mailing Lists
In case you're like me, you receive lots of newsletters. I am not even sure how all those companies got my email address, but this is turning out to be a serious problem.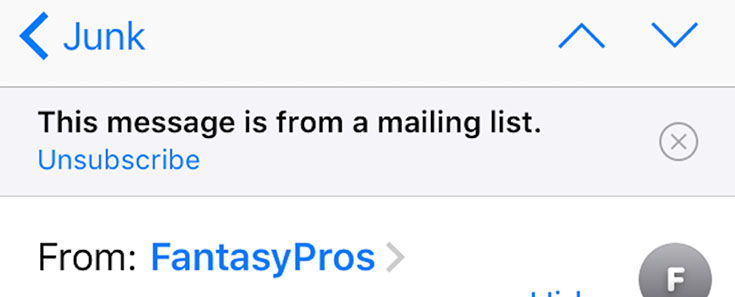 In most cases, you can unsubscribe by going to a dedicated link at the bottom of an email message. With iOS 10, now you can easily tap at the begging of a message since you'll see a warning that you're reading a newsletter.
Delete Your Old Music
If you have a ton of music on your phone, you will be happy to hear that there is a setting that automatically deletes music you haven't listened to in a while.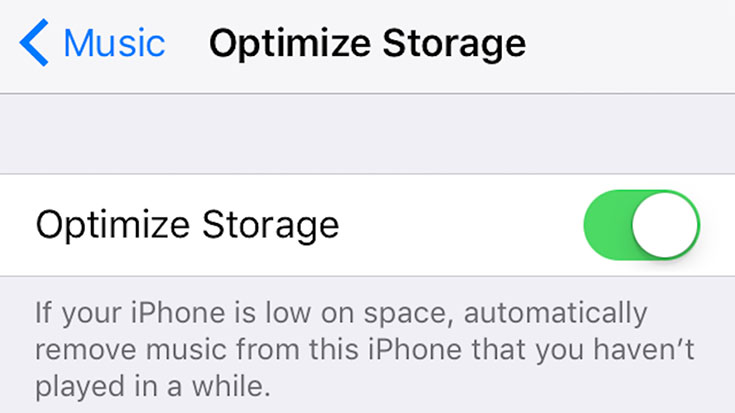 In Settings > Music > Optimize Storage, you will find a toggle to set up "minimum storage" for music. Pick a storage level and iOS 10 will delete old songs to keep you under the specified limit.
As you can see, there is a lot to look forward to when it comes to iOS 10. There is a long way ahead of us when it comes to its release date, but we will keep track of the changes. In case you think there's something that should be added to this list, feel free to contact us.