With iOS 10 being finally released, iOS users from all around the world can finally update their devices and enjoy in what Apple has prepared for us. As we previously wrote, the newest iteration of the company's mobile operating system brought numerous surprises and helpful new features that anyone can use. We previously brought you a comprehensive guide on the new features, as well as some helpful tips and tricks on how to get the most of your iPhone and iPad.
In this article, we will concentrate on another iOS 10 feature, called widgets. Those of us who were using OS X for a while now know all about the widgets, as well as how helpful or troublesome they can be. However, the new iOS 10 widgets can be truly helpful if you know how to use them. Let's take a look at how to get the most out of this interesting feature.
Widgets?
Yes, iOS 10 brings a completely new way to stay informed and use apps without actually unlocking your phone. You can think of them as app extensions that offer different kinds of information associated with different kinds of apps.
Widgets can be used for checking the weather, your email, and calendar, as well as the battery percentages on your connected devices. On the other hand, thanks to integration with third-party applications, you can also use them to send instant messages to your friends, or for "Shazaming" a song.
Installing and Managing Your Widgets
There are two ways to add widgets, depending on what iOS device you're using. If you have an iPhone 6s, 6s Plus, 7, or 7 Plus, you can use 3D Touch to add new widgets offered by the apps you've already installed onto your device. Simply press down on the app icon to see the widget module underneath or above the Quick Actions. This is where you will see the "Add Widget" option, which you'll need to tap on. That's all. Now you should see the widget in your Notifications panel.

In case you use an iPhone that isn't equipped with 3D Touch, you can still use widgets. However, you will need to go your widgets page, scroll all the way down, and tap on "Edit". You will see a new screen from where you can add new widgets and remove existing ones and rearrange them.
Using Your Widgets
In case you add a couple of new widgets and find them to be limited in functionality, you shouldn't entirely dismiss this feature. This is because no two widgets are exactly alike, and it depends on developers to make an effort towards creating fully interactive and dynamic widgets.
For example, you can both use Apple Maps and Google Maps to create new widgets that will show you how long it will take you to get home. However, only Google Maps lets you see your ETA via both a car and public transport. This is why it's important to try different widgets to see what they can offer.
Furthermore, you will see that some apps offer more than widgets. This is the case with Citymapper, which comes with three widgets, depending on your various public transport needs.
You will also notice that some widgets are more interactive than the others. Apple's widgets like Siri App Suggestions, News, and Favorites are quite static and all have a "Show More" option. However, this shortcut acts as an app launcher. On the other hand, Todoist lets you cross off items from your to-do lists without actually launching the app.
How to Find New Widgets?
In order to an application to offer a compatible widget, its developer needs to make sure to build this. This means that not every app comes with a widget, even though we can expect from this feature to be highly popular among newly released apps.
The problem is that you can't know if an app comes with a widget by taking a look at the app's App Store page. There is a symbol that indicates if an app has a watchOS/iMessage companion, or if it works with 3D, Hey Siri, and Apple Pay. However, there is no way to know if there will be a widget. For now, the only way to see this is to install an app and find out if there an option to add a widget by using 3D touch.
Stock iOS 10 Widgets
A number of Apple's native iOS applications have widgets, and some of them are quite useful. For example, the Notes widget allows you to open up any of the last three notes you saved, but also allows you to create a new text note, photo note, checklist, or hand-drawn note with a single tap.
The Calendar and Reminder widget can show you your upcoming appointments. News lets you skim through a couple of the latest headlines, while Mail lets you take a glimpse at your inbox.
As we previously wrote, Apple's Maps app has received numerous improvements. There is also a widget among those improvements. You can add Maps Destinations, Maps Nearby, and Maps Transit, all of which are designed to help you navigate.
Best Third-Party Widgets
Fantastical 2: Even though you can quickly glimpse at your upcoming appointments by using Apple's Calendar app widget, it seems like Fantastical 2 has done a much better job.
In case you use Fantastical 2 (and you should), you can use a widget that shows you upcoming events and reminders, with the scheduled time. It also uses smart symbols to indicate if there is anything else going on within a four-time timeframe.

If you have a reminder set, you can tap it to check it off right within the widget, without ever leaving your lock screen.
Fantastical 2 is one of the most useful calendar apps out there, available on iOS and OS X as well. In case you have a busy life and want a way to organize your time a bit better, you should definitely check it out.
Level Money: This is one of the popular personal finance apps that allows you to keep track of your budget and save some money. However, this is one of the simplest apps of its kind, which really matters when it comes to personal finance apps. After all, they tend to be complicated and tiresome, making it hard to stick to one of those apps in the long-term.
Level Money offers an iOS 10 widget as well, called Level Today. It allows you to see how much money you have left to spend by the end of the month, as well as how much you can spend today if you average your available funds over the rest of the days in the month. The widget is beautifully designed as well, which is always a good thing.
ESPN: The new ESPN widget will be loved by any sports fan. Once you save your favorite teams in the app, you will get a quick access to current scores without having to unlock the device.
Sports fans should definitely add the ESPN widget to their Lock screen, even if they don't have a subscription to the network. The widget is nicely designed, very clean and elegant. It also doesn't have to take a lot of space, since you can customize it.
Go Launcher: This is another highly popular app, even though it was first available on Android. When it comes to its iOS counterpart, you can use it as a useful tool to speed up your workflow.
Go Launcher comes with a convenient customizable widget that allows you to create shortcuts for your most used apps, most visited websites, favorite contacts, and it also offers extensions for Safari URL schemes.
Even though you can find numerous similar apps and widgets, you should definitely stick to Go Launcher due to its overall functionality, ease of use, and design. The app's widget is also nicely designed and goes well with the overall iOS 10 aesthetics.
Dark Sky: This has been one of the favorite weather apps for numerous users for a long time now. The best thing about Dark Sky is its ability to accurately predict the weather, making it one of the most reliable apps of its kind.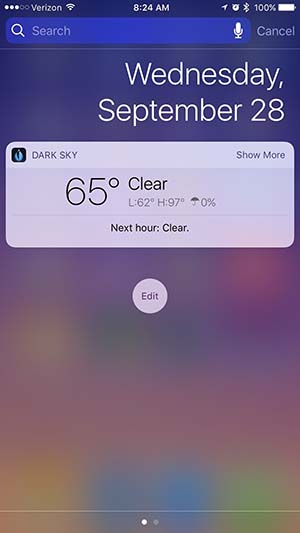 The Lock screen widget shows the day's highs and lows, plus the chance of rain and what the sky looks like for the next hour. This widget seems perfect for the rainy season since you can quickly take a glimpse at the forecast at any moment.
Todoist: We already mentioned this app earlier in the article as an example of a highly interactive widget.

In case you like to make lists that help you organize your time, Todoist is the app you should use. The app now comes with a widget that allows you to preview your lists right from the lock screen. Furthermore, you can mark off things you've already completed. There is also a shortcut button that allows you create a new task in the Todoist itself, so you can quickly add news things to your lists.
Shazam: We are sure that you've already heard of Shazam and used it at least a couple of times. This is an amazing app for instantly recognizing and storing songs, which now comes with a brand new widget.
When you suddenly hear a song you simply can't afford to know the name of, launch Shazam! However, instead of opening the app, save yourself a few taps and use the new widget. It's nicely designed and allows you to start a new scan by simply tapping on a blue-colored button, which is all you need to have to do the job.
Wikipedia: The Wikipedia app now comes with two neat widgets called Continue Reading and Top Read.

As its name implies, the first one shows you the last article you've read, allowing you easily get back into it by simply tapping on the widget. We all know how long that Wikipedia article can be, which means that this widget can be a life-saver at times. The second widget displays the top three read articles on Wikipedia, along with their respective page views.
Weather Underground: This is the second weather app we are mentioning. This is because we just couldn't miss highlighting this app's widget. As one of the most popular weather forecast apps out there, it is not surprising that WU now brings an amazingly designed widget as well.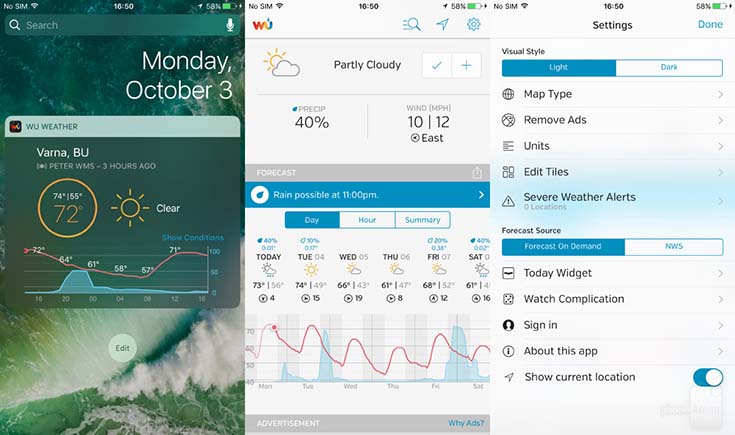 The widget shows granular information about weather conditions, including a radar map. Even with numerous kinds of information combined into one widget, it's very easy on the eyes because of different colors. This is a good example of how powerful and helpful an iOS widget can be.
Kitchen Stories: For all of you who are not sure what to cook for lunch, this app now provides a convenient solution. Kitchen Stories now brings an app called Recipe of the Day.
The widget brings a photo, along with additional information. You can see the ingredients, how much time it takes for the meal to be prepared, as well as how complicated it is. If you're interested in learning more, simply tap on the widget and you will be taken to the app.
Steve: If you're looking for a fun widget, this is the one you should download. Steve is the hidden dinosaur game from Google Chrome, which now comes in widget form.

Google's modern cult classic time waster can now be the player right from the lock screen. This is an endless runner designed to resemble an old-school game. It can provide entertainment when you're having a break and also shows that even games can be a part of the new iOS 10 widgets.
Conclusion
We hope that we persuaded you into using iOS 10 widgets. Even though it may look like this is just another gimmick, this is not the case. It will be interesting to keep an eye on this part of iOS 10 as well as to see what kind of tools developers will be able to bring to the lock screen.
In case you have something to add, or if you've found a hidden gem that we should know about, make sure to tell us all about it in the comments section.