The latest iOS release brings numerous refinements and a couple of new features. Even though Apple is making sure to advertise them and make them well known to iOS users, you still might miss a couple of smaller features that can help you make the most out of your iOS device. From a new Night Shift mode, refined News app, up to features designed for students, iOS 9.3 is full of surprises.
JustGoodBites has taken a deeper look at the recently released incremental update, and we are bringing you a list of the most useful features.
iOS 9.3: New and Refined Features
Night Shift
For a couple of years now, we have been reading news stories that advised us not to go into bed staring at our iOS devices. However, I think most of us decided not to follow these pieces of advice.
Night Shift is the iOS9.3 solution that is designed to lower exposure to bright blue light that affects your circadian rhythm. In other words, it makes the screen more orange-tinted.
You can set Night Shift to turn on automatically at sunset by going to the Settings app and finding the Display & Brightness panel. Interestingly enough, this feature uses the clock and geolocation to determine the sunset, but it's still fully customizable.
Additionally, you can activate this feature by swiping from the bottom of the screen, since the Control Center adds Night Shift to the bottom row of quick-access settings.
Multi-User Support
While Android phones and tablets are offering multi-user support for a couple of years now, iOS 9.3 brings the first sign of a similar feature. Still, this feature can be enabled only on classroom iPads.
The new Classroom app allows students to pick up any iPad, log in and start working where they left off. On the other hand, Teachers can sign into iCloud and control a group of iPads, like hiding specific apps from the Home screen and setting up restrictions to Apple Music and iCloud Photo Library.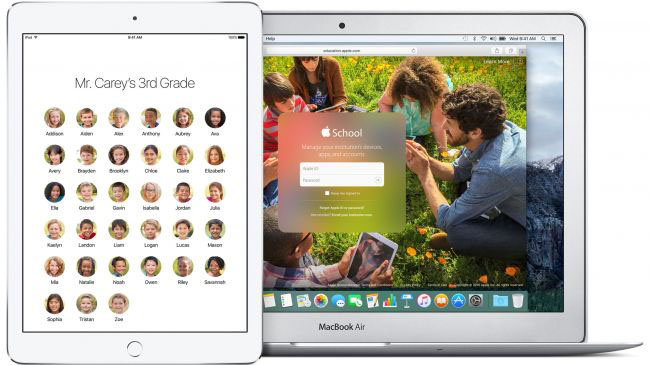 We sincerely hope this feature will find its way to all potential users, as well as that the new Classroom app is a test for a much bigger multi-user support.
Apple Notes: Password-Protected Items
The iPhone maker has clearly shown that it plans on building a safer iPhone. Before the new iOS 9.3 arrived, your private information in the Notes app would be visible if someone managed to break into your phone.
The technology behind Touch ID and passcodes are now a part of Apple Notes. First, you need to create a Notes-specific password by going to Settings > Notes > Password. After the password is set, you can use the Notes app where you will see the "LockNote" option in the Share Sheet.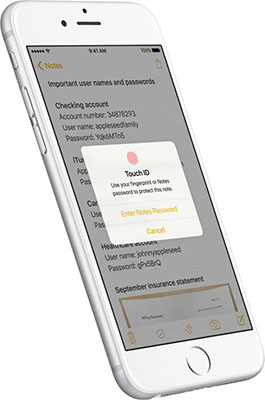 In addition, this app also received a number of smaller improvements. Some of these are sorting notes alphabetically or by date, starting a new sketch with a two-finger swipe, and choosing if photos and videos get stored only in Notes and not added to Photos.
Apple News: Better Curation
The News app received several important enhancements. The new "For You" tab received a "Top Stories" section featuring the most important articles for the day. The app also features a new Editors' Picks section with channels and topics recommended by editors.
You can also teach the app what kind of news you like. While browsing the "For You" section, you can swipe left on a story to save/share it. Swipe right for more options.
Save Still Images from Live Photos
Even though most of us are thrilled about Live Photos, you might want to take the still image at times.
With iOS 9.3, you can get a still image out of any Live Photo by pulling up the Share Sheet and tapping on "Duplicate".
Furthermore, you can now use AirDrop to share Live Photos between iOS and OSX.
Increased iCloud Protection
If you're worried about your iCloud contents, you can now set up two-factor authentication. This is a more secure option than two-step verification, which was available prior to iOS 9.3.
Visit your iCloud settings and select "Password & Security". This way, you can add a verified phone number to your account, so you can access your account or reset a forgotten password.
Apple Health: New Features and Improvements
The Health app received a couple of minor, but very important features designed to provide in-depth information. One of those improvements is third-party app suggestions.
Now you can easily find an app that is compatible with the Health platform by visiting suggestions in existing categories, like Weight, Workouts, and Sleep.
If you own an Apple Watch, you will also see a redesigned Health dashboard. Even though there is still the separate Activity menu, the front page of the app will show you several useful metrics. These include how frequently you move, exercise, and take your stand-up breaks.
In case you own the newest iPhone generation with 3D Touch, the Health app brings two quick-action shortcuts from its icon. These are "Show Medical ID" and "Show Dashboard".
Minor 9.3 Features
There are numerous smaller and subtle iOS 9.3 features. These are:
New 3D Touch shortcuts for preloaded apps such as Weather, App Store, Stocks, Health, Compass, and Settings. These shortcuts will take you to a specific setting in each app, so this is a good way to ease up your navigation iOS 9.3.
Siri now supports Hebrew, Finish, and Malay. This makes Apple's personal assistant understand the total of 37 languages.
In the US, Verizon customers can take advantage of Wi-Fi calling. Starting from iOS 9.3, you can place a phone call if you have a Wi-Fi connection in an area without cellular coverage. To enable this option, go to Settings > Phone > Wi-Fi Calling. When available, you will see Wi-Fi after your carrier name in the status bar.
Finally, the newly discovered 1970 glitch that bricks your iOS device if the date is set to January 1, 1970, is now resolved. Even though Apple failed to mention this in iOS 9 release notes, numerous sources confirm this bug to be fixed.