Apple's streak of success continued with the current iPhone generation, even though many predicted that the Cupertino-based company will have a hard time persuading potential buyers. In part, this was due to our expectations that every single iPhone generation needs to push this smartphone a big step further. The thing is that the iPhone is an excellent smartphone and has been one of the best smartphones you can buy for the last nine years. This makes us sure that the upcoming iPhone 8 will continue to lead the smartphone evolution.
Still, it seems like Apple will respond to our crazy wishes with the upcoming iPhone – which is what rumors and leaks are confirming. It's already been reported that the iPhone's components – such as its ultra-powerful A11 chips and OLED display, have already been finalized. In addition, there are speculations that the iPhone 8 will bring a new "all-glass" design as well as that we'll finally see wireless charging.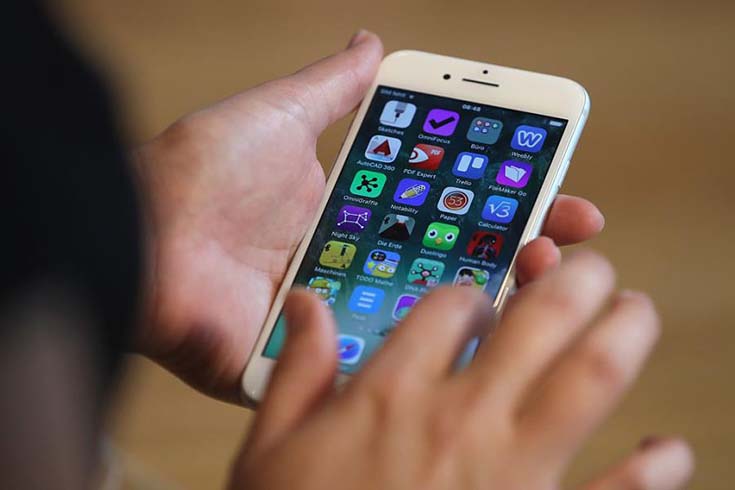 Even though we will be taking a look at the newest (and the most reputable) leaks, we will be also relying on other things. After all, the smartphone industry is cyclical, which is making us sure that we already know what's in store for Apple fans in 2017.
iPhone 8 Release Date
First, let's talk about when you can count on having the upcoming iPhone 8 in your hands. One thing is sure, and that's the fact that Apple tends to launch flagship phones in September, usually leaving a 10-day gap between the announcement and release.
Here's what we're talking about:
– iPhone 7: Announced on September 7 (Wednesday) – Released on September 16 (Friday);
– iPhone 6: Announced on September 9 (Tuesday) – Released on September 19 (Friday);
– iPhone 5: Announced on September 12 (Wednesday) – Released on September 21 (Friday).
With this kind of insight, we can be sure that Apple's iPhone 8 Media Event will take place on either Tuesday (September 12) or Wednesday (September 13). This means that the iPhone 8 will hit the shelves on Friday (September 22).
Still, we won't know for sure until much closer to the date. Apple usually announces its Media Events a couple of weeks prior to the big day, which means that we'll know the exact date in late August or early September.
iPhone 8 or iPhone 7s?
As you probably know, the major new version of Apple's smartphone is being released every two years. In 2016, the iPhone 7 was launched, which means that this year we should get the iPhone 7s. However, Apple will most likely break this tradition in 2017.
As numerous analysts claim, Apple is planning on skipping the half-cycle phone this year, and instead just to iPhone 8. This will mostly be influenced by the number of changes the upcoming iPhone is going to bring. It is also interesting to note that Japanese news agency Nikkei reported that Apple had moved to a three-year cycle for major iPhone upgrades in May of 2016. According to the publication's source, the decision was made due to slowing growth in the smartphone market, which is making it difficult to create a buzz around upgrades.
It is also uncertain if the upcoming smartphone will be named iPhone 8. It's been speculated that Apple could eventually drop the numbers in the iPhone branding. After all, this wouldn't be the first time the company went with that kind of decision. Apple's third-generation iPad (the iPad 3) was marketed as "The New iPad" to help simplify the company's tablet branding.
Specifications and Features
A number of rumors and leaks have surfaced, where many of them agree on a number of new features that the iPhone 8 will come with. Here are a few of the rumored features:
– All-glass design;
– Wireless charging;
– OLED/AMOLED screen;
– 5.8-inch screen;
– A11 chip;
– Intel 7360 LTE modem;
– iOS 11;
– No home button.
However, you shouldn't expect for all of the mentioned features to be available on every model. Just like before, some of the more "exclusive" features could be reserved for a select variant of the iPhone 8 Plus.
New 10nm processor? It won't be surprising if the iPhone 8 comes with a new processor. After all, this has been done many times before. Apple designs its own SoCs (system-on-a-chip) and tends to debut a new chip with every major iPhone release. The current iPhone generation features the A10 Fusion chip, which means that the iPhone 8 might come with a brand-new A11 chip.
On May 6, 2016, a report from technology industry news site DigiTimes claimed that TMSC had "recently begun to tape out the design" for the upcoming A11 chip. The report cited that the processor would be built on a 10nm FinFET manufacturing process, as well as that TMSC will achieve certification for the A11 chip in the first quarter of 2017. Following that, TMSC is said to be planning "small-volume production" in the second quarter of 2017, with mass-manufacturing kicking off in the third quarter.
Modem – Apple has historically used US chip-maker Qualcomm, who is the market leader for phone chips. However, Intel won a contract with Apple in 2016 to supply some modems shutting out Qualcomm form a portion of the supply. Some rumors are suggesting that Intel's 1,000 employees are working on its new modem that will be used in the upcoming iPhone. On the other hand, Apple could easily go for Qualcomm's sixth-generation LTE modem, called Snapdragon X16.
Battery – Traditionally, Apple's iPhones have generally shipped with smaller batteries than their Android counterparts. However, since Apple controls every single aspect of the iPhone (both hardware and software), the smartphone's battery is very efficient. What this also means is that battery life isn't entirely dependent on battery size since it is also affected by improvements to the processor and GPU, the screen technology, and a host of other components. So, even if the iPhone 8 comes with a smaller battery, this doesn't have to mean that you'll always need to have a charging cable by your side.
iPhone 8 Screen – Should We Expect OLED technology?
As you probably know, Apple decided to move from 4-inch screens to the 4.7-inch iPhone 6 and 5.5-inch iPhone 6 Plus. This caused an uproar from small-handed gadgeteers, which is one of the reasons why Apple is now selling a 4-inch phone again – the iPhone SE. However, there are rumors that Apple is now working on a 5.8-inch iPhone, based on an alleged order for 5.8-inch AMOLED panels. This means that the company might release its biggest smartphone to date.
In addition, Samsung's display division seems to be the prime candidate to supply AMOLED panels. This is good news since AMOLED displays are superior to LCD panels that are currently used by Apple. This is because AMOLED screens light up individual pixels when necessary, which is why it's said that these screens bring true black in addition to very vivid and clear colors. Samsung is currently using AMOLED screens in its Galaxy S-series, which are often noted to have much better displays than Apple's phones.
Camera
The iPhone 7 brings an astonishing camera, especially its larger variant. Many reviewers have agreed that the current iPhone generation features that best camera you can currently find – greatly above any Android flagship model.
Now, what's interesting is that Apple has partnered with LG produce a new kind of camera. It is said that the iPhone 8 might come with a 3D camera that would allow iOS users to recognize physical objects in the real world and utilize augmented reality. The report from Korea Economic daily says: Since LG Innotek also has its own 3D camera and related technologies, such joint efforts will likely bear fruit sometime in 2017".
It is worth noting that many Android flagships are using VR and attracting customers this day. It seems unlikely that Apple won't follow this lead and enter into VR world with its own product. A phone that features augmented reality (at least) seems like a good way to enter into this field.
Apple is also rumored to add facial and gesture recognition, according to analyst Timothy Arcuri, of Cown and Company. He predicts that the iPhone 8's most premium model will come with "some form of facial/gesture recognition supported by a new laser sensor and an infrared sensor mounted near the front-facing camera.
What the Future Holds?
By taking a look at Apple's patents, we can see what the company is experimenting with as well as what are some of the most interesting features that future iPhones will support. Some of the following patents have been circulating around the Web for a while now, and they are also tied to verified reports. This means that Apple is highly interested in materializing the following patents.
Wrap-Around Display – Rumors of a curved-screen iPhone have been floating for years now, but they appear to be solidifying around this year's iPhone 8. However, it's important to be highlighted that this patent goes beyond a merely cosmetic display (like the Galaxy S7 Edge). Instead, the patent shows a screen that goes all the way around the phone, enabling the side buttons to be replaced by virtual equivalents. We are not saying that the iPhone 8 will come with this type of display, but we won't be surprised to see a future iPhone resembling this patent.
Bent-edge OLED – Apple's obsession with curved screen continues with the following patent. As reported by Patently Apple, a new flexible OLED display might find its way to a number of products. As the report notes, Apple's patent filing doesn't limit the design to phones and could be applied to iPads, iPods, as well as embedded into eyeglasses, wearables, and even MacBooks. The patent, titled "Flexible Display Panel with Bent Substrate" was submitted in January of 2016, and published in July 2016 by the US Patent and Trademark Office. In the text, Apple writes: "To minimize the amount of the inactive border area of the display that is visible to a user, one of more edges of a display may be bent".
In-display fingerprint scanning – The Cupertino-based company has been awarded a patent for a technology for an in-display fingerprint sensor, which is actually one of the most prominent iPhone 8 rumors. The patent named "Capacitive fingerprint sensor including an electrostatic lens" says that you can put your finger anywhere on the screen for an accurate reading. To make this work, the company is planning to use an electrostatic lens in order to eliminate the blurring of the electrical field caused by the display and other internal components. The lens would use one of more conductive layers, which could bend around the user's fingerprint and provide an accurate reading.
Conclusion
Almost all of the rumors surrounding the upcoming iPhone 8 are saying that we should expect a major overhaul. It is expected to be very different than previous iPhones, and should also offer significant improvements when compared to the current generation as well.
We'd like to finish this article with a quote by Apple CEO Tim Cook who said: "iPhone is an essential part of our customers' lives, and today more than ever it is redefining the way we communicate, entertain, work, and live. iPhone set the standard for mobile computing in its first decade and we are just getting started. The best is yet to come". Sounds very optimistic, doesn't it?