The recently introduced iPhone SE failed to meet Apple's expectations, new launch data shows. On the other hand, the 9.7-inch iPad Pro has seen steady adoption.
In the days after the iPhone SE was released to the public, it accounted for just 0.1 percent of all iPhones observed by analytics firm Localytics. This turns out to be the lowest first-weekend for any new iPhone release in the last five years. On the other hand, the iPhone 6 is still the most popular Apple smartphone, at 33 percent. Right after the iPhone 6, we can see the iPhone 5S at 18 percent.
There might be a couple of reasons why the iPhone SE may be lagging, where many customers in the U.S. are in the middle of wireless contacts. Critics already agreed that the new iPhone is quite capable, and seems to be the perfect 4-inch phone for those who find the newest iPhone generation a bit too large.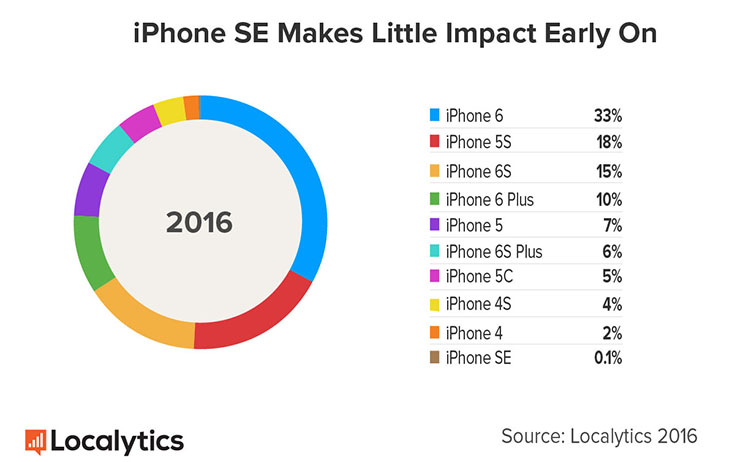 Meanwhile, the new 9.7-inch iPad Pro accounted for 0.4 percent of all iPads in their first weekend of sales. This matches the iPad Air 2 and is a bit higher than the 0.3 percent of the larger iPad Pro. It is clear that there is a potential for this model to make a long-term impact on the tablet market.
These numbers came from examining more than 100 million iPhones and 50 million iPads.