Here at JustGoodBites, we test a number of applications on a monthly basis. What this means is that we have more experience than an average iOS user when it comes to choosing the best possible app for a particular job. This also means that we can help you find the most affordable games that are also quite addictive, as well as the best productivity apps and capable photo-editors that are also low priced.
Since we have only one day left in 2015, we feel it's time to take a look at some of our favorite apps. Some of them are brand new and come from well-known companies, while others come from indie developers. Additionally, some are revamped apps that found their place on our home screens once again. Take a look at our list, and add your favorite apps for 2015 down below, in the comments section. So, without further ado – this is our list of the best apps of 2015!
Email Client: Microsoft Outlook
Microsoft has done a great job of releasing a number of high-quality apps during the last 12 months. It is clear that this company wants to attract users from other platforms and make them switch over to Microsoft's ecosystem of apps and services. Here at JustGoodBites, we use Microsoft Outlook for our email needs as well as Office for iOS, for text editing.
Even though it might be shocking to the system when it comes to switching from Gmail to Outlook, the new iOS app makes this transition a lot easier. Outlook now allows you to manage your messages, files, and calendar. It works with services like Gmail, iCloud, and Yahoo as well. There is even an Apple Watch version so you can quickly glance at messages. What more can you ask for?
Photo Storage: Google Photos
I am sure that most of us need a very compelling reason to decide on uploading private photos to a cloud, but the Google Photos app might be just that. This application is completely free of charge and comes with numerous highly useful tools, making it the best option in case you'd like to keep your photos in the cloud.
Google Photos is known for automatic photo organization based on where and when you took your photos. You can stitch photos into panoramas and easily create GIFs. What I personally like the most are Google Photos' search capabilities. Searching for "cat" will bring up all your images where a cat can be found – and these search results tend to be very accurate.
In case you decide to use Google Photos, you will receive 15GB of free storage. However, this space will be shared with other services like Gmail, Docs, and Cloud Drive. You can always purchase extra space, as expected. It is easy to see why we picked Google Photos as one of the best apps of 2015.
Listening to Podcasts: Overcast 2
In case you like listening to podcasts, then having Overcast 2 on your iPhone is simply a must. In comparison to Apple's own Podcasts app, this app comes with numerous important functionality improvements but also brings some new additions.
What I like about this app are the Smart Speed and Voice Boost features. The former lets you accelerate a podcast, which can come in handy while listening to those long episodes. The latter can be used when listening to a show in a noisy environment.
As expected, you can download and stream episodes via Wi-Fi or cellular network, as well as delete individual episodes to free up space on your iPhone.
To-Do Lists: Any.DO
Even though Apple's Notes app is now much more functional than before and comes with a nicer UI as well, there are times when you need something more capable. In case you're searching for a to-do list manager, our suggestion is to download Any.DO.
This application lets you separate tasks based on different areas of your life, so you organize them in a clear way. It brings minimalistic UI that also looks great. Additionally, the app syncs between desktop, mobile, tablet, and browser, so you can access it from various devices and platforms. You can also attach files and photos to your entries, as well as work with other Any.DO users towards completing your goals.
Entertainment: Periscope
Periscope is Twitter's live video streaming service, which is still being heavily advertised by Apple. This is an essential download for anyone who likes the information flow that Twitter provides but wants something more visual, as well as more entertaining.
Using Periscope, you can easily start you own live streams or watch the others', as well as send comments in real time. There are 24 hours to replay streams, so there's always something new to watch.
What is interesting about this app is how simple it is, but also highly functional and feature-rich. It brings just the right balance, whether you are more creator or viewer.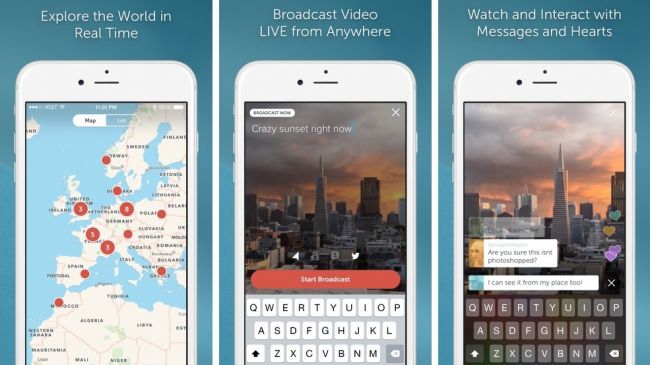 Photo Editing: Snapseed
When it comes to photo editing, you can choose from thousands of highly-capable photo editors. However, the most user-friendly one comes from Google and is called Snapseed.
Google's Snapseed is a photo editor that is designed to help you achieve professional-looking results, without having to know a lot of photo editing stuff. On the other hand, there is a lot of depth to this app, so it takes a bit of effort to learn some of its tricks.
Snapseed offers everything from playing with all kinds of fun filters, applying basic and complex adjustments, as well as adding borders and frames. This is why Snapeed is one of our picks for the best apps of 2015.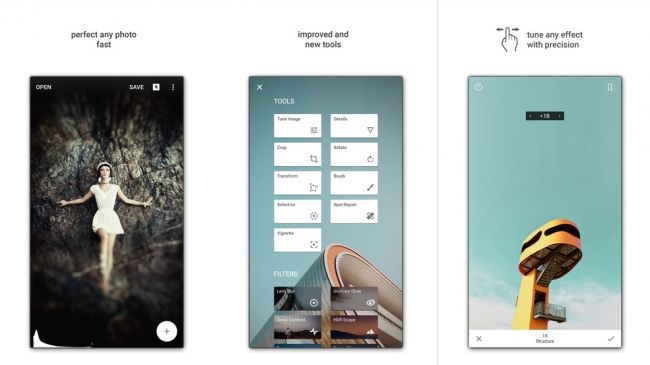 Messaging: WhatsApp
Even though this is not really a new app, WhatsApp is always going through constant updates which are keeping it fresh. This is also a good example of a reliable service and an app that keeps growing without being too complicated.
WhatsApp is certainly one of the essential apps to install on your iOS device, which allows you to stay in touch with your friends and family across the world. This app allows you to send messages over any Wi-Fi or mobile data connection. Additionally, you can send and receive photos with no size restrictions. The best of all – this app is free of charge, at least for the first year.
Education & Reference: Wolfram Alpha
One of the best apps of 2015 in the education and reference category is Wolfram Alpha.
Wolfram Alpha is a well-known source of pretty much every possible information you can imagine. Best used for academic purposes, this service can help you with anything from mathematics, history, linguistics, up to astronomy and computational sciences.
This was a web-based service for a long time, but now there is an iOS app that brings all the power of this service to your iOS device. Actually, Wolfram Alpha for iOS has been around for quite some time, but this year received an overhauled UI, which is now minimalistic and flat. Still, there is no better app for getting a reliable information on pretty much anything, making it our top pick for one of the best apps of 2015 in the education category.
This app is priced at $2.99, and we believe that it's more than worth it.
Ad Blocking: 1Blocker
No one likes those annoying web ads that can be very aggressive at times. Lucky for us, we have the ability to eliminate those ads from our iOS devices with the introduction of iOS 9. Now you can download and install ad blockers that work with Safari towards eliminating ads.
One of the most capable is 1Blocker. This application is able of detecting different kinds of ads and block them while cutting your mobile browsing data up to one-half. You can let the app work automatically, but you can also whitelist websites using an extension, as well as easily create your own custom blocker rules. Additionally, you can choose to hide social widgets and share buttons, adult websites, and more.
1Blocker is free of charge but comes as a freemium app. To fully unlock it, you have to pay $2.99, which still sounds like a great deal.
Binge Watching TV Shows & Movies: Netflix
Even though we are sure that many of you already use Netflix, there might be those who are still unaware of this video streaming service. Since this is probably the most comprehensive streaming service, we have to mention it.
The Netflix app for iOS works with a subscription and allows you to watch movies and TV shows on your iOS device. This app is being constantly upgraded with new features, and it also has one of the largest digital libraries of movies and TV shows. Memberships start from just $7.99 per month, and it's well worth it.
Even though it might be tiresome to watch an entire movie of a full TV season on your iPhone, this is a must-have app in case you use an iPad. Definitely one of the best apps of 2015!
Watching Your Own Content: Plex
In case you have an extensive collection of movies and TV shows, the best way to enjoy it is by using Plex.
This app allows you to set up your own home media server, so you can access it from various devices. There is even an app for the new Apple TV, about which we wrote about just a few days ago. The only trick is that all your devices need to be connected to your Wi-Fi network. The installation is very simple, and the app itself is gorgeous.
Plex is free of charge and brings all you need for watching your own content. You can also pay for a premium pass and you'll be able to sync content to your iPhone for offline viewing.
Learning a New Language: Duolingo
Duolingo started as a Web app but soon published its official iOS application. This app is designed to help you learn a new language in a very understandable manner. There are nicely designed lessons for learning new words and perfecting your grammar, and the best thing is – there are dozens of languages to choose from.
Duolingo is the best choice when it comes to free, mobile apps for language learning. During 2015, the app received several major improvements. The thing that I like the best is the offline mode for downloading your next lesson, so you can continue learning even if you're not connected to the Internet.
Fitness-oriented app: Runtastic PRO
Started as an app for runners, Runtastic is now designed for anyone who wants to track an activity, including hiking, walking, cycling, kayaking, and skiing. The app can work with or without a fitness tracker, which is its biggest strength. In case you're looking one of the best apps of 2015 for runners, look no further.
The reason why millions of people use this app is because of a wealth of information it provides. You will get to see maps of your route with information like your speed, pace, elevation, and more. This is a good way to stay motivated as well as to keep track of your activities.
You can use Runtastic PRO for free, as well as its Apple Watch counterpart, but it's limited to basic features. The premium model can be purchased for $4.99.
Travel-oriented app: Kayak Pro
When it comes to planning a trip and booking hotels, flights and car rentals look no further than Kayak Pro.
This app brings one of the largest databases of hotels, flights, and car rentals, allowing you to review different options and choose the one that suits you the best. Additionally, this is a good way to save some money while traveling.
In case you are a traveler, this is one of those essential apps that you need to have installed on your iPhone. A feature that I like the most, aside from getting the best deals, are detailed maps of numerous airports.
Kayak Pro is priced at $0.99, which is an amazing deal considering that you'll save money of hotel booking by using this app. As a plus, you will receive a version for your Apple Watch, so you can preview information on-to-go. Definitely one of the best apps of 2015!
We hope you have found our list of the best apps of 2015 useful. In case you have an app that you'd like to see on our "Best Apps of 2015" list, feel free to post a comment.