If you are a longtime Mac user, it's understandable if you're frustrated with Apple. The most important part of Apple's lineup now seems to be replaced by iOS devices. Up to 2012, the Cupertino-based company made sure to refresh their notebooks and desktops with the latest Intel processors and GPUs, but this strategy was soon abandoned. Today, some Macs are left without a refresh for up to three years, while iPhones and iPads are being updated every single year.
The new MacBook Pros (unveiled during the recent Media Event) are here as an answer to those Mac users who have been longing for a new computer. Understandably, the initial reaction was a bit harsher than expected, since Apple fans were interested in something more radical. Still, the new notebooks combine a refreshed design with a good dose of updated technology.
In this article, we will be looking at the $1,499 13-inch MacBook Pro. This model doesn't come with the Touch Bar, so is aimed at those who are not interested in this feature.
Specs (13-inch MacBook Pro)
Before we begin explaining how the new notebook looks and feels like, let's list the exact specifications of the model we are about to review.
SCREEN: 2560 x 1600 at 13.3" (which equals to 227 PPI);
OS: MacOS Sierra (10.12.1);
CPU: 2.0GHz Intel Core i5-6360U – Turbo up to 3.1GHz;
RAM: 8GB 1866MHz LP DDR3 (upgradable to 16GB at purchase);
GPU: Intel Iris 540 (Integrated, 64MB eDRAM);
HDD: 256GB PCIe 3.0 x4 SSD;
NETWORKING: 867Mbps 802.11 a/b/g/n/c, Bluetooth 4.2;
PORTS: 2x Thunderbolt 3.0, Headphones port;
SIZE: 11.97" x 8.36" x 0.59";
WEIGHT: 3.02lbs;
BATTERY: 54.5Whr;
OTHER: 720p webcam, backlit keyboard, dual integrated mics.
As we previously mentioned, we are reviewing the 13" MacBook Pro without the Touch Bar. Even though this is the most prominent difference among the three available MacBook Pro models, there are also other differences that might be of interest:
– The low-end MacBook Pro uses a 15W Core i5-6360U CPU, while the high-end model uses a 28W Core i5-6267U CPU. What this means is that the 28W model can run faster and provide better performance, the 15W model consumes less power.
– The low-end Pro uses a single "Alpine Ridge" Thunderbolt 3 (Intel-made), while the high-end Pro uses two Thunderbolt controllers. However, one of those two controllers is using "reduced PCI Express bandwidth", which means that it offers somewhat decreased performance.
– Surprisingly, the low-end Pro has a larger battery (54.5Whr) than the high-end model (49.2Whr). Apple is claiming that both laptops have 10 hours of battery lives, even though this is hard to believe. Still, we need to test both models to see how their rank.
Design
It is safe to say that the new MacBook Pro models are among the most beautifully designed notebooks currently available on the market. Apple really knows the industrial design, and it knows how to put it to good use.
The Pro's construction is amazing. The notebook seems very sturdy and quality-made while being thinner and lighter than the previous Pros. In addition, slightly rounded corners seem like a good addition, especially if you used the previous model where its hard corners could leave marks on your wrists.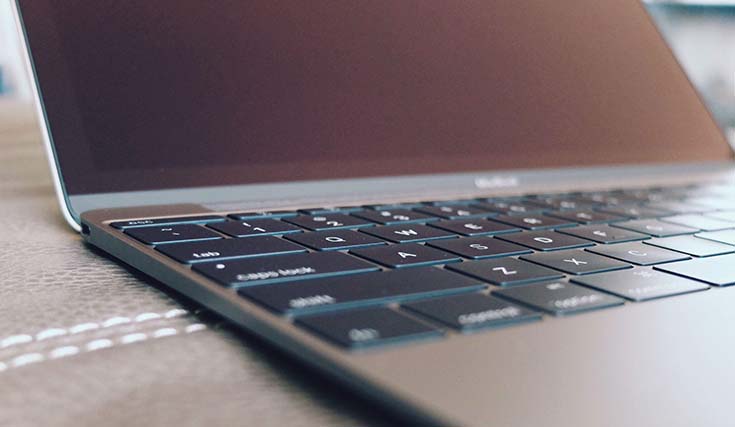 When it comes to its weight, the MacBook Pro is around half a pound lighter than last years and roughly the same weight at the 13-inch MacBook Air. The weight savings are really noticeable if you used the previous model.
Finally, it is also worth noting that the laptop's fan is not audible in a room with little to no ambient noise. If you use professional-grade applications that usually push the laptop's performance for an extended period of time, you will get to hear the fan. Still, it seems to be much quieter than the previous Pros and Airs, which is a good thing.
Keyboard & Trackpad
Apple's MacBook Pros are known for their quality-made keyboards and trackpads. In case you really care about those features, you will be happy to know that the company made sure to improve them.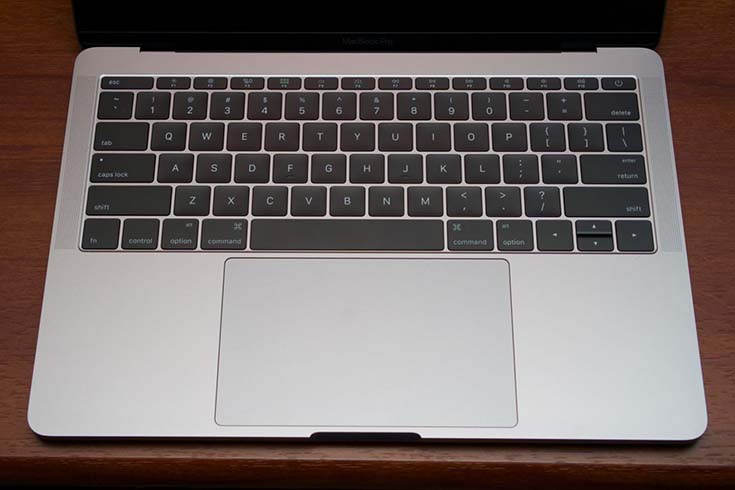 When it comes to the new trackpad, the company says that the new Force Touch technology has been implemented. In case you haven't used a trackpad powered by the Force Touch, you will instantly feel the difference. "Clicking" in a Force Touchpad is entirely simulated, so it feels the same no matter how you click it. Furthermore, this trackpad is thinner than the one used in older MacBooks and the Magic Trackpad 2, which is one of the reasons how Apple managed to made such thin laptop.
It is also interesting to note that you can visit the System Preferences to change how the trackpad responds to your input. There are different levels of firmness, so you can pick the option that works best for you.
In case you are a heavy user of MacOS' gestures, you will be happy to know that the new trackpad is making it even easier to interact with the operating system. Since your hands need to move less, you don't have to be worried about being precise.
The keyboard is a more drastic departure. The new MacBook Pro uses a second-generation of the same keyboard Apple introduced with the last year's MacBook. The keys are slightly larger, and they move less. The keyboard is backed up by the butterfly switch mechanism, which only allows for 0.5mm travel. The consequence of this is that the keys are much firmer and they wiggle very little.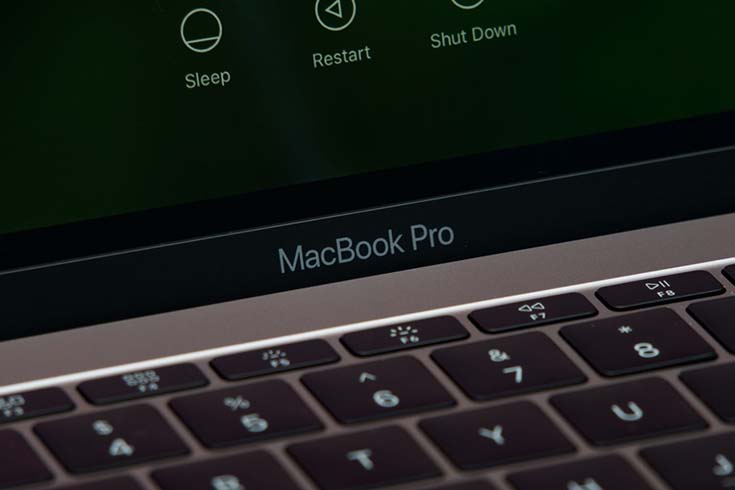 What is interesting is that Apple enhanced the butterfly mechanism for the new MacBook Pros. According to Phil Schiller, the new mechanism provides "an even greater sense of keyboard travel". This means that the keyboard is very thin, but you won't notice this fact. Once again, this is one of the ways the company managed to create this incredibly thin laptop.
Screen
Even though the new Pros have the same screen sizes as the previous generations, there are numerous improvements under the hood. For the 13" model, this means a 13.3" 2560 x 1600 screen. Even though the panel is the same as before, the bezels around it are now much slimmer.
There are three major improvements to the Pro's screen. First, its maximum brightness has increased from 300 units to 500 units, and it is now paired with the anti-reflective coating. This means that the new Pro is more usable in bright light. Second, the contrast ratio is also improved – it is not 1500:1 compared to 900:1 in the previous model. Finally, the new screen supports the DCI-P3 color space, just like the iPhone 7 and 7 Plus. You've probably heard Apple talking about "wide color", which is a simple way to explain this feature.
Let's spend some time explaining what is the DCI-P3 color space. First of all, this feature brings around 25 percent more colors than the traditional sRGB space that Apple used for a very long time. This can be easily seen by placing the new and the previous MacBook Pro model side-by-side. For example, colors like red and green are more vivid. However, it is important to be said that applications need to be updated to support this features. MacOS Sierra already comes updated, and we can expect that many photography-related apps will join the bandwagon soon. On the other hand, you need to make sure you're shooting with a camera that supports this feature or to shoot in RAW mode and process the images using an app that supports wide color.
Even though all of these improvements are definitely nice to have, they are not really something that will persuade an average Mac user into buying one of the new MacBook Pros. Still, photographers are the ones who are going to enjoy in this. On the other hand, this clearly shows how Apple actually cares about its notebooks, even though this means that average users are forced into accepting these high-end technologies.
Speakers
The new MacBook Pro comes with two stereo speakers, one on either side of the keyboard. Apple says that the laptop also routes some sound through the heatsink and vents.
During our tests, we noticed that the new speakers really do provide much better sound. Bass is more audible than before, and treble is cleaner as well. The laptop also does a good job of stereo separation, where you can clearly hear which sounds are coming out of the left speakers and which sounds come out of the right.
The company also says that the 15-inch Pro brings even better speakers since there's more room to work with a larger laptop. However, we will have to test this model in order to see if this is true.
Ports & Connectivity
It is clear by now that Apple strongly believes that USB-C is the future of the ports, and it is making huge efforts into trying to advertise that.
What is important here to be said is that the 13" MacBook Pro uses Intel's "Alpine Ridge" Thunderbolt 3 controllers to increase the port's' speed and flexibility. Since it uses the same port as USB-C, you can still use standard USB-C cables and accessories.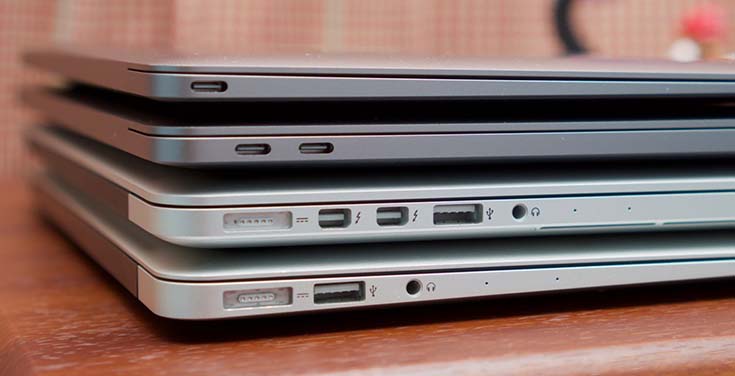 Thunderbolt 3 is a major improvement over Thunderbolt 2. It supports transfers of up to 40Gbps, while the USB port supports up to 10Gbps. These ports also make a jump forward in external display support. This MacBook Pro supports a single 5K display at 60Hz over a single Thunderbolt 3 cable and can support two 4K screens at once.
The main problem here is that you will have to make an effort to accept and live with this technology. Today, this means buying a bunch of adapters to connect multiple devices at once at relying on wireless technology to get the job done. This usually means spending up to $100 to build the bridge between USB-C and all your existing devices and accessories. In case you don't remember, the previous-generation MacBook Pro was able of connecting peripherals via USB-A, HDMI, mini DisplayPort, and Thunderbolt 2. There was also a 3.5mm headphone jack and the SD card slot. Of all of those highly useful ports, only the 3.5mm headphone jack is still present on the newest MacBook Pro.
Even Apple is having trouble to explain how this transition can help you in your everyday life. The iPhone 7 comes with a pair of Lighting earbuds, a 3.5mm-to-Lightning adapter dongle, and a Lightning-to-USB-A cable. The company has recently lowered the price of adapters, even though this still means that you'll have to spend some money on bridging the gap.
Performance
The 13-inch MacBook Pro that we're reviewing comes with 15W dual-core processors that are based on the Intel's Skylake architecture. More precisely, the base model includes a 2.0GHz Core i5-6560U, even though it can be upgraded to a 2.4GHz Core i7-6660U if you need improved performance. Both of these processors include integrated Intel Iris 540 graphics processing units (GPUs). When it comes to RAM, the base model can be configured with 8GB or 16GB of LPDDR3. Furthermore, the base SSD comes with 256GB of storage, which can be increased to 512GB or 1TB. If you upgrade the base model with the best possible specs, it would cost your $2,599.
Among its specs, the biggest problem here is the amount of RAM. More demanding users might want more than 16GB, even though this has been the limit the Pros have had for many years now. According to Apple, this is caused by battery life. The company decided to stick with LPDDR3 instead of adopting DDR4 mostly because of power usage and battery life. Another problem is Apple's use of Intel's Skylake instead of the new Kaby Lake chips that can be seen in newer PCs.
Apple's use of Skylake is actually Intel's fault. The Cupertino-based company uses the ultra-low voltage CPUs for the Retina MacBook, which means that we'll have to wait until early 2017 to see the new Kaby Lake chip that is compatible with these notebooks.
It is also important to take run a couple of tests in order to see what kind of performance the MacBook Pro's Skylake offers. These tests are required since the Skylake chip is still new to the MacBook Pros, and we haven't seen the versions with Iris GPUs. The following image shows Geekbench's results for the new MacBook Pro and compares it with earlier notebooks. As can be seen, the performance in the base model is roughly equal to the base model 2015 MacBook Pro.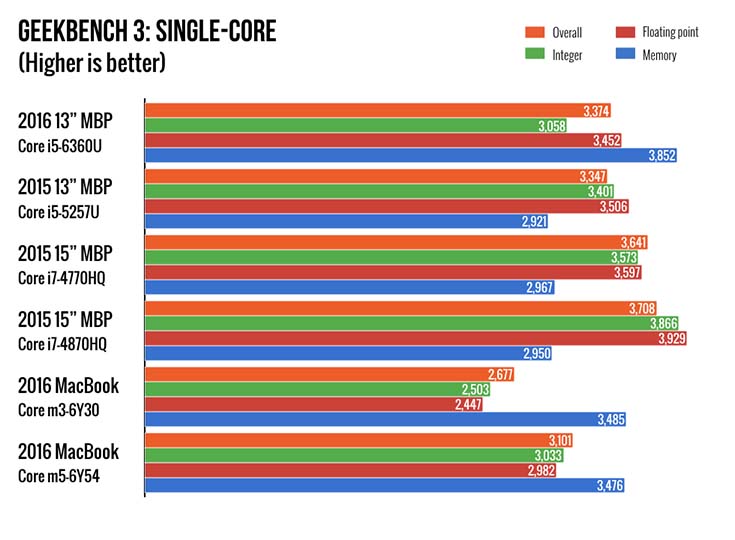 However, things are improved when it comes to GPU performance. Skylake's GPU performance is much better than older Iris GPUs, and here's why.
When it comes to the previous generation of chips, we had two main groups of Intel Iris GPU. There was the base Iris GPU as well as the higher-end Iris Pro that came with 128MB of eDRAM. Furthermore, the high-end GPU had a large and fast cache of memory built into the processor, which means that the GPU used this instead of accessing the system RAM. Furthermore, memory bandwidth is also highly important. This means that 128MB of eDRAM offered improved performance, even though this couldn't be compared to the multi-gigabyte fast GDDR graphics that dedicated GPUs offer. Still, every megabyte helps, which is why Intel Iris Pro has been always a much better solution.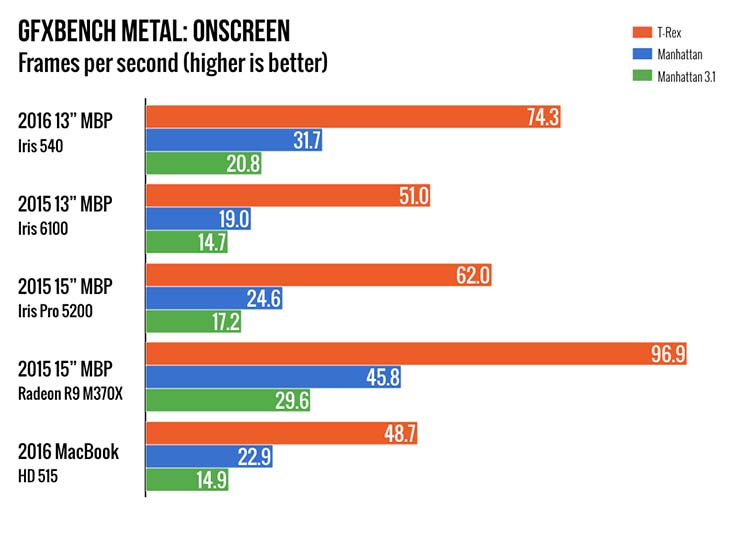 When it comes to the reviewed MacBook Pro model, Intel and Apple are still using 64MB of eDRAM. This is somewhat better than before, which is why the 13-inch MacBook Pro is a little bit faster than the integrated GPU that Apple used in the 2014/2015 15-inch MacBook Pro.
This is where we come to the question of gaming. Sure, you will be able to use the 13-inch Pro for gaming, as long as your games are older and if you don't care about stunning visuals. When it comes to the newest games, this model will have a hard time running them. On the other hand, this was expected since no 13-inch MacBook Pro has ever been designed for gaming. Still, if you care about using CAD software of Photoshop, this is where you'll see improvements. These apps will run better, especially if you decide to conned a 4K or 5K external display.
When it comes to SSDs, this is where Apple has always been in the forefront. The new Pros five the SSD four lanes of PCI Express 3.0, which is something that is now possible thanks to Skylake's architecture. Last year's models were limited to PCI Express 2.0. This means that this year's model is on par with last year's 15-inch model, which is a huge step forward. Furthermore, write performance is also something that has been much improved. It nearly doubles the read speed of last year's 13-inch model and is 40 percent faster than the read speed of last year's 15-inch Pro.
Now let's talk about the external display and how they work with this model. We used Dell's 4K display to test this connection and its performance. When it comes to some earlier models, like the 2015 Pro and Air, these both could drive 4K displays at 60Hz over a single cable. The new Pro is somewhat improved, even though things can get problematic if you decide to open numerous windows at once. The GPU shows signs of struggle when it comes to working in demanding applications, even though you maybe won't even notice this.
Battery Life
You will be more than happy with the 13-inch MacBook Pro if you don't use demanding apps while running on battery power. It lasts way over Apple's 10-hour estimate when it comes to Wi-Fi Web browsing tests. It also outlasts last year's 13-inch Pro despite that model's larger battery.
Even though Apple rates both the $1,499 Pros and the Touch Bar model at 10 hours of battery life, we can expect that the base model without the Touch Bar will last longer than the 13-inch Pro that comes with the new Touch Bar. After all, the model without the Touch Bar comes with a larger battery, a lower-power processor, and doesn't have to drive the SoC and screen of the Touch Bar.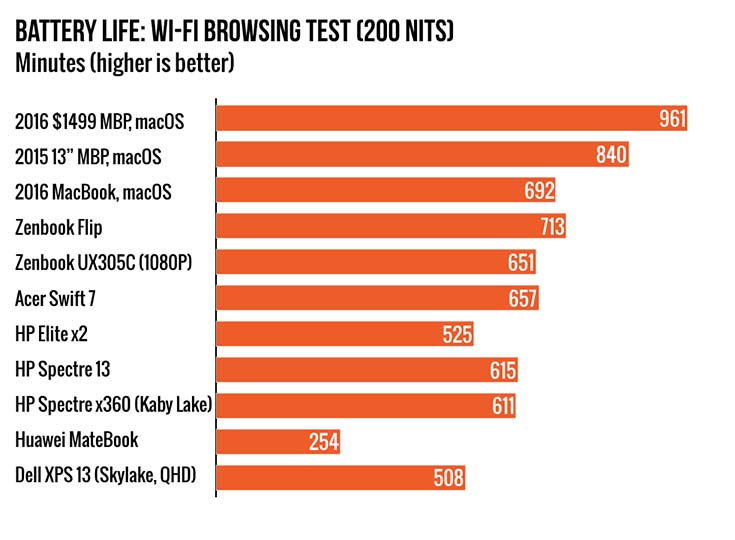 It is also worth noting that battery life drops dramatically under heavy load. This means that you won't benefits from the promised 10-hour battery life if you plan on using demanding applications. This drop is roughly the same as with the old Pros, which is actually impressive given the battery in the new models is around one-third smaller.
Who Might be Interested in the new MacBook Pro?
It seems like Apple still hasn't figured where the place this model since it awkwardly stands between the entry-level 2015 Pro that is still being sold at $1,299 and the $1,799 Pro that comes with the Touch Bar. It is interesting to note that these models aren't that different when it comes to their specs, and they all offer roughly the same performance. However, the main facts are now their input devices, port configurations, and their designs. These areas are what should help you make your decision on which model to purchase.
It seems like Apple has designed this model for those who are not interested in the Touch Bar, which does seem like a gimmicky feature. On the other hand, this model does provide improved GPU and SSD in comparison the last year's model, in addition to a smaller and lighter design, and a great wide color screen.
Apple is also trying to advertise the new 13-inch MacBook Pro as the perfect replacement for your old MacBook Air. However, their prices are what matters here. For $999, you can buy a perfectly good computer for everyday use. Considering that the new Pro is priced at $1,499, it could be easily seen why MacBook Air owners won't be interested in the new Pro.
What's Missing?
Aside from telling you about the new and exciting features, it is also important to inform you about what you'll lose if you decide to buy the new Pro.
Perhaps the most noticeable thing that Apple decided to abandon is the MagSafe 2. This technology allowed you to charge your notebook and came with a magnetic connection. There was also an indicator light that would show you when your device is done charging. However, this technology is gone now.
Since Apple decided to go with the USB-C, which means that you won't get a magnetic connection now the indicator light. In addition, the longer extension cord that runs from the adapter to the wall is no longer included in the box. This is now a $19 add-on.
Additionally, the new Pros are also missing some other sentimental features. For example, the glowing Apple logo on the back is gone, in addition to the classic Mac startup that was around since the first Mac was released back in 1984. The new laptops now start up silently, just like iPhones and iPads. Still, there is a reason for this. The new Pros automatically boot when the lid is opened, so your laptop acts like it's waking up from sleep even if you completely shut it down. Even though there is still a power button present, you can use it for sleep or turn the laptop on if you never closed the lid. It seems like the power button is becoming vestigial as well.
Conclusion
Even though the 13-inch Pro is perfectly good on its own, this isn't the one I would recommend first. There is a small group of users who would explicitly want this computer. These users don't want the Touch Bar, and they won't mind losing a number of ports. On the other hand, this would be a great machine if it was priced at $1,300, which is the starting price of the old Pros.
The Good
– Amazing design and light weight.
– The inclusion of Thunderbolt 3, which now seems like the ultimate port.
– The new keyboard that is a clear improvement over the first-generation version in the MacBook.
– Much improved GPU performance, which will help you if you plan on connecting a 4K or 5K display.
– Amazing 10-hour battery life under light-to-medium use, comparable to the 2015 Mbps under heavy use.
– Great speakers.
The Bad
– A small number of ports that will force you into buying a bunch of adapters. You can imagine how inconvenient this can be.
– Very limited repairability and upgradability.
– Occasional problems with palm rejection in the new, larger trackpad.
– Missing features that can be frustrating, like the Touch Bar, Touch ID, and the extra pair of Thunderbolt 3 ports.
– Very expensive.