For quite some time now, my number one choice when it comes to security-related iOS apps is 1Password. I believe that I've been using this app since its 2.0 version, and I have been loyal ever since. When it comes to 1Password, the app is far from perfect, and I actually thought for a while that I can find a better alternative. However, once I started digging a bit deeper into the App Store, I saw that other apps weren't even close to 1Password in terms of usability. One of the reasons for this is Apple's tight control over its mobile platform.
As you are probably aware if you're a longtime iOS user, developers need to work based on very strict guidelines, which can severely limit functionality. This can be especially seen in password managers and similar security apps, that usually need to be connected well with the operating system and other apps. On the other hand, this could be an easy way for malicious apps to infect deep parts of your iPhone, so Apple decided not to let developers change and access deeper parts of iOS' structure.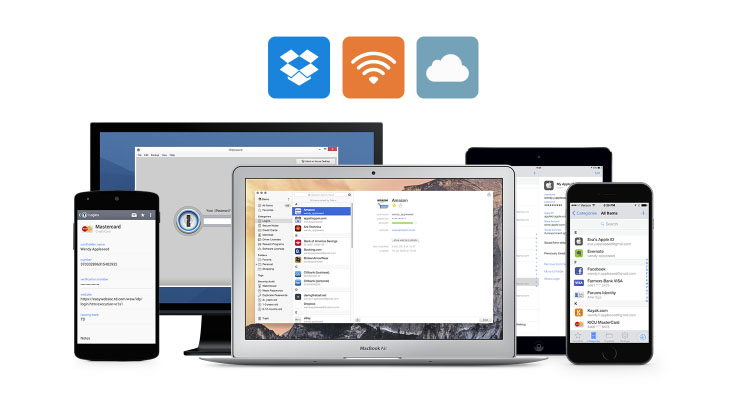 Just like previous years, AgileBits's 1Password has been recently updated to version 6.0 after the release of a new major version of Apple's mobile operating system. The newest version brought several important improvements, which we are about to take a look at. 1Password is still free of charge, although some "Pro" features come in the form of a $10 in-app purchase.
In case you're not familiar with 1Password – this app helps you save various bits of private data. This ranges in everything from credit card numbers, logins and credentials, software licenses, up to your private notes and similar. This is kept inside of a digital vault, nicely organized into categories and easily accessible. The app uses military-grade encryption algorithms and data is protected by a single passphrase of your choosing. Just as you can expect, the contents can be synced via iCloud and Dropbox, so you can use 1Password on your iOS device (iPhone/iPad/Apple Watch) and your Mac.
During the initial launch, 1Password will guide you through the creation of your own digital vault. Even though it is doing a very complex job, the app is user-friendly and anyone can use it. Your private bits of information will be stored in categories, where you can add, edit, or delete any of them at any time. However, where 1Password really shines are its connectivity and ease of access, which are both very important with this application type.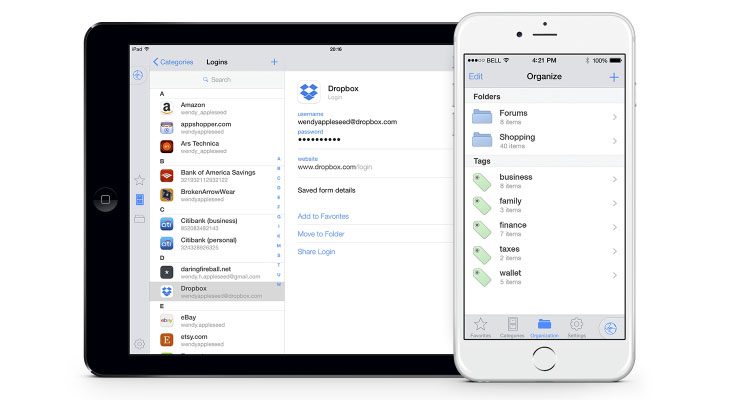 The application comes with its own in-app browser, so you can easily use your web credentials and store new ones. You can also use Safari and Chrome through an app extension that is capable of automatically filling logins and forms. The version 6.0 brings one major improvement in this sector. Now you can use Spotlight to find private bits of information, which can save you several taps. In other words, you can now access your private information directly from the Home Screen. This can be helpful with loyalty card numbers, for example, and can easier than reaching into your bag and finding the card in your wallet. Another similar thing now appears on the iPad. The app comes with support for iOS 9's new multitasking feature, so you can easily copy data to and from compatible apps. One of the things that I like about this app is the way the developer is taking advantage of these new features to incorporate the app more deeply into the system. Sure, there are numerous ways this app can be even more helpful and useful, but I am sure this would make Apple ban the app from the App Store. In terms of currently available app integration and communication with other apps, you just can't find better than 1Password.
The Pro version, priced at $10, allows the app to be paired with your Apple Watch. This way you can synchronize a number of items from your personal digital vault to your wrist. This is not exactly a brand new feature, since it became available with the previous major version (5.0), but now has been expanded to work with all kinds of secure data. This can be very helpful if you need to pay for something or if you quickly need to access some personal notes and such. The app also offers its own optional passcode on the Apple Watch, which means that you can turn off Apple's built-in passcode if you so prefer.
Just like similar solutions, 1Password is the most powerful when used with its desktop counterpart. This way you don't have to remember a single login information, and you can freely browse the web using Safari, and don't have to worry about this kind of security. I am sure you know how important it is to create a strong password, which usually needs to be a combination of uppercase and lowercase letters and numbers. This can be hard to remember and input when needed. In addition, I find very useful to have 1Password automatically fill forms with my private information, which is also a huge time saver.
If you're in need of a reliable password manager or digital locker where you can store all your sensitive information, look no further than 1Password for iOS. With the new version, the app managed to achieve a new level of usefulness and functionality, making it easier than ever for me to recommend it. And with the introduction of Apple Watch support, it covers the entire Apple's ecosystem.