Is it quite astounding to think about how much Apple's iPhone grew over the years. In case you've used the original iPhone (which was about 8 years ago!), then you must remember how astonishing it was for that time, even though we didn't have the iOS App Store. Today, we can hardly imagine our smartphones without app stores and millions of useful applications that can be downloaded in an instant.
However, there is still one creative task that requires the horsepower of a powerful desktop computer, and that is video editing. Sure, we can record 4K videos as well as slow-motion videos using the latest iPhone generation, but tablets and smartphones still seem ill-equipped for anything other than home movies. On the other hand, developers are still interested in pushing the boundaries and trying to provide us with video editing apps. Perhaps the best-known one is Apple's own iMovie, which I believe is the most downloaded apps of its kind. Now it's time to take a look at an interesting alternative that comes from none other than Adobe.
Adobe Premiere Clip
In case you've ever been serious about video editing on your computer, you must have stumbled upon Adobe's Premiere Pro. This is the most popular timeline-based video editor, used by all major broadcasters and movie studios. Thanks to the Adobe Creative Cloud, now anyone can afford to use this software, from students to large-scale companies.
In an effort to attract new users, this company has been releasing an array of free applications (check out our review of Photoshop Fix), and one is them is called Premiere Clip. As Adobe says, this application can be seen as a solution for bringing your video projects from a mobile device, where you can lay the foundation for a larger project on the desktop.
The Basics
Similarly to how iMovie for iOS works, Premiere Clip is a stripped-down version of the desktop app. What you can't find here are complicated menus, tons of different settings, and all kinds of confusing buttons, all of which can be found in its professional-grade counterpart. However, what you can find are basic tools for importing, editing, trimming and reorganizing clips, adding music and transitions, and exporting the final project.
Videos can be imported directly from Lightroom or Creative Cloud (in case you have an account, even though you will have to sign up for one), directly from device cameras, or your iOS albums. I have been using all these import methods to test this app, and I didn't experience a single issue. What I use the most is my Creative Cloud account, since I am a long-time user of Adobe apps, so I am glad to say that videos synced back and forth without any problems.
Overall, I really like how the Premiere Clip's UI is designed. With lots of white backgrounds, you can easily focus on your video project. After importing videos, you can find an array of tools in the bottom-positioned toolbar. These tools are nicely organized and categorized, where each icon brings several tools. At any moment, you can add additional clips by tapping on the "+" sign in the lower right corner. There are also some icons in the top-positioned toolbar – general settings, export options, a tool for adding music, and similar.
Even though I am not sure that everyone will agree with me, I believe that Premiere Clip is more user-friendly than Apple's iMovie. This especially goes for navigation and dragging things around the screen. This app is definitely very simple to use, but not oversimplified.
The Workflow
When starting a new project, the first step is to import one or (preferably) more files. The app will offer you two choices: Automatic or Freeform project.
When it comes to Automatic projects, Premiere Clip will try to analyze your clip(s) and do most of the work, only allowing you to choose a soundtrack from a selection of royalty-free tracks. You will gain much faster workflow this way, buy you will lose options for customization. This is why I recommend using this editing mode when you need to create a slideshow or quick videos, where it's not necessary to fine-tune everything.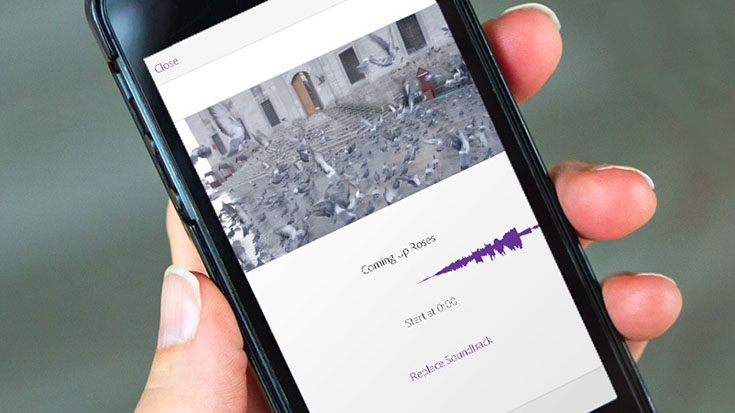 The good news is that you can easily convert your Automatic project to the Freeform mode by tapping on the filmstrip icon. Now you can trim the head and tail of individual clips, play around with filters, adjust volume levels, as well as split/duplicate clips and apply slow-motion mode. What I would like to highlight is a Smart Volume setting, which does a great job of analyzing and balancing clip audio levels.
Advanced Features
As I've said in the introductory paragraph, Premiere Clip is a stripped-down version of Premiere Pro CC. With this said, it is clear that you shouldn't expect some of the flagship features.
However, what is problematic is that Adobe didn't try to compete directly with iMovie. For example, there is no way to detach audio of accompanying a video or adjust either one – which is something that iMovie is capable of. You also can't create titles and position them over the video, but you can do that by choosing a background color.
Still, there are some very interesting advanced features, but I think that users of Premiere Pro will appreciate them the most. For example, you can easily send a video to your Creative Cloud storage space, which means that videos can be exported to Premiere Pro with edits, music markers, and video effects intact. The app pushes XML data and content to the creative cloud, which can be opened as a Pro CC file. This is something you can't do with iMovie, at least now without using iTunes File Transfer protocol.
The Creative Cloud is also capable of syncing videos between your iOS devices and computers. Everything is done in the background, with minimal input.
Conclusion
Even though it is clear that Adobe Premiere Clip is quite capable and very usable, it somehow seems like Adobe targeted this app at existing Premiere Pro users. I am sure these individuals and companies will gladly abandon any other iOS video editor.
In comparison to iMovie, it is easy to see that Adobe's video editor is underpowered. In case you don't need synchronization between devices, then iMovie is the better choice for mobile editing. It is more capable, it performs better, and brings high-quality detail editing.