Even though our iPhones come equipped with the default email client (called Mail), this solution seems overly simple and basic for many of us. It seems that a lot of people are actively searching for the next great email app for their iOS devices, which is why developers are racing to offer their own take on a perfect email client.
I remember using Sparrow for a while and thinking how amazing this app was. I even used it on my Mac as well. However, Google finally bought it and then decided to abandon it, leaving everyone disappointed. I see that people are still mentioning Sparrow as the ultimate OS X and iOS email app. Then Mailbox came along and created an intensive hype, where everyone seemed to be interested in trying it out. However, this company was bought by Dropbox, and now even this app got discontinued as well. Ever since then, I have been using different iOS email apps trying to find the one that I will use on a daily basis.
Airmail for iPhone
I got very excited to see Airmail on the iOS App Store since I use Airmail 2 on my Mac. I believe this is one of the most popular third-party OS X email apps, which brings a high level of customization and a nicely designed UI. I wondered if this is something that we'll see in the iOS version as well.
UI Design Style
When it comes to the UI design, Airmail does look a lot like the Mac version. It brings very clean and effective design that won't overwhelm you. However, the screen can get a bit overcrowded at times due to how many options this app has. For example, you can format your messages any way you like (just like in Microsoft's Word for example), which means that you will see another row of icons indicating different formatting styles, fonts, colors, and similar.
Having all these additional tools at your disposal usually means having to deal with a cluttered interface, however, I believe that Airmail's developer made an effort to streamline the workflow and declutter the UI. I am sure we won't see this effort stopping here.
The Basics
Airmail currently supports services like Google, iCloud, Exchange, Yahoo, and Outlook, as well as any generic IMAP or POP3 address. You can add multiple accounts and tweak their settings. If you're using the Mac version, you can use iCloud to sync your Airmail's settings via the cloud. This works well with some in-app features like snoozing, so your Airmail accounts on your Mac and iPhone will be in sync at all times. You can count on all your settings to be synced, email addresses, snooze-marks, and signatures. This way, you can make an adjustment to how one of your accounts is color-coded, for example, you can expect this change to happen in the iOS app as well.
Tools & Functions
In Airmail, messages are organized chronologically, similarly to the Mail app. You can swipe on a message to take some quick actions like archiving, snoozing, and deleting. These actions can be customized as well. When it comes to viewing a conversation, you can see all your exchanged messages, with the current message expanded. I haven't experienced a single issue with the way my messages are formatted and everything works as expected.
One interesting feature allows you to press-an-hold a message to go into the multiple editing modes, where you can make batch actions, like deleting, archiving, or moving messages to a folder.
When you open an email message, you will see a fairly standard interface. There are the standard buttons along the bottom of the screen: reply, archive, and delete. At the top, you can see the sender's photo where you can check the contact's history and details. To access to full list of quick actions, you need to tap on the ellipsis button in the top right corner of a message, such as a snooze, move, create a to-do, add the sender to the VIP list, create PDF, as well as send to various services.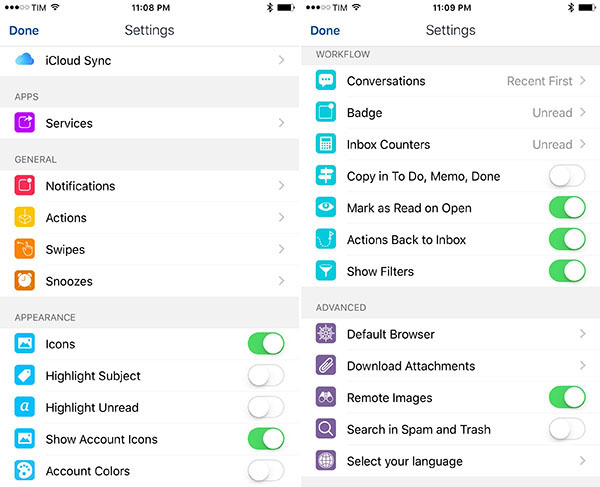 When it comes to integration with third-party services, Airmail has the ability to work with a large number of them. You can review this set of setting under the Apps > Services section. You will see some of the basic (essential) services like Dropbox, Google Drive, and OneDrive, as well as other services apps that you might have on your phones, such as 2Do, Todoist, OmniFocus, Fantastical, Deliveries, Editorial, and several more. As you can see, the list is quite long which is why Airmail is considered to be an advanced email client.
Requirements
What is important to be said is that Airmail requires iOS 9, which don't think is going to be a problem due to iOS' adoption rate. In case you have an iPhone 6s or 6s Plus, there is support for 3D Touch.
You can long-press a message to view the entire thread and pull it upwards to get fast access to snooze, reply, or trash it.
The app also integrates Apple Watch APIs, so you can take a peek at your inbox from your wrist, and send quick replies as well.
The Conclusion
I would recommend Airmail to those who heavily depend on email correspondence. This app will provide you with tools and extensions that are compatible with any file format, so you won't miss anything.
You can also integrate different cloud services, so your iOS mail app can become an extension to your Mac and your OS X Airmail version.
As you can see, I highly recommend downloading this beautiful and highly functional app.