Along with the Apple's largest iOS tablet, the company also released another product that managed to capture everyone's attention. This is the Apple Pencil. This is one the most talked about accessories that came out of Cupertino, partly because no one expected it, but also because it brings cutting edge technology.
JustGoodBites brings you a review of Apple Pencil, where we are taking a look at its design and functionality, as well as what it means for the iPad Pro line. Continue reading to learn more.
Apple Pencil
Interestingly enough, this is not the first stylus to come out of Cupertino. The last Apple product to feature a stylus was 1993's Newton, a PDA that was built around handwriting technology. However, Steve Jobs axed it upon his return to the company in 1998. This makes us wonder what would Jobs think about the Apple Pencil, as well as if he would approve this product in the first place.
After the company's first PDA, we have seen a range of multitouch devices where the company made a statement against style. This is why it was important for Apple CDO Jony Ive to say that Apple Pencil wasn't designed for basic user interface interactions, but instead for marking. What this means is that this product is designed to fill the gaps where a writing implement is better than multitouch.
Design
The Apple Pencil is unbelievably simple in its design, but what is important to be said is that simple things are often the hardest things to design. There were numerous electronic components that needed to be packed in a nicely shaped body that needed to be slim and light.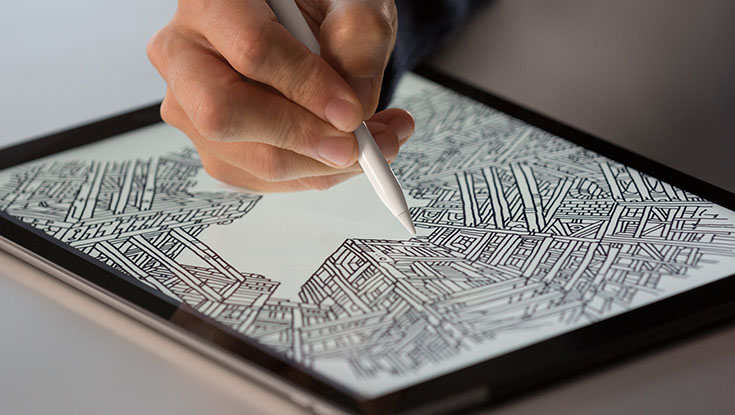 This stylus is designed to be tough, so it's made of white polycarbonate that can take a few hits. Still, Pencil looks and feels substantial, so there's no flex or unwanted buttons. What you get is a nicely shaped shell with the removable nib and end cap, without any moving parts.
The tip is made from a slightly flexible rubberized plastic. Differently, from another style, this one seems just about right. It is not as flexible, but it's also not as rigid. In case it gets worn down or damaged, you can easily replace it with a fresh tip. The packaging will include an additional one.
When it comes to its internals, Apple's engineers were able of placing and holding a good deal of electronics into Pencil's light and thin shell. For example, a folded logic board it placed toward the nib, while the nip is equipped with highly sensitive pressure sensors able of detecting the degree of tilt. On the other hand, more than half of the available space in the shell is taken by a tube-shaped 0.319 watt-hour battery that can run for 12 hours on a single charge.
A weight distribution is nearly 50/50 point-to-point, which is why Pencil feels like a real pen, which is also incredibly important for anyone who plans on drawing and illustrating on the iPad Pro.
Usage
Even though Apple Pencil is not designed to be used in iOS as the primary method of input, you can still use it in some of the default apps, as well as to highlight text and go through Web pages. What you can't do, for example, it taking control over multitasking. What is also interesting is that Pencil is unable of triggering Slide Over in iOS 9, even though it seems like the perfect tool for the job. The reason for this is the device's unique digital signature, which is needed for palm rejection.
Where the Pencil shines the most is drawing. It is amazing to think about what kind of technology is packed into this product as well as how it works with components under the iPad Pro's display. This is how the tablet recognizes different positions and tilts of the stylus and transfers them into thicker lines and shading modes. What is worth mentioning are incredibly fast response times, which is something that Apple managed to solve in contrast to numerous other style manufacturers. There is also the palm rejection which is a product of a symbiotic relationship between the two devices.
At this moment, you can test and see Pencil's capabilities using the Notes app. For clean lines, this application uses dynamic stroke smoothing, but also tilt-based shading and pressure sensitivity are involved. However, this is not a dedicated drawing app, so we turned to a couple of third-party solutions that are already very popular.
Among the apps we tested, Procreate has made the biggest effort into adapting to the Apple Pencil. The app offers granular brush customization, in addition to the basic drawing features. It also works well with multitouch gestures, which is why this should be your app of choice when it comes to drawing on the iPad Pro.
Another quite well-known app is Adobe's Photoshop Sketch. This app comes with a range of pencils, brushes, pens, and smudge tools that work incredibly well with the Apple's stylus. However, Adobe's Illustrator Draw, designed for creating vector graphics, doesn't seem as optimized. The biggest issue here is the noticeable lag which negatively impacts the overall feeling while using the stylus.
Conclusion
JustGoodBites has already brought you several reviews of popular styluses, where each one of them brings their own set of unique benefits. However, the Apple Pencil is definitely the most advanced and easiest to use a product that earns our general recommendation. Still, there are a few things to consider before purchasing, since at $99, this is not an impulse buy.
As an art tool, no other style comes even close to the Pencil, which manages to create powerful workflow and compete against desktop-based solutions. We are seeing apps adopting Apple's APIs every single day, so compatibility with the Pencil is definitely on the rise.
When it comes to casual users, it is much harder to explain why Apple Pencil is a good idea. Its everyday use is questionable and its price is an important obstacle. Remember that you need the iPad Pro (priced from $799) to use this stylus, making it clear that Pencil is made for artists.