Even though I've tried almost every possible gaming genre in the iOS App Store, somehow I tend to enjoy platformers the most. Maybe this is because of my Super Mario Bros days, but a good platformer will always have its place on my iOS device. I also know that a lot of people believe that this genre is not suitable for iOS due to lack of physical controls, but there are numerous shining examples that managed to overcome this, and one of those titles is Badland.
The original Badland had over 30 million players, which is why I felt very excited to see a sequel being released on the iOS App Store just a couple of days back, which happened completely unexpectedly. In case you don't remember, Badland was Apple's Game of the Year, so naturally I expected to see a series of teasers and trailers that would create hype prior to launching the sequel. Nevertheless, Badland 2 is here and I had a pleasure to download and try it out during the past couple of days. To give you a glimpse of my final score – I think you are going to love this game in case you never played the original, and you will be crazy about it in case you already are a Badland fan!
Much like the original, Badland 2 still, features a stunning scenery with a lot of complex and visually stunning lighting and particle effects. Every piece of its world is pretty much alive and active, which is one of the reasons why I kept going back to the original. The atmospheric world will pull you in from the get-go. I am glad that the sequel kept the same dream-like environments, which are somehow even more vibrant than before. In addition, dynamic lighting and shadows are there to fool you at times and distract you from your goal. It can be said that Badland 2 is one of the best looking games you can play on your iOS device, which says a lot. This game definitely brings gorgeously rendered death traps, which I strangely enjoyed testing and seeing how they work. 
Just like the original, Badland 2 is level-based, even though sometimes levels are interconnected. There are four distinctive worlds, with about 10 levels in each. The objective is to guide the main character, which is a black blob creature, through treacherous obstacles in the search for the other survivors. Once you find the other characters, you need to guide them towards the pipe at the end of each level. However, this is easier said than done since Badland scrolls horizontally and vertically and you need to keep pace or you'll fall behind. What this usually includes are fast and tricky obstacles and dangers, so I am sure you will spend quite some time trying to find your way out through all forty levels. 
Each level brings up to three stars, which is done by completing various objectives like "Collect all power-ups" and similar. There is also Game Center support for leaderboards and achievements, as well as global events to compete in. With this said, it is clear that the replay value is very high.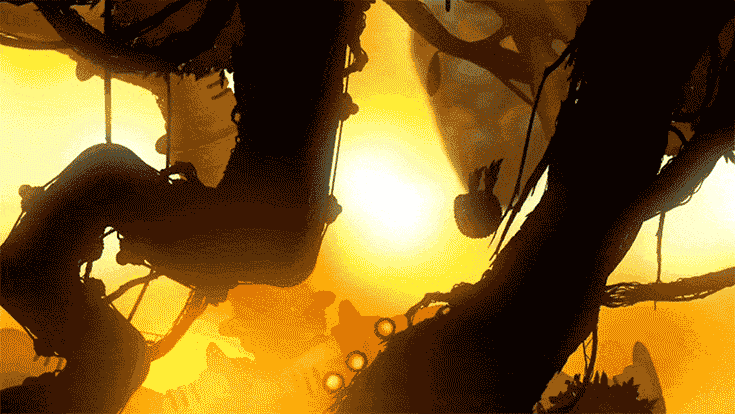 Now, let's take a look at some of the new gameplay features. Even though the core remained the same, there are some additions. There's a better feeling of control that somehow lacked in the original since now you can move both forward and backward. This is something that was introduced in the console version, so I am very happy to see this feature on iOS all well. Even though there are still obstacles to getting through, ranging from spinning cogs to sharp blades, there are now liquid obstacles as well as a new mode that turns you into a rolling wheel. I feel obligated to praise Badland 2 for managing to add depth without overcomplicating things. The new levels now feel somehow bigger and more exciting to explore, which also makes the puzzles more interesting and captivating. 
 There's no question if Badland 2 is going to be a huge hit. Even though it doesn't bring anything drastically new in comparison to the original, I still think this is a formula that works. The art style is amazing, and the gameplay is fast-paced and challenging. In addition, the performance is flawless. It feels like the sequel is made for those who already love the game since this game remained the same in many aspects. However, there is no question if the sequel will attract new customers and players. There is never a dull moment when you're playing this game. Even if you manage to pass all 40 levels, you can always compete online in timed global events with varying objectives. 
In case you're looking for the next amazing game to try on your iPhone, I highly recommend download Badland 2. It is priced at $4.99, and comes as a universal download. Finally, what also needs to be mentioned is that this game will continue to grow after release, with developer Frogmind promising more content via free updates. In case you are waiting for Badland 2 on other platforms, there is no information at the moment. 
[vsw id="tesHfW-4uhM" source="youtube" width="735″ height="400″ autoplay="no"]