If you enjoy playing games on your computer, gaming console, or your smartphone, I am sure you've heard all about Minecraft. This is one of the most popular games worldwide, which created a completely new trend of crafting RPGs. However, it seems like it is very difficult to create and develop crafting RPGs for smartphones, since we've seen numerous examples of games that failed to meet our expectations.
Crashlands for iOS
What is interesting about games like Minecraft is the fact that they don't bring cutting-edge graphics or special 3D effects and animations because they are interesting due to their depth. During the last ten days, I have been hearing glowing praises for a new crafting RPG that was released for Apple's smartphones as well as for Macs and PCs via Steam. This is how I knew that I simply have to try it.
Crashlands is a crafting RPG that is developed by Butterscotch Shenanigans and is priced at $4.99. The game is already available for download via iOS App Store. Continue reading to learn more about this game.
Art Style and Performance
As can be seen from the visuals in this article, Crashlands features very interesting and cartoonish looks. The game brings a high level of detail, where the protagonists are also nicely rendered. You will get to explore different environments that are colorful, lush, and rich in resources, so it is up to you to fight against the enemies and build your own home. The game makes use of dynamic lighting based on the current time, which gradually changes how far you can see. I also liked playing around with glowing objects at night and decorating my home and its surroundings. In addition, the atmospheric soundtrack is quirky and whimsical, so I recommend grabbing a pair of good headphones so you can fully immerse yourself into the game.
The animations are very smooth and fluid, and I didn't experience a single issue. I have been playing this game on my iPhone 6 Plus, so I can guarantee that the last two iPhone generations will be able to run this game without any issues. In addition, I went through numerous user ratings for this app, and I didn't see anyone complaining about the performance on an older iOS device.
Storyline
Crashlands is unique thanks to its storyline. You will meet a galactic trucker, named Flux Dabes. Your goal is to help Flux find his way around a new planet and build his home. An alien named Hewgodooko is the reason why your character is on this new planet since your ship was blown up. However, as the story goes on, you will discover that there is a much more complex story behind this, and it will be up to you to save the universe. Flux will escape from its destroyed pod with his robot companion, but you will be able to find more character that will follow you. For example, you can find alien eggs and take them to your home, where some creatures might hatch.
Gameplay
In case you played Minecraft or any similar game, you will know how things work in Crashlands. Your goal is to scavenge for resources and build simple and complex structures, as well as the fight against the aliens. You will have to build different types of workbenches for each type of material you gather like wood, skin and bones, rocks, and more. As you find new resources and collect them, the game will notify you about new schematics. There are over 500 schematics that you can use, so there really is a lot of exploring and build. The inventory in Crashlands is self-managing and infinite, so you can gather as much as you can. The only thing that you need to be worried about is if you have enough stash space at home.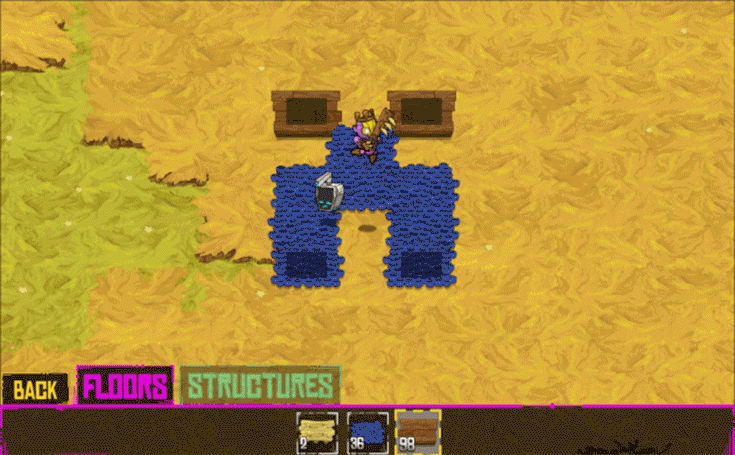 As you start out, you will have a basic workstation for creating basic tools. What I liked here is that each time you build a new tool, it will be integrated into your suit, so you don't have to worry if you have the right tool at the exact moment when you need to break something down. This is something that I find very annoying with Minecraft.
The crafting system is great and very user-friendly, where you don't have to worry about some of the details before building a tool. Some will find this easy, especially hardcore fans of Minecraft, but I think this is a good way to optimize this gaming genre for the touchscreen controls.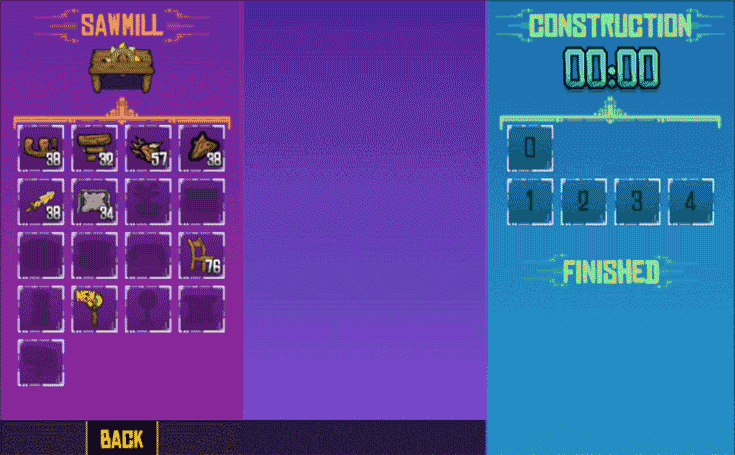 Along the bottom of the screen, you will see available slots for resources, as well as the buttons for your inventory, quest log, build mode, and map. Speaking of the map, you will need to spend many hours to completely explore the entire map, which seems massive. Luckily, there are telepads that act as waypoints. To move, just tap on the screen or you can keep your finger on the screen to move continuously. In case you played this game type before, you will already know how to move and where to look for resources.
The Battle System
When it comes to the battle system, it is pretty straightforward. To attack an alien, just tap on it, or you can wait until your opponent notices you. This is where you will have to read the enemy's attack pattern, which can be easily seen. The game will show you how your enemy is moving and where he plans to attack. This involves a lot of tapping around the screen to avoid your enemy. I am not sure if you can use an MFi controller with this game, but I am sure this game could benefit from that setup.
Conclusion
Crashlands is an amazingly designed game that will surely be kept you busy for many hours and days. I recommend downloading this game if you are a fan of crafting RPGs. Even if you are not a fan of the genre – you will like the weird and quirky storyline as well as the cartoonish characters. Maybe this is the best way to enter the ever-expanding world of crafting RPGs.