If you like to follow the Apple-related news, then you've probably already heard about the company's HomeKit technology. However, while talking to iOS and OS X users during the past several months, I've noticed that a lot of misconceptions are out there. I guess this is Apple's fault because the company tries to advertise this technology as the ultimate way to make your home smarter, which is still not the case.
The thing is that you can already find some amazing HomeKit-enabled accessories, but I believe there's a long way to go for this technology to be truly useful. Let's spend a couple of sentences to explain what is HomeKit to those who are not aware of this technology.
HomeKit was first announced at Apple's Worldwide Developers Conference (WWDC) in 2014. The name is actually a combination of "Home", which stand for home automation, and "Kit" for software developer kit. What this means is that manufacturers can implement this technology into their smart accessories, which then can be controlled using an iOS app to set up your home and all the rooms with accessories. The final step is to automate your home and access those products and devices using your iOS device. This way, you can turn on/off your lamp, or manage some energy savings by setting up timers on devices.
Elgato Eve Series
In this article, we will be looking at a series of HomeKit-enabled smart accessories from a company named Elgato. Even though we haven't tested the entire series, we'll be talking about some of the most notable products: The $50 Eve Energy (a smart power outlet); The $80 Eve Room (which analyzes air quality); and The $40 Eve Door & Window (which is a door/window sensor).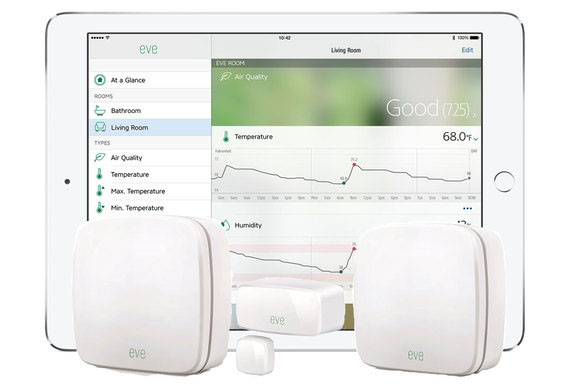 All four of these products are similarly designed. With their clean and gloss white bodies, you can easily mistake them for something Apple would have designed. There is a hint of green on the front, which simply says "Eve".
Actually, not a lot could be said about the design of these products. What is perhaps more important is that they seem to be quality made, even though they are not designed to be touched or moved on a daily basis. However, we are here to talk about their functionality, so without further ado, let's see how Elgato's products can help your home become smarter.
Setup & Functionality
What is in common for this entire series is that they use Bluetooth, which is far less power-hungry than Wi-Fi. The only issue here is that it limits the range of communications to 25 feet and also requires a bridge to reach the Internet. I've used my Apple TV, which serves as a Bluetooth hub, to allow Elgato's Eve series to connect to the Internet, but there are many other options on the table.
To set up each and every one of these devices, you have to download the official Eve iOS app and scan a small code that will send the needed info to your phone. This kind of setup is very effortless and easy, and it definitely seems like a better option than the products that use Wi-Fi.
Elgato Eve Door & Window
The Eve Door & Window sensor tells you whether a door or window is closed or open, as well as how many times did someone open the door/window.
This is a two-piece system with one-half residing on the door or window frame, while the other half needs to be placed on the door/window itself. Another interesting piece of information is that the sensor will work for about a year on its single half-length AA battery.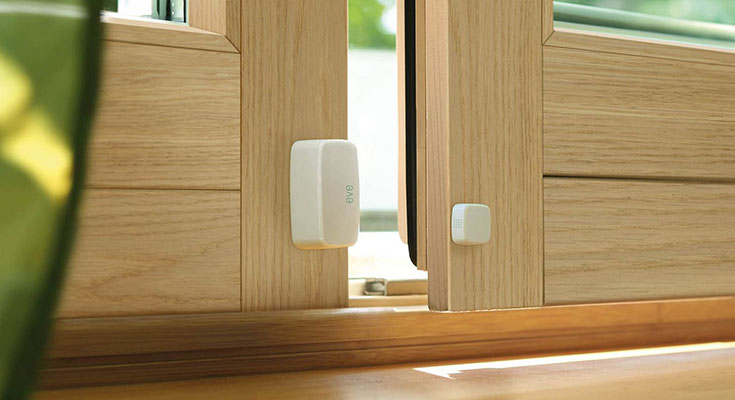 The Eve Door & Window sensor actually seems the have the smallest practical role than the other devices from this series. I guess this can be very helpful for those who'd like to keep a close eye on their homes and who care about someone entering a specific room. This is not something that everyone will find useful.
Elgato Eve Room
Next, there's the Elgato Eve Room environmental sensor that can be actually very useful. This is an approximately 3-inch square, 1.25-inch thick cube.
This little sensor can tell you a lot of interesting and highly useful information. The Eve Room measures beyond CO2 by analyzing the air quality (in parts per million), as well as temperature and humidity. It can also sense some finer particles like alcohols, ketones, organic acids, amines, and hydrocarbons.
This amount of information wouldn't be helpful is you can't visualize it, which is why the Eve iOS app is there. Using the app, you can review a timeline of information, where values are displayed in different colors and everything is nicely explained. You will get to see the current and historical measurements.
You can also read some useful tips for improving air quality in case your stumble upon some issues. You can be asked to provide better ventilation, move your printer to another room, and similar things.
Elgato Eve Energy
The Eve Energy is a three-prong outlet that allows you to connect any electrical device, everything from a lamp to your large-screen TV.

The most efficient way to save energy (and money) is by using several Eve Energy units, where you can control them via the iOS app. This way, you can use Siri to control your devices, group them into rooms and zones and set up rules of operation, as well as get insightful data about every single device. For example, this is a good way to know how much power a device is consuming, as well as what affects your power bills the most.
The biggest issue here is the asking price of $50 for one smart outlet. However, this should be seen as an investment since it can truly help you save power, but can also make your life easier.

Conclusion
Even though I was never really that thrilled about HomeKit before, I realize now how much potential there's behind this technology.
Even though Elgato's products can be seen as an entry step, they can be used to make your home a healthier and eco-friendlier place. The biggest obstacle is the price, so my advice is to combine two or three Elgato Eve devices, in order to see how they affect your lifestyle, before going all in.