We use email to send and receive messages on a daily basis, and many of us depend on a reliable email client. However, not many of us actually stop to think about security and privacy of this communication method. Our email addresses are our online IDs, and this is how we sign up for online accounts, communicate with others, receive messages and files, and much more. What's interesting to know is that any email protocol (by any email provider) is one of the least secure ways to communicate with someone, as well as one of the primary ways for a third party to access your personal information and data. So why exactly email is not secure and is there a way to improve this?
Email was first developed when the Internet was a much smaller place. However, during the last twenty years we've seen an incredible revolution when it comes to online content, while email protocol has been pretty-much the same. On top of that, most of us use services like Gmail, Outlook.com, Yahoo, and iCloud, and these third party services store your personal data on their servers. In other words, you have your email messages stored on your computer, on a third party server, maybe even on your ISP's network, as well as on your recipient's drive. As you can see, there are numerous points of entry for someone who wants to get to your personal data.
In this article we are bringing you a review of a small OSX application, designed to help you encrypt your files. This is one of the most effective ways to keep your files private and secure while sending them as attachments to emails. This app is called Encrypto, and you can download it for free from the Mac App Store.
Encrypto is a very simple app that can help you encrypt the files you send via email, online sharing services, or via USB stick. The version we reviewed works on OSX, but there is a Windows version as well.
MacPaw's Encrypto is a standalone OSX app, but can be also found within the system's Share Menu extension, compatible with Apple's apps like Mail, Messages, AirDrop, and others. When you open the app, you will see a simple interface, telling you to drag-and-drop a file. Once you do that, you can add a password and a hint, and then click on the "Encrypt" button. You will get to see a very interesting animation that "scans" your document with digital zeros and ones, while creating a new .crypto file. Finally, you can use the "Share File" button to attach a file to your mail, or you can drag-and-drop it into Finder.
In case your recipient doesn't have this app installed, they will see a link that can be used to download this cross-platform app, free of charge. I need to say that I expected some kind of a hidden in-app purchase option to appear, but it seems like Encrypto is 100% free of charge.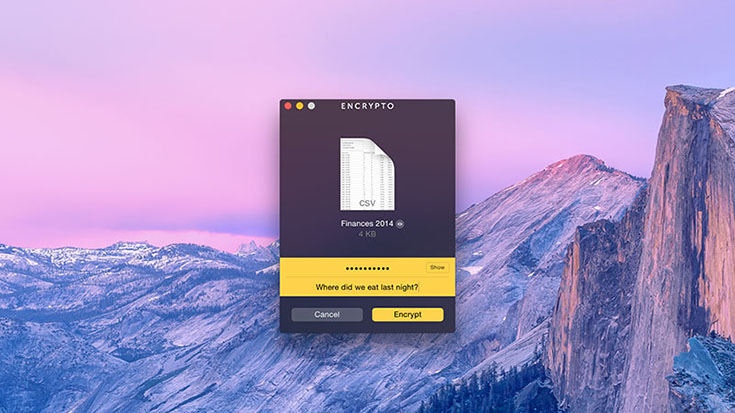 You must be wondering how those encrypted files will behave on other platforms. For starters, there are versions for OSX and Windows users, who can use this app natively. Recipients who use Linux or Chrome OS will be unable to open .crypto files, which is a letdown. The same goes for iOS devices, since currently there's no iOS version to accept the transfer. I hope to see the developer working on additional versions, especially the iOS version, since I believe this is going to be the biggest obstacle for many potential users.
Every time you close the app, you will be asked to share anonymous usage data with MacPaw, which I have found to be very annoying and somewhat aggressive. In case you decide to surrender and accept this request, you will never see it again. Even though I've reviewed a number of MacPaw's applications and I never had any privacy-related issues, I am still very hesitant to give my data. On the other hand, the app promises not to collect any personal data of any kind, so I guess that time will tell if there are any privacy concerns here.
MacPaw's Encrypto has a lot of potential, and there is a very usable idea behind this product. Since the only way to make sure that your email attachments are secure is to encrypt your files, using an app like this one can be very helpful. In case you and your team work on Macs and Windows-powered machines, then utilizing Encrypto sounds like a great idea. It is completely free of charge and works as advertised. Encryption software can be somewhat complicated for use, but this is not the case with this app. However, if you rely on a mobile platform as well, Encrypto will be completely useless. I can only hope to see a mobile version being developed, which would make this application much more functional.
[ad name="Google rechthoek"]