There is no lack of photo editors in the iOS App Store, and it surely seems that developers are giving their best to meet the momentum of these apps' popularity. There are dozens of interesting photo editors being published every single week, but only a few of them manage not to fail their developers' expectations and actually create a buzz. It can't be said that anyone can be surprised by the fact that people love having at least a few of these apps, since it's quite common for people to retouch their images prior to uploading to a social network. In addition, different social networks support different kinds of image resolutions, which created several niches where iOS photo editors can truly shine. The best of all is that you can find an unbelievably powerful and feature-packed app for at low as $0.99.
Samer Azzam and his team are known for their debut app named Stackables, which allows adding all kinds of effects, textures, and multiple layers. I recently spotted another app from the same developer, and since I really enjoyed Stackables, I decided to download and try it. The app is called Formulas – Photo Lab Effects and Custom Frames, and could be downloaded for $1.99. Continue reading to see what this app offers and if it should replace one of your iOS photo editors.
In order to be noticed, an iOS photo editor must offer something that we don't see every day in the App Store. With this said, Formulas is bringing plenty of authentic and original multilayered photo effects that are bringing somewhat old-fashioned aesthetics and mood. In case you like so-called "grunge" effects, than you are going to love this app. Renowned photographer Dirk Wuestenhagen, along with numerous other contributors designed the effects, so it is nice to see a set of original filters when it comes to iOS photo editors.
Filters is bringing very intuitive UI that even inexperienced users will immediately understand. Once you open the app, you will be able to make a New Capture, import from Photo Library, along with a set of self-promoting ads by the creator, which are rather annoying and something that you normally see in free-of-charge apps. Before editing, a photo needs to be cropped, or you can leave it in its native resolution. You can crop it to 1:1, 4:3, 3:2, and 16:9, so you can easily upload photos to any social network.
When it comes to the UI design, I am glad to see that Formulas for iOS brings a completely new UI scheme instead of relying on the previous project – Stackables. The app makes use of a black background, so you can focus on your image, along with soft accent colors for buttons. Needless to say, the app features flat design aesthetics, which is something we can see often these days. Even though it doesn't bring anything revolutionary in terms of UI design, it is nice to see that Formulas brings its own visual identity throughout the UI. However, once you get to the Share Sheet, from where you can share and upload a photo, you will see a native iOS menu. I am surprised to see that the developer didn't pay attention to this part.
There are three main tools in Formulas: Filter Effects, Frames, and Auto Adjust. The filters section is where you will spend most of your time, previewing effects and choosing your favorites. Each of these effects come with a texture, color correction, gradients, and more. You can only apply effects and choose their intensity, so there are no individual adjustments. You can also can't combine effects or create multiple layers. However, you can save the image, then re-open it, and apply another effect on top of it, which can create very interesting results. I hope to see an update that will enable working with layers and applying more than one effect in the same session.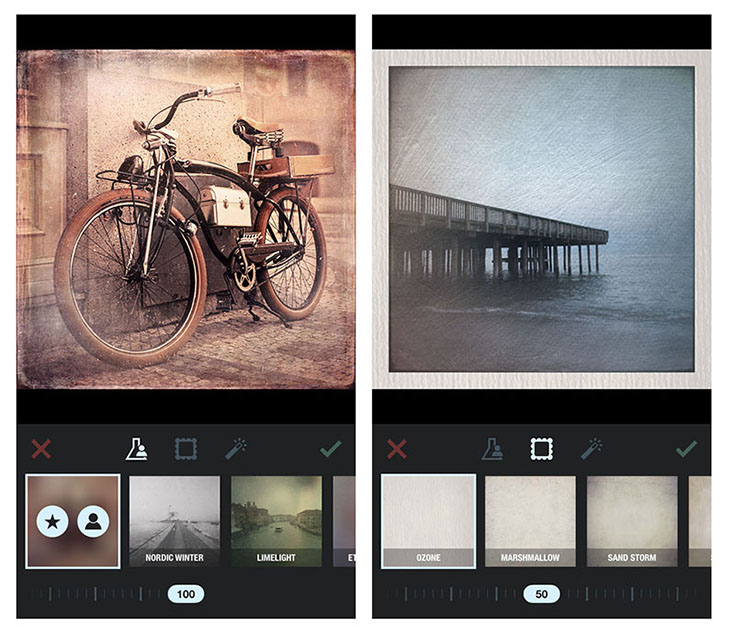 While previewing available effects, you will have to wait a few seconds for the effects to be rendered on images, which is to be expected. I have tested the app on both newest generation iPhones, and the app managed to perform admirably. In case you are using the larger iPhone, you will surely benefit from the bigger screen. You can preview effects and tap-and-hold on your images to compare the original to the edited version. A list of your favorite effects can be created, and they can be sorted by their primary and the most visible effect, or by their author's name.
In addition, you can add frames and perform automated adjustments to your photos. The frames section works the same way as the filters section. Just like the filters, framers are also made by Wuestenhagen, and you will get to choose from textured surfaces, vintage paper, weathered stone, and more. They generally go well with the "grunge" effects that are offered.
Formulas for iOS only offers automated adjustments since it relies on the Photos app on your phone for basic adjustments like brightness, color correction, sharpness, and everything else. This way you can perform some basic adjustments in the Photos app, and then import the photo to Formulas to apply effects. In case you decide to use the Auto Adjust tool, the app will analyze the color and tonal levels of the image and make adjustments accordingly with the effects and frames you've already chosen. Even though I was very happy with the Auto Adjust tool, I was also happy to have the built-in Photos app where I could perform some basic adjustments and fine-tune the images.
In case you are searching for grunge-like and old-fashioned effects for your photos, then Formulas is the app for you. It brings a lot of content for its asking price, and it is doing its job quite well. However, there is plenty of room for improvement and sometimes it's obvious that I was using the first major version (2.0), and waiting for smaller fixes and more content. It would be great if we can use multiple layers as well as randomly generated effects, since the current set doesn't offer any possibility for fine-tuning and further adjustments.