The iOS App Store offers numerous ways to help you manage email messages by offering different types of email clients. Even though the default iOS Mail app works for most of us, some users might want something more advanced, while others would like something simpler. In case you feel overwhelmed by an influx of information and messages, we might have a solution. Continue reading to learn more.
Inbox by Gmail
In case you are using Gmail as your email provider, then you've already heard about Google's primary mail client (the Gmail app). However, a new app has been released, which could be seen as an experiment on how we handle messages on a daily basis.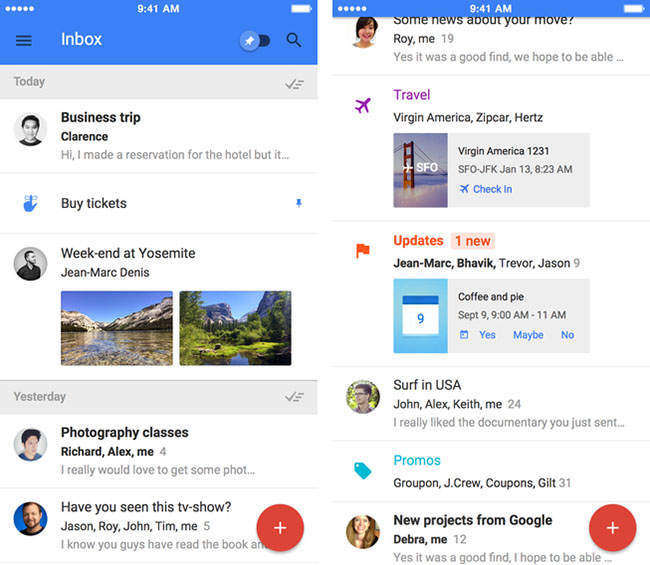 Called Inbox by Gmail, this app brings a simpler interface, along with several smart features that try to automate a few common tasks. Even though we are bringing you a review of the iPhone app, it is also available for Android too, and you can use the Web version as well.
Actually, Google's Inbox has been around for about two years now, but now you can use the first public version.
Visual Design
Inbox by Gmail seems to be targeted towards casual users. The app looks less complicated than the regular Gmail app, where the cheerful colors brighten up its look. Each message has a picture of a sender, as well as few images or excerpts of the text. This is a quick way to skim through messages and find what you're looking for. In comparison to the Gmail app, this one is definitely "more relaxed" thanks to bright colors and lots of white on the screen. The app does a great job of highlighting the most important parts of your messages, designed to save time.
There is also another view, where you can see messages grouped by filters, in addition to your own to-do entries.
Functionality
Inbox by Gmail is based on the company's advanced algorithms. Your inbox will show you sets of similar messages, grouped around their primary role. This way, you can easily sort out different payments-related messages, advertisements, travel-related mail, and much more. There are several filters already available in Inbox by Gmail and those are Travel, Purchases, Finance, Social, Promos, and Updates. The app shows excerpts from messages, like photos, attachments, and "card-style" information related to calendar entries and booking info.
One of the notable features of Inbox is so-called Bundles, which are actually email filters that try to catch a certain kind of messages. You will get to see a few preloaded Bundles, which really seem to work well. One of them is called "Promotions" and captures online advertising, so I was happy to see it working. On the other hand, this wasn't the case with the bundles that I created. Their functionality wasn't as good as I hoped since they failed to catch a number of messages.
To test the app's Bundles, I decided to create a filter that sorts out PDF attachments. Once I returned to my inbox, I saw that those messages weren't grouped together. However, incoming mail managed to be properly identified, so the next day I was able to use the new Bundle. What could be also said here is that you can perform group actions on Bundles. For example, you can snooze an entire group of messages. On the other hand, this is an easy way to get rid of an entire group of messages. For example, I really don't like LinkedIn messages that I keep receiving even though I signed-out a long time ago, so Inbox managed to easily help me with this.
Snoozing and Pinning Messages
There are also other notable features that I would like to mention. For example, you can snooze a message or a group of messages, so they disappear from your inbox and return at a time you select. You can also pin a message, which works well in a Pinned messages view. This is a good way to sort out your important stuff.
There are also reminders available. You can create your own to-dos within the app, and these reminders will come up with your messages, so it's a good way to stay focused on what needs to be done. Reminders are totally separate part of the app, where you can manually add reminders or easily convert something from an email into a to-do item.
Pinning things and adding Reminders is a way for Inbox to differentiate itself for similar apps. As Inbox sees, you should pin those messages that you find highly important. This is actually like starring a message in the Gmail app. However, pinned messages are always on top and they are filtered out from the rest.
Conclusion
Inbox by Gmail seems like a carefully planned experiment. This app isn't for everyone, so I wouldn't recommend it to advanced users who are looking for a way to deal with their inboxes. This especially goes for those who use other mail providers, which are not compatible with the app (since it's Gmail-only). However, this app seems perfect for a casual user, who doesn't receive lots of emails during the day, and who is looking for a way to incorporate them into to-do lists.
In case you are a power user when it comes to iOS email clients, my strong recommendation would be to stick to the Gmail app. This is still one of the best traditional email clients you can get. Inbox by Gmail is designed for a casual user. It is interesting to note that Google has been making a lot of progress with this app, with adding new and innovative features. However, the app has been around for over a year, and only managed to receive three minor versions. Even though they seemed to be very helpful, this is simply not enough in today's market.
In case you're interested in other Google-made apps, we recommend reading our reviews of Google Photos and Google Calendar, both of which are amazingly useful and functional apps/services.