Logitech is probably one of the best-known companies when it comes to Mac-, PC-, and iOS-compatible accessories. It managed to fight against the competition by offering innovative products during all these years, in addition to attractive and modern design. A few months back, Logitech overhauled its visual identity, in order to become more recognizable and closer to younger customers. This move includes Logitech's new Logi brand (actually pronounced as Low-gee), which is being advertised as a new, playful, and fashion-forward brand. However, we can see how the company's new visual design transferred over to newly released products and their package designs.
In this article we will tell you more about Logitech's latest iPad-compatible accessory, called Logi BLOK Keyboard Case. In case you really like how Microsoft's Surface Pro 3 looks, I think you might find this keyboard case very attractive. Continue reading to learn more.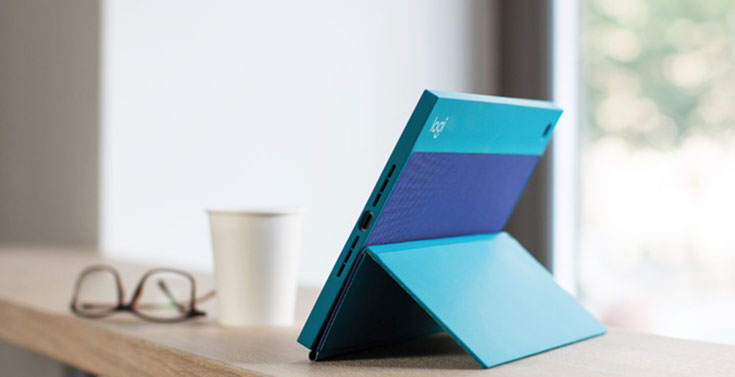 The $130 Logi BLOK Keyboard Case is a wireless keyboard and a protective case, but it is unlike anything that I have tested. Similar combinations come as a one-piece system, where keyboards are usually permanently attached to a protective case. However, this is not the case with Logitech's Blok, which comes as a two-piece assembly. What also needs to be said is that there are three editions of this product, so in case you don't need a wireless keyboard you can purchase BLOK Protective Shell, priced at $50, or BLOK Protective Case – priced at $100. The only difference between these two is a kickstand, which we will explain a bit further in the article.
First, let's start from the Blok's protective case. As you can from the images, the protective case is clearly inspired by Microsoft's flagship tablet. It is rectangular in shape, with sharp-looking edges that affect iPad's appearance. What I liked is that Logitech included a kickstand on the back of the case, which offers viewing angles ranging from 20- to 70-degrees. Even though it is clear that the protective case is rectangular in order to provide additional protection to your tablet, I believe this design is going to be quite polarizing. Some people will love it, while others will find it ridiculous. Either way, you can choose from three color-combinations: Black/Grey, Blue/Teal, and Red/Violet.

The protective case is incredibly well built. Some of the used materials are sturdy ABS plastic, flexible rubberized fabrics, as well as rubber on the edges and corners. If you take a look at what's inside these sharp edges, you will see a reinforcing structure that moves if you push on it hard enough, but it seems strong enough to keep your iPad safe. Logitech promises up to six feet of drop protection, including surfaces like concrete. Even though we did not manage to test this claim, it is obvious that BLOK is one of the better alternatives when it comes to iPad-compatible protective cases.
The keyboard is a standalone part that connects to the protective case via a magnetic hinge. This connection seems very strong and reliable, and I didn't experience a single issue during my testing period. It uses the typical layout of most Logitech's keyboards. The top row is where you can find shortcut keys such as media controls, a Magnifying Glass key for search, a battery indicator, a key to show and hide on-screen keyboard, as well as a key to activate Siri. Below you will find a typical keyboard layout, with numerical and character keys. In case you don't want to use the keyboard, you can simply detach it by pulling it, and you can continue using the case while watching a movie for example. Logitech has a lot of experience in designing iPad-compatible keyboards, and it shows with this product. I was able to power on the keyboard and start typing without any issues or errors right from the start, which means that you probably will not need any time adjusting to it. This keyboard offers one of the best layouts, where the kays are well-defined (without confusing shortcut keys), well-sized, and properly spaced.
The company promises up to two years of battery life from the keyboard, which sounds astonishing. That is because it uses two CR2032 coin cell batteries, which are replaceable via a slot on the shell's side. Before using the keyboard for the first time, you need to pull a plastic tab out of the slot, and then turn the keyboard on with the Power switch on the case's left side. To pair your new accessory with your iPad, you will need to use a Bluetooth key for pairing. Just press and hold the Bluetooth key for a couple of seconds, and pair it with your tablet using the Bluetooth menu under iOS' Settings app. This is a one-time process. Next time you want to use the keyboard, simply power it on.
Even though it brings a very polarizing design, I personally like Logi BLOK. I like the way it protects my tablet, I like how the keyboard looks and works, as there is the kickstand that I found to be very useful. What I don't like is how Blok adds about 1.5 pounds to my very light and thin iPad Air 2, but I guess that is the price of increased protection. With its price of $130, the BLOK is a bit pricier than the rest of Logitech's products, but I believe this product is well worth the price. In case you need something more elegant-looking, our advice is to take a look at Logitech's Ultrathin Keyboard Cover, which also features a similar magnetic hinge and an amazing keyboard, but can't protect your iPad as reliably as BLOK.