I am pretty sure that one of the most frequently used apps on any iOS device is the built-it Mail app. Many of us receive and send dozens of emails throughout the day, so having an app that's feature-rich and easy to us seems essential. As a reviewer, I tend to communicate a lot with other iOS users, beginners and those who are more experienced, and I've learned that many are perfectly happy with the built-in Mail app. However, once you dig a bit deeper into the iOS App Store, you might be surprised how powerful iOS email clients can be.
If you are using Apple's Mail app, then you probably swipe across a message to delete or archive it. It's interesting to know that this concept of organization came with the original version of Mail Pilot, an iOS app that was released a couple of years ago. However, Mailbox get the credit for making this idea popular, so today it's almost impossible not to see "swipe to delete" in any newly released email app. The original Mail Pilot become popular because of this innovative concept, but there were other interesting features as well. Since new apps are being released very frequently, where popular ideas are being borrowed at an incredible rate, Mail Pilot needed to reinvent itself. A couple of months ago a new version has been released, simple named as Mail Pilot 2. Like every first major version, it took some time until a few updates came, so now it's the right time to review this app. Continue reading to learn more about Mail Pilot 2 and if it can replace numerous popular iOS email clients.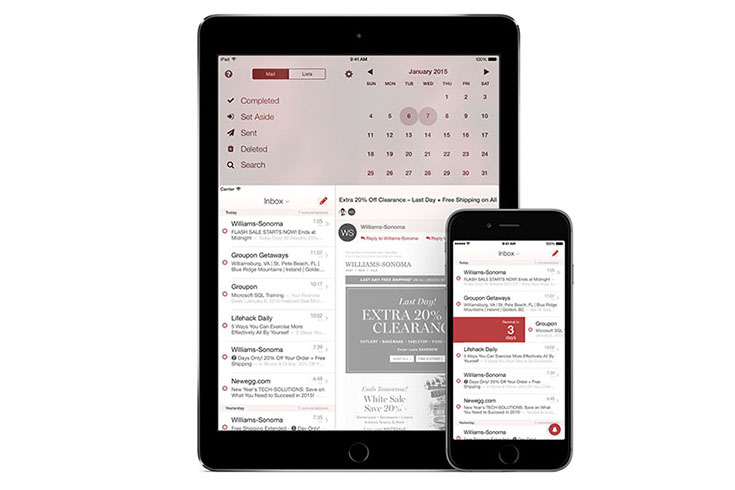 The Basics
Mail Pilot 2 brings compatibility with almost any existing email service and protocol. The app supports Gmail, Yahoo, iCloud, Outlook.com, AOL, and any generic IMAP account. You can set up multiple accounts, and they can be synced via iCloud to other Mail Pilot apps, like the one on your iPad or your Mac. However, I had a couple of problems with this feature. Once I tried to sync the app with my iPad, it took a while until it finally showed my email addresses. The same goes for Mail Pilot on your computer. I am not sure if this feature was needed in the first place, since it only takes a couple of seconds to create a new account. You still needed to enter your password even while syncing, making the process unnecessarily complicated.
Navigation and Gestures
As expected, Mail Pilot 2 comes with its original email-swiping concept. Simply swipe left to mark a message as completed, and swipe right to set a reminder for that message on a later date. Even though this concept seems simple and straightforward, it's not a bad idea to spend a few sentences on explaining it. What is important to understand is that Mail Pilot 2 (just like the previous version) sees your email more like tasks than messages. Therefore, instead of marking a message as "read", you say it's "completed". The goal is to sort out all of your messages by the end of a day. If you see that you can't meet this deadline, you can postpone a message for up to 4 days (7 on your iPad). If you think of your inbox as a series of tasks and to-do items, you're going to like this concept. However, what I missed here is ability to set a specific date or to postpone a message for a few hours. This is something that apps like Mailbox can do, so I hoped to see something similar with this app.
Mail Pilot is also known for its layered UI style. This means that you swipe windows and views instead of using a traditional menu. For example, to go from your inbox to a list of folders, you need to swipe from the very top of the screen. Even though this worked great on a smaller iPhone, this system doesn't seem useful anymore. Since the newest generation iPhone brings larger screens, you'll need to use the app with both of your hands. Not to mention that you'll have a problem with swiping down the Notification center instead of giving input to Mail Pilot. I am disappointed to see that the UI hasn't been thoughtfully redesigned, but instead simply polished more to look modern and pretty. I wouldn't say that this navigation style doesn't work, but it will certainly requires some time to get used to.
New Features
Aside from the same old navigation style and "swipe-to-delete" functionality, there are a few surprisingly functional new additions. One of the things this I liked the most is ability to send attachments by browsing different sources. Mail Pilot 2 now uses a document picker to help you browse now only your phone's local storage, but cloud sources like Dropbox, iCloud Drive, Google Drive, and others. You can even combine files from two or more sources, which is a great addition. What is also important to say is that files are being downloaded to your messages and then sent, instead of the app generating a shareable link. This is something that is going to work for anyone who doesn't have a limited internet connection (in terms of bandwidth), since it's always a better idea to send files instead of links to services that you might not even use.
 The Bottom Line
After using this app for over a week, I can say that I didn't have any major performance issues with it. After being impressed with the original Mail Pilot, I expected a lot more in terms of innovation and interesting features, so I was a bit disappointed to see this new version not being revolutionary. There are some issues with navigation, which I explained earlier, and I missed a couple of features that I used on a daily basis in some other iOS email clients, making it hard for me to stick to this app. However, I am more than interested in seeing any future updates and giving this app another try.