In case you've been using devices like Roku, FireTV, Xbox, and PlayStation, then you've probably heard of PLEX. This is a very popular application that was also available in the previous Apple TV generation. However, the only way to install PLEX was to jailbreak Apple TV. With Apple's fourth generation Apple TV and the new tvOS platform, this media player finally found its way through the official channel. This application has been around for about seven years now, with millions of active users.
So, what exactly is PLEX?
Interestingly enough, the PLEX app is a free download from the Apple TV App Store, but this is only the front-end of this application that exists on your Apple TV. In order to use it, you need to install the PLEX Media Server, which is the back-end software. It can be installed on your Mac, Windows, or Linux. It can also run on many popular Network Attached Storage (NAS) devices.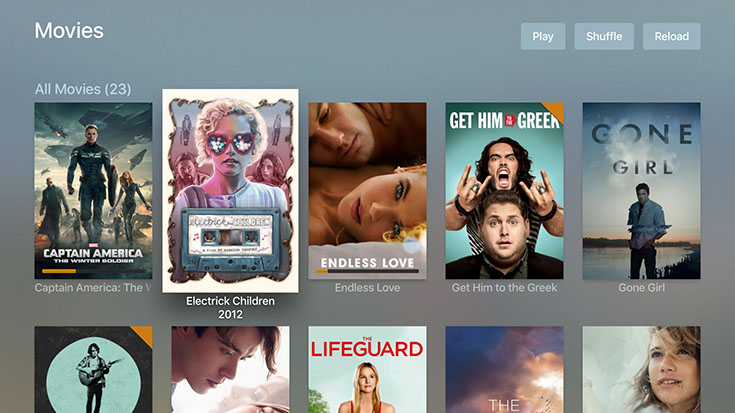 Installation process
The Media Server is actually where you set up your media library using a simple web interface. You need to locate your movies, TV shows, music, and even photos, and create folders as well. From there on, PLEX will handle the rest of the process which includes downloading information and artwork for each movie, show or album, which creates a very pleasing user interface on the front-end. Setting up specifically named folders and subfolders, as well as naming video files in a certain format might sound tedious, and it actually is. However, this is just the foundation for this media player. From there on, PLEX will load a lot of useful information and provide you with very clean and user-intuitive UI, so setting up everything is worth your time.
What is important to be said is that even though this kind of setup seems complicated, but it actually isn't. You don't have to be a hacker to install PLEX on your Apple TV since you can find some very user-friendly directions on the player's official website. There is also the PLEX support community in case you have an issue.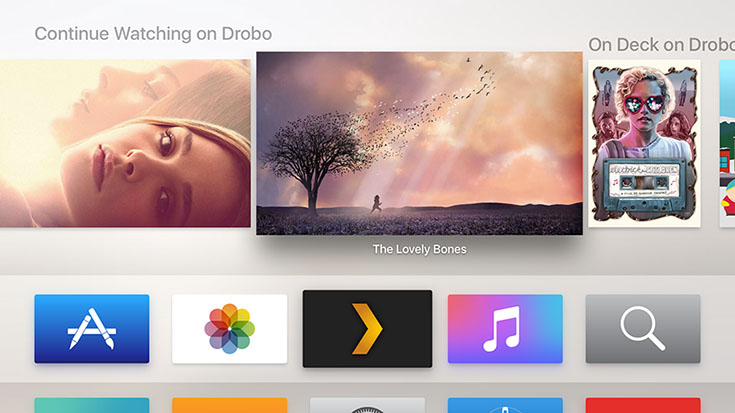 UI Design
The home screen shows the folders that you created earlier in Media Server and these are large film posters now, that reminded me of the iTunes Store. The UI is very Apple-like in every possible aspect, and the app works well with the new remote. Additionally, you can use your iPhone or iPad to play media as well. One of the best things about this application is how cross-platform compatible it is. The app is also available for iOS, Android, Windows Phone and Windows 8.1, as well as for a number of set-top boxes like Android TV platform, many smart TVs, Chromecast, Xbox (360 and One) and PlayStation (3 and 4). This way, you can watch a couple of minutes of your favorite TV on a tablet and then switch to Apple TV and continue playing from where you paused.
Even though this app is free of charge, you might expect from PLEX to skimp on its interface. Surprisingly, this is not the case. This is a shining example of a modern UI that is also highly optimized for a new way of input. The app actually looks like a modern version of the iBooks app, where each title is categorized by genre and given the appropriate cover art. You don't have to provide cover art for your files, the app will find the match and download it in the background.
There are several ways to preview media: by All, Recently Added, Unwatched, By Collection, By Rating, By Year, and more. When you click on a film, you will see additional information as well as option to play it, mark the film as watched, activate subtitles, and similar. The application automatically downloads information from Rotten Tomatoes and other websites, so you can see very detailed information about every movie and TV show. You can even play a trailer, which is something I particularly liked.
There is only one thing that I would like to see improved. The PLEX app can play most of your media, but not all files. For example, I wanted to play a movie which was saved as an uncompressed MKV file, where PLEX tried to transcode it using the Media Server software. However, the movie was unable to start. Maybe this is just a bug, or maybe this is something that I could fix, but there is a chance that not every file type will work with the current version of this media player.
Performance
When it comes to performance, it massively depends on the connection speed of your own network. During my testing and based on opinions from other users, you can find relatively clear playback at around 10Mbps both on your PC and wireless 802.11a/b/g/n tablet. In case you have a better Internet connection, you should expect very fluid performance.
There is also another aspect that should be considered, and that is how capable is your PC. In case you use a PC to transcode a video, this will require a bit of CPU processing power to get the job done. I've tested the media player with two PCs, where my gaming Windows PC seemed like a much better option. Nonetheless, there is always an option to convert your video files prior to storing and playing in using PLEX.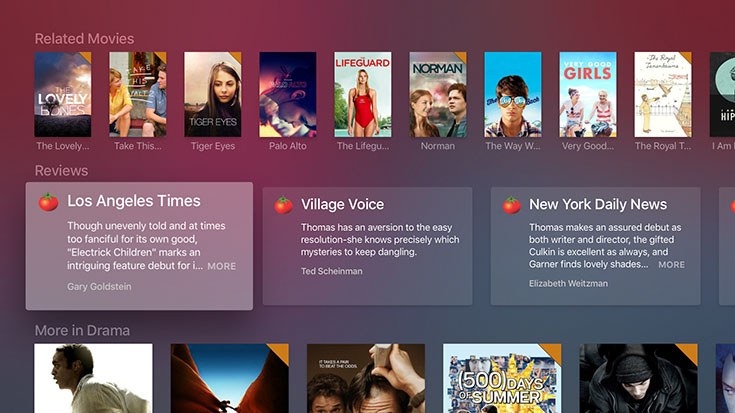 Final Verdict
The PLEX app comes with an impressive user interface and a lot of useful information, which is why it is so easy to recommend it to anyone who is looking for a useful app for their Apple TV. 
Even though it does bring tiresome installation method to get things up and running, the app itself is gorgeous, with easy-to-use and lightweight UI. In case you have a stable internet connection and aren't intimated by storing and organizing files on a media server, PLEX surely will not disappoint.