Even though I tried and played hundreds of games during the last couple of years, somehow I still enjoy the simplest games that can be played when you have a couple of spare minutes. There are numerous bite-sized games that are perfect for these occasions, everything from Angry Birds, Ski Safari 2, up to Badland. However, somewhat different games occupy my mind every now and then – just like Punch Club did, as it turned out.
In this article, I will tell you more about Punch Club, created by tinyBuild and Lazy Bear Games. This is an indie fight management RPG that involves a lot of strategizing as you unfold the story and make your way to the top of the boxing world. The game is priced at $4.99 and doesn't come with any in-app purchase options. Continue reading to learn more.
The UI Design
Punch Club comes with a modernized appearance even though it looks vintage. Those of you who love 16-bit pixelated graphics are going to enjoy this game the most. Interestingly enough, you can switch between two themes, so you can opt for the "Retro Effect" for old-school looks and feel. The game is vivid and bright in color, while animations are very smooth and fluid. In addition, the game features a very interesting chiptune soundtrack, so you might want to put on a good pair of headphones while playing this game. I have been playing Punch Club on my iPhone 6 Plus, and I haven't encountered a single issue. It is clear that this is a well-optimized game.
The Storyline
In Punch Club, you will take the role of a 20-year-old boy who saw the aftermath of this father, who was a boxing champion. You will be taken in by one your father's friends, but you will end up as a broken young man with dreams of rising to the top of the boxing world. As you progress through the game, you will meet many characters that will have a deep impact on the story, so you will have to readjust your strategy every now and then. However, the core of this game never changes.
You have to take on jobs for cash, train hard, and figure how which fighting style suits you the best. On a side note, there is also a love interest, which tells you how detailed the storyline is. This is probably one of the first games in a very long time that kept me coming me coming back because of the story.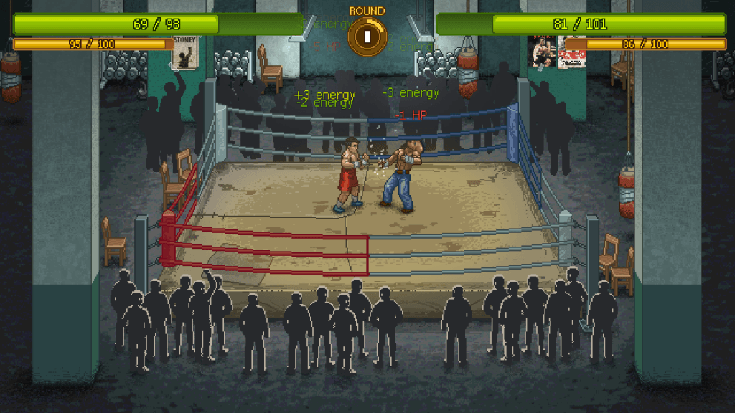 The Gameplay
In the top left corner, you will see four status bars: Health, Hunger, Mood, and Stamina. It is a constant battle to satisfy your character's needs because each of these four icons will have a deep impact on your gameplay. For example, Mood affects the frequency of your stat changes while training, so you will have to keep your eye on this. On the other hand, Health affects how many hit points you have during the fight, so it is important to level everything up before making any stronger decisions. You will train at your home or at the gym, which should raise your stats slowly and gradually. After each day, the character will lose some stat points, so it's beneficial to hit the gym once a day.
In a similar manner, you will need to travel. One of the first jobs you can get is doing construction work which earns you $50 for each completed job, or you can deliver pizzas for $30 each. Interestingly enough, if you hold over $100 in your pocket, your chances of being robbed are higher. However, this goes for walking by foot. You can also travel by bus, which is faster and costs more but is safer as well. You also need money to buy food at the grocery store, as well for training equipment from the sporting goods store. Your goal should be to earn as much money as you can, which can be done by winning the fights in the Rookie League, even though there is also the underground fighting ring that gives plenty of rewards.
In case you are looking to fight against other characters, you should know that there's no combat as such in Punch Club. You will have to explore different branches and unlock the required technology in the main skill tree. However, when it comes to the fighting system, you choose the skills the character will use in the battle, along with the preferred fighting style, and then sit back and watch the fight. To unlock new skills and traits, you will need to spend tokens, which can be earned after each fight, regardless of if you lose or win it. There is a lot of strategizing here because it is up to you to pick the right combination of skills before going into each fight. In order to make things more comprehensive, you will see the opponent's stats before going into battle, so you can fine-tune your character and increase your chances of being successful. There is definitely a lot of room for experimentation, just like in every good strategy game.
Punch Club: The Conclusion
Even though I am not a big fan of games that require a lot of time and dedication, I have to say that I truly enjoy playing Punch Club. This game requires your constant attention and you will have to return to it regularly in order to keep up with the story. However, this is not a game for a fan of sports simulations, but for those who enjoy management and tycoon games. In case you become addicted to this game, as I did, you can also purchase the Steam version for your PC. I have been enjoying the iOS version on my iPhone 6 Plus, which is not limited in any way in comparison to the PC version.
There is a lot to like about Punch Club. The chiptune soundtrack is very nice, as well as the depth of strategy. This is an incredibly fun and addictive game, so I highly recommend downloading it and trying it out for yourself.