If you are reading this article on the newest
Retina MacBook
, then you are probably still trying to figure out how to live and function with only one available port. This was the only negative side to the newest MacBook generation, which is the thinnest and lightest than any other portable Mac before. However, having only one port is the price you need to pay for having the thinnest OSX computer, which really can be problematic during day to day use. Lucky for you, we have a possible solution, so continue reading this article.
There is a number of interesting products that can help you with expanding MacBook's connectivity with external devices. The most useful product, for many of us, is a USB hub. This is a device that comes with a USB-C port (compatible with the only port on the MacBook) and can offer several traditional USB-A ports, so you can continue using your MacBook with your
iOS devices
and various other peripherals. We are going to take a look at two Satechi's products, which were unveiled just a weeks ago. Continue reading to learn more.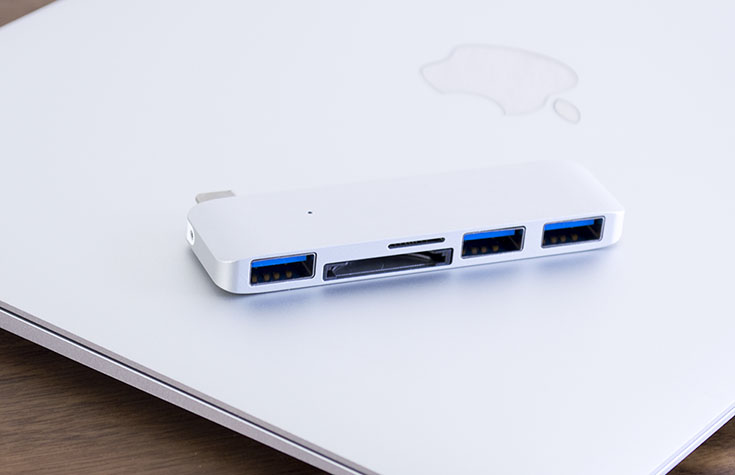 Satechi's Type-C USB Hub at a first glance offers the perfect solution for using single-port Retina MacBooks by providing support for SD cards and three USB 3.0 ports. This way you can still use your flash drives, Lightning cables, and other USB accessories. Additionally, this all comes in a nice Apple-inspired design that can easily fit with your brand new MacBook. In addition, we took another similar product for the test, also made by Satechi. This is a simple dongle with a USB-C connector and a traditional USB-A 3.0 port, which comes at a much more affordable price.
After I installed
Satechi's Type-C USB Hub
, I felt quite relieved to have once again all those additional USB ports on my disposal. However, I've realized the biggest flaw of this product soon enough, or to be more exact – once my MacBook's battery died. The lack of USB-C port for power pass-through means that you can't charge your MacBook while using this USB hub, which I am sure is going to be a serious issue for many potential users and customers. This little device can still be very helpful, but only for some quicker tasks like transferring photos from your digital camera, and for similar things. Something closest to this product is Apple's USB-C Digital AV Multiport Adapter, which adds a single USB 3.0 with USB-C pass-through for power, but is priced at $79. On the other hand, you can also find Apple's own USB-C to USB adapter, which provides only one traditional USB port, priced at $19. As you can see by now, Satechi has managed to challenge the entire existing Apple's collection of USB-C adapters and offer
devices
that feature the same functionality at a lower price.
Considering that
USB-C
is reversible, you can use Type-C Hub facing outward or inward. When facing outward, Satechi branding is visible, but connecting cables seems more stable. When facing inward, the hub seems to be a bit shaky. For example, I needed to be very careful when connecting and disconnecting USB cables, since the whole thing was shaky and even lost the main connection a few times. This means that if you start copying a lot of files at once and something like this happens, this file transfer will be aborted and can even leave you with corrupted data. On the other hand, this USB hub does work as advertised, since I managed to connect various USB devices, but not every USB device worked with my MacBook without a single issue. On a side note, don't expect for some devices like Apple's SuperDrive to work, since these devices demand more power. Interestingly enough, the Hub also failed to recognize some of my USB dongles. My
MacBook
also notified me that the USB device needs power and cannot be started, so I am not sure where this problem originated from. Either way, don't expect Apple's SuperDrive to work, but you can also expect some of your USB dongles to be left behind.
What I would also like to mention are some issues in this device's design. While being plugged into the MacBook, the only anchor connecting it to the computer is the small USB-C connector, as I stated earlier in the article. Since the Hub is about 3 inches in length, this means that the Hub doesn't have any support down the length of its side on the opposite end of the USB-C port. In other words, this end touches the surface beneath the computer, so I am sure you will see scratches and other signs of wear pretty soon. On the other hand, this also makes me the question, is the Hub can damage the
USB-C port
on the MacBook, which I believe can happen if significant torque is applied to the connection, which can also leave the Hub damaged as well.
When it comes to Satechi's cheaper, the smaller counterpart for the Hub, I believe it is arguably better for those who need only one USB-A port. Interestingly enough, I managed to get a much better performance with this smaller extension, where even Apple's SuperDrive never gave a single error. It is priced at $15, making it very affordable and one of the best options for those who don't need a whole range of USB Ports on their MacBooks. This small USB-C port also offers color-matched adapters with a LED status indicator.
Satechi's Type-C USB Hub is sold in three finishes: gold, silver, and gunmetal, where each one is priced at $35. Overall, I really like this product despite some of its obvious flaws, where the biggest one is an inability to charge the MacBook while using additional ports. This somewhat seems counterproductive, so I can't really give my general recommendation for purchasing this product. However, if you still rely on the USB connection for some things, with Satechi's USB hub will get you a reliable
performance
at a low price.