Ever since Limbo, we have seen a number of creepy, mysterious, and dark games that managed to capture everyone's attention. Games like Limbo became memorable thanks to their elaborate visual style and interesting storylines, so I am always glad to try out this kind of games. From time to time, I encounter a game that captivates me thanks to its gloomy atmosphere and captivating gameplay, as you will see in this article. I present you – Shadow Bug.
Game Review: Shadow Bug
We will be talking about a game named Shadow Bug, created by Muro Studios. This is a new action platformer (with a difference), filled with dark, gloomy and mysterious environments. The game is priced at $3.99 and comes without in-app purchase options (which feels very refreshing these days). Continue reading to learn more about this game's art style and gameplay.
Design and Performance
Visually, Shadow Bug is stunning. I was impressed by its art style right from the first screen.
The game definitely stands out thanks to its hand-drawn environments, which come with a parallax effect. The graphics are a combination of vibrant backgrounds and silhouette-like foregrounds, where your character and its enemies are only seen as silhouettes. However, the game manages to stay dynamic thanks to its action-packed gameplay, along with numerous small animations.
The gloomy element here are the grotesque shadows that are lurking from different crawled spaces, ready to attack in a second. This is something that will keep you on the edge of you seat, so prepared to be ambushed and scared a few times.
Speaking of performance and animations, I haven't experienced any glitches on my iPhone 6s. Shadow Bug definitely seems to be well optimized, so it's a joy to see how much time and effort was put into this game. This is definitely one of those hidden gems on the iOS App Store, and I am so happy to have found it and shared it with you.
Gameplay
You will get to play through several chapters with about eight levels each, including a boss fight. Your goal is to help an overpowered ninja hero, called Shadow Bug, to fight against creatures made by an evil factory.
In each stage, your goal is to navigate through numerous obstacles and slice your enemies. However, this is not your typical action-packed game, since there's a puzzle element as well. This means that you will have to think about your moves. These are not your typical puzzles where you need to combine different elements and such, but you do need to stop for a second and think about your next move. However, once you figure out to go through an obstacle, this calming moment will be followed by frantic tapping on the screen since a horde of enemies will be waiting in disguise.
Controls
What is interesting about Shadow Bug is how much action there is on the screen, even though you can play this game using only one hand.
To move the ninja left or right, simply tap and hold on the appropriate half on the screen. You can also long press on the left or right side of the screen while in the air, which will make your little ninja "fall" in that direction. As you can see, there's no jumping here, which is the main difference in comparison to other action platformers. This simple, but innovative control system works incredibly well on iOS, and I wouldn't say that it would equally work on some other platform.  
In case you get close to an enemy, tap on the screen to attack. Shadow Bug will warp over to the target, so you don't have to strategize that much. As expected, you will encounter groups of enemies at the time, forcing you to do a series of attacks. The combat system is quite thrilling and I am sure you will jump in your set a couple of times. However, the most important thing is how fast you can react and well as how many times you can tap on a screen in a certain direction. Speed and twitch reflexes are what's important in Shadow Bug.
Scoring System
Each stage brings up to three shurikens (ninja stars). One is awarded for finishing the stage, one for getting to the end below a set time, while the last one is awarded if you collected glowing orbs.
With this said, it's clear that Shadow Bug has some replay value, especially if you like to go back and try to beat your own high score. At times, you will manage to collect all three stars in one go, but often it won't be the case. This means that Shadow Bug has some replay value, which is not typical for a platformer game.
There is also Game Center integration for leaderboard and achievements. Additionally, the game features a recently added full-screen recording capability of iOS, so you can record and share your gameplay easily.
Conclusion
I have been playing Shadow Bug for a couple of days now, and I am still in love with it. The amazing art style and addictive gameplay are what make this game stand out. In addition, let us not forget about easy and intuitive controls that are simple enough for anyone to pick up and play. The music is also fantastic to listen to, so I recommend grabbing your headphones or earbuds for the full experience.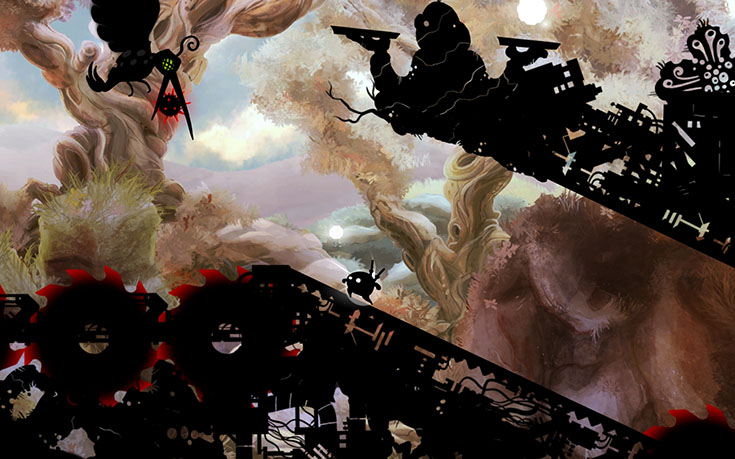 I highly recommend downloading Shadow Bug if you enjoy in artsy games that are full of addictive high-adrenaline action. You can download it from the iOS App Store (there is also an Android version for those of you who don't use iOS), and it comes as a universal download for just $3.99. As said before, there are no in-app purchase options.