Back in 2013, Apple has finally introduced manufacturer specifications for those who were interested in building Apple authorized game controllers. Alongside the new program, iOS 7 came with standardized controller frameworks which helped app developer to update their games to support the new hardware. However, as we can see today, this program has had its ups and downs.
The first batch of MFi controllers seemed rushed, making Apple customers unsatisfied. In addition, app developers weren't as hyped to update their apps, which undercut functionality of those products. Most of us agreed that the first batch came with serious quality issues, flimsy buttons, and joysticks, while their $99 price tag made them overpriced compared to any standard Bluetooth controller.
Perhaps due to not as positive first impressions, this program is still trying to prove itself. We have seen a couple of very good MFi controllers, but most of them were not as attractive to potential buyers due to their high price. Still, there seems to be some hope that we can find an amazing controller for a fair price, as you will see in today's article.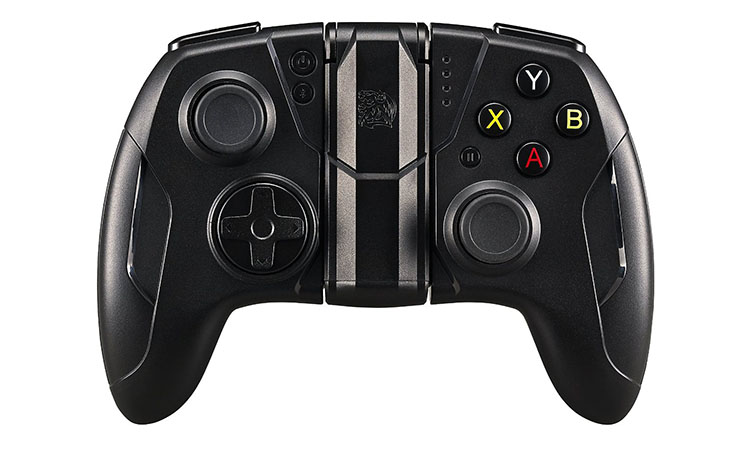 In this article, we will be looking at a new Tt eSports Contour, which is a new $65 option that comes with a classic Xbox-style design. We can see that the price is great, but let's see what we can get for that price. Continue reading to learn more.
Design
As I said before, the biggest issue with the early MFi controllers was their build quality, however, the Contour is slowly changing my opinion. This controller feels very solid, and I think that I can even compare it to any console controller. It feels substantial and feels nice in hand. In case you like to play console games, you won't be disappointed with this product.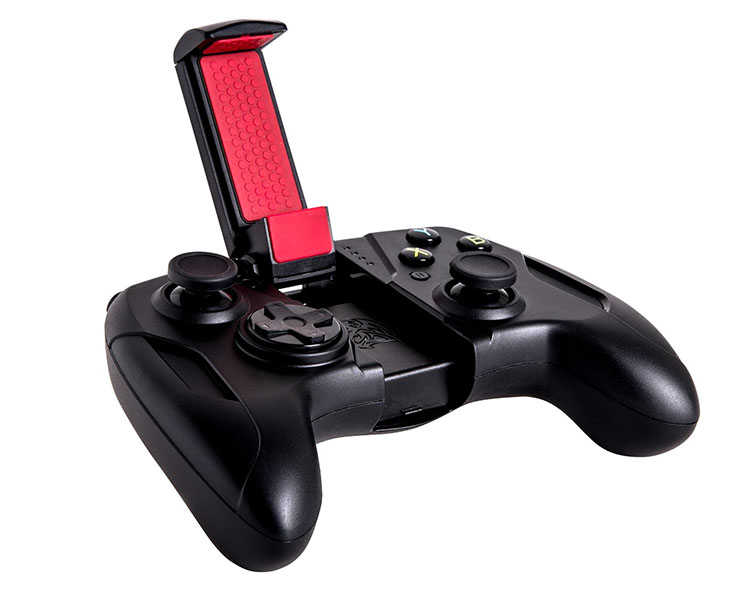 I also wanted to pay close attention to the arm that holds an iPhone or iPod, which knows to be problematic with similar products. The Contour comes with the arm that attaches securely to the controller when not in the case and is lined with a soft, thick rubber. This means that you don't have to be worried about your iPhone's stability or getting it scratched easily. Additionally, the arm extends up to 3.75 inches wide, which allows you to fit in any iPhone or iPod touch in landscape orientation, with or without a protective case.
The arm can't be really adjusted, so you are stuck with one viewing angle. Still, I don't have anything against this viewing angle, since it's designed to be ergonomic. The iPhone's screen actually ends up at an eye-level when holding the controller, so there's no need for additional viewing angles.
Connectivity
The Contour comes equipped with Bluetooth, which makes it compatible with a number of different devices. On the other hand, this means that you won't find a Lightning Connector, so both the controller and iOS device will have to rely on their own batteries.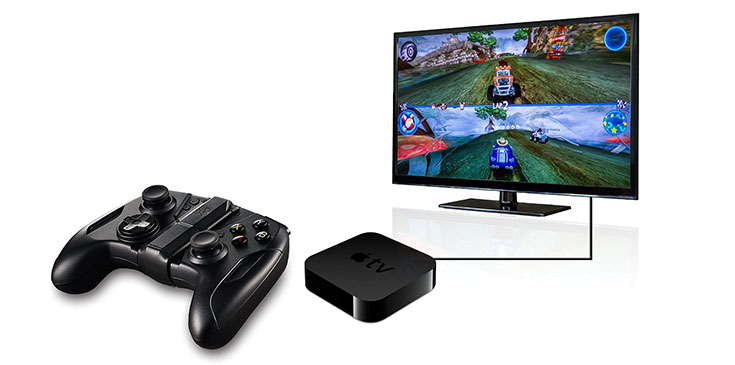 What I liked about the Contour is that it can be connected to any TV. This can be done by connecting any of your Apple devices (such as iPhone or iPad) to your TV with the Lightning Digital AV Adapter, which can turn your iOS device into a console. Thanks to hundreds of high-quality games on the iOS App Store, I think this ramps up to the value of this MFi controller.
Functionality
In case you have used Xbox before, you are going to be instantly familiar with the Contour. You will get to use X, Y, A, and B buttons, right and left joysticks, a D-Pad, as well as two shoulder buttons on each side.
Due to their build quality, each of the buttons and ways of input is very reliable. The buttons are responsive and feel great in extended gaming sessions. The Contour comes with a grippy texture, resembling a PlayStation controller, and it's definitely not undersized.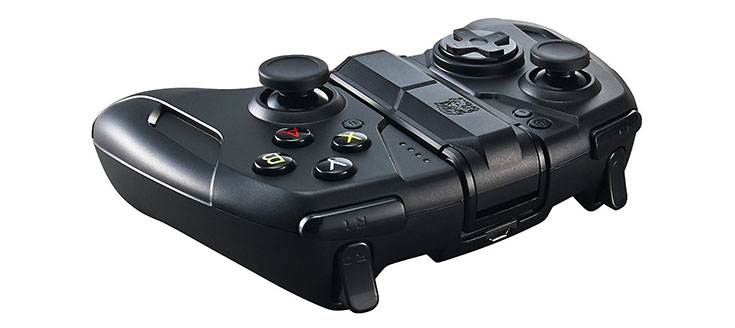 When it comes to playing iOS games using the Contour, I can say that this controller is one of the best MFI controllers that I had a chance to try. I've tried the Contour with some of the games like Asphalt 8, GTA San Andreas, Geometry Wars 3, and Marvel Future Fight. What is interesting is that I would never go back to playing games using only my iPhone, since that's how much the Contour enhances the gameplay and makes it more enjoyable.
I would also like to give you the advice to take a look if a game supports a third-party controller, even though there's no lack of games with MFI support – especially when it comes to big-name titles.
Battery Life
From the controller's packaging, you will see that you can count on about 10 hours of battery life.
During my testing, this statement didn't exactly turn out to be true, since I managed to get about 8-9 hours. Still, this is a good result, and you can recharge it about an hour and a half.
What is also worth noting is the fact that the Contour has a sleep mode which turns on after 10 minutes of inactivity. This definitely helps the controller to save some battery, which comes in handy considering that the product's battery life falls a little short of others.
Conclusion
This is definitely one of the best MFI controllers that I tried. I understand that some potential buyers won't like that there's no Lightning port or that the Contour lasts for only 8 to 9 hours. However, we have to take in consideration the design, functionality, as well as the asking price. In all these three categories, the Contour outperforms its competition. In many cases you will see that controllers come without an arm to hold your iPhone, or that they bring flimsy buttons, making them nearly useless.
For an MFI controller priced at $65, I strongly believe that you can't find a better deal. I definitely recommend checking out the official website for more information. Note that the asking price of Contour on the official website is $80, but you can find a better deal on some popular online resellers.