Even though social networks tend not to create official desktop applications, forcing you to use your web browser and their web interface, there are many third-party options out there. However, there's always a question of why should anybody turn to a third-party solution, especially if a service has its own free software. As it turns out, there are many reasons for this. Dedicated developers are working hard on implementing the latest features found online and expanding them, so you can access features and tools that aren't officially made by a social network's development team. One of the best examples of this situation is an application called Tweetbot, which I am sure many of your already heard about.
The original Tweetbot became instantly popular, mostly because the official Twitter client didn't exist at that time. What made this application popular and remained one of the bestselling OSX apps in the OSX App Store is the way it evolved over time. A development team of three coders worked very hard on improving the app, adding new features, and fixing bugs, which made users stick to this app. Now it's time to take a look at the newest OSX release, simple named as Tweetbot 2 for OSX.
Tweetbot 2 for OSX doesn't bring a radical departure from the original version, even though it's clear that numerous hours have been put into creating this app. After using this app for a while, my first conclusion was that developers decided to unite OSX and iOS version of this app. Even though both versions are made specifically for these two platforms, and they are very distinctive, I can see numerous similarities as well. However, the desktop version has its own set of unique features, which I am sure will appeal to numerous Twitter users.
As before, Tweetbot 2 divides your Twitter experience into several categories. There are your timeline, mentions, direct messages, and your favorites. In addition, there are quick access icons for search, your own profile, lists, and mutes. The main screen is actually your Twitter timeline, which is the first thing you'll see when you open the app. You can easily scroll through the list, filter messages, click on links, and view images. Even though this seems unchanged in comparison to the previous version, there are several important enhancements. Unfortunately, most of them are problematic. The first thing that I noticed is the size of timeline's images. We were able to see small images in the previous version, and they could be made bigger by clicking on them. Now there's only one image size, taking a lot of space. Not to mention that you can't filter those images. The only solution is to disable them completely, so you'll get to see a link using which you can open an image. In addition to this, there is no way to play videos and GIFs inside the app, which I really hope to see fixed as soon as possible.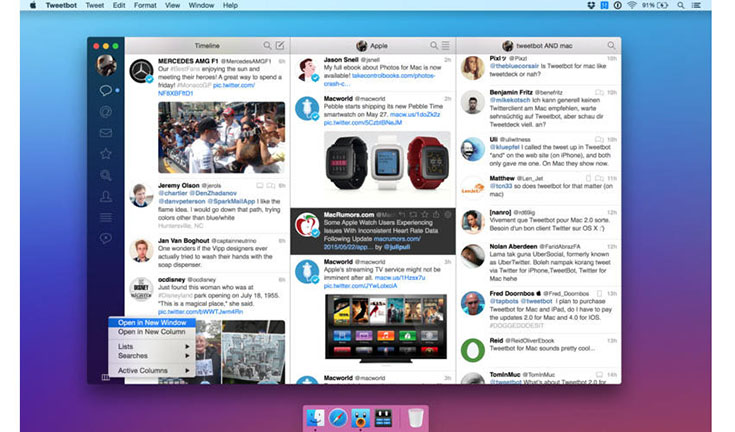 While viewing the timeline, you can retweet and respond to messages, as well double click to see a tween in isolation. This is where you can see statistics like faves and retweets, as well as a context if it's part of a discussion.
One of the most advertised features in the original version was the ability to open multiple columns. This way you can have you timeline opened, along with a specific thread, as well another column where you could see someone's profile and such. This feature is still the same, and there are no enhancements here. However, I must admit that the whole app, especially when you open multiple columns, looks much better now. This is due to the updated user interface, which looks like a native Yosemite app now. The apps looks amazing on the Retina display, where every single element is crisper.
The good news is that almost every feature from the previous version has been transferred and polished. For example, I always liked to use the Mute section of the app. This is a great way to hide messages that annoy you, and you can mute people, hashtags, or keywords. Now you can decide if you'd like to mute messages for a day or two, or perhaps forever. I have also used numerous third party services to save photos and videos, and to share files. Tweetbot 2 for OSX still supports services like Instapaper, Pinboard, and Pocket, along with numerous others. And finally, if you use the app's iOS version, all your settings and customizations will be automatically transferred. For example, these can be your mute filters, unread message statuses, and similar.
When it comes to some of the new features, you can now opt to show a verified account checkbox directly on avatars. As you know, Twitter has a way of verifying your identity (if you're a celebrity or someone influential), so it's always a good idea to know if an account is the real deal. In addition, retweets now show a smaller avatar of the person sharing the message, which is yet another addition that helps you visually navigate the app. Also, embedded tweets are a new sort of retweet in which a referenced tweet appears nested in the message that mentions it.
Tweetbot 2 for OSX is a completely new version of the app, but existing owners pay nothing for the upgrade. New buyers will need to pay $13, which seems like a much better deal than the original version, which was priced at $20.
Tweetbot 2 for OSX isn't trying to radically change things, but instead to improve them and build a solid foundation. The UI has been redesigned, which is the first thing you'll notice. There are numerous small improvements and enhancements throughout the app, which is always a good thing. Aside from a couple of design inconsistences that we talked about earlier, Tweetbot 2 seems like a good choice for anyone who'd like to improve their Twitter experience. It brings a lot of feature that you can't find on the official Twitter's website, allowing you to make the most out of your social networking.
[ad name="Google rechthoek"]