Super Mario Run has finally arrived at the iOS App Store! For many of us who played this iconic title on some of the classic consoles, this is great news. However, even though we are aware that Nintendo doesn't take this lightly, this is a major challenge for this company. This is not only the first time that Nintendo decided to develop a smartphone game, but iOS' audience is Mario's biggest audience yet.
After dozens of games, one thing is sure. Nintendo knows how to adapt their games to different devices, screens, and different controls. From the classic Super Mario 64 to the refined Super Mario Galaxy games, we enjoyed (and some of us still enjoy playing games on the classic consoles) guiding this character through numerous adventures. However, things are different this time. Nintendo had to figure out a way to change its proven formula to make the game work without issues on a touchscreen. So, as many of you already assume, Super Mario Run is – different.
Gameplay and Controls 
Instead of trying to come up with something new and innovative (and polarizing as well), Nintendo chose to make a traditional side-scrolling game. Super Mario Run is an automatic runner, just like some widely known titles like Temple Run and Chameleon Run. This means that you can't control how Mario moves, but instead, you control his jumps. Tap the screen for a quick hop, or hold your finger for a longer leap. With just a few combinations of short and long taps, Mario is able to do wall jumps, catapult himself over obstacles, flutter through the air, and even grab onto ledges. So, even though the formula is quite simple, there is a lot happening on the screen and you'll never get bored. To make things more interesting, environmental elements are there to Mario's behavior. Even though you can't stop him from moving, a certain kind of a block is able to do so. Other blocks, for example, make Mario perform backward aerials. This is yet another great example of Nintendo's creativity. For a game powered by two kinds of simple inputs, Mario's movements are quite creative and advanced.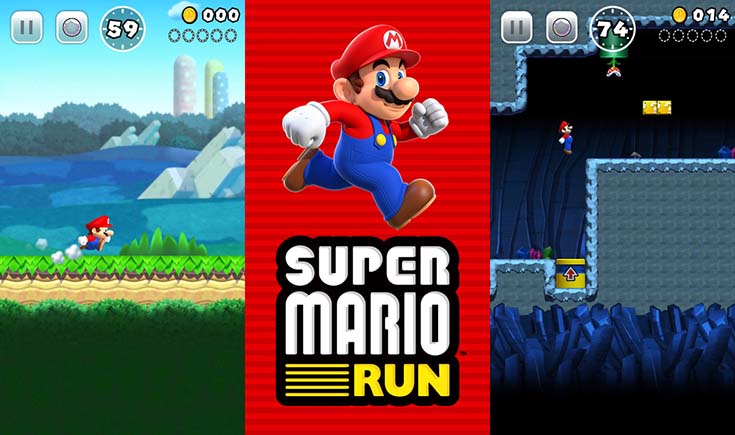 Perhaps the biggest twist here is that Super Mario Run is kind of vertical. However, this is understandable since the iPhone's screen is vertical as well. To make the levels more interesting, they build upwards for Mario to zigzag across the screen. As you can see, this game only runs in portrait mode, allowing you to play the game one-handedly. This is why you'll probably feel like you climbing a tower instead of crossing large, open spaces. Yes, this is a 2D game, but this quite a different kind of classic 2D Mario games. This verticality can be felt the first time you enter one of the haunted house stages. Maze-like structures will make you go up and down in search of the exit, which is something that Super Mario fans will immediately realize.
As you can see by now, the controls are very simple. Mario automatically runs to the right in an effort to avoid Goombas and Koopas as other threats. The goal of every level is to reach the flagpole. The biggest challenge to Mario's behavior is how he avoids the enemies. Running straight away into Goomba won't hurt Mario. Instead, he will push himself over it safely. If the player taps at the exact moment, Mario will launch into the air, boosting his jump. This is something you will have to master as this is one of the major differences in comparison to the classic Mario games. Check out our tips and tricks at the end of the review.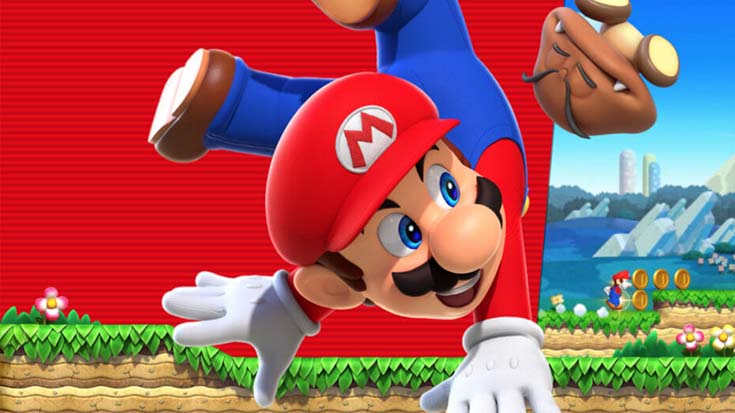 As said before, Super Mario run is an automatic runner. So, no, this is not an endless runner. The main mode, called "World Tour" comes with 24 levels spread across six worlds. The whole main mode can be played through in under two hours, so don't go in expecting a lengthy campaign. On the other hand, the real fun comes from replaying the game over and over again. This is because each stage is designed to be replayed at least a couple of times until you play through different paths that can be explored.
A secondary "Toad Rally" mode is designed to allow you to compete with friends asynchronously. This means that you're not playing in real-time. You and your friends can complete the same levels in pursuit of the highest possible score. The main goal of this mode is to collect as many Toads as possible, which can be used in the third mode, named the Mushroom Kingdom.
The Looks
When it comes to graphics and different features that you would normally expect from a Super Mario game, you won't be disappointed. The game's architecture brings a combination of old and new, which means that it caters to new-age players as well as to the rest of us. You will get to recognize airships from Super Mario Bros, up to castles filled with fireballs and saw blades.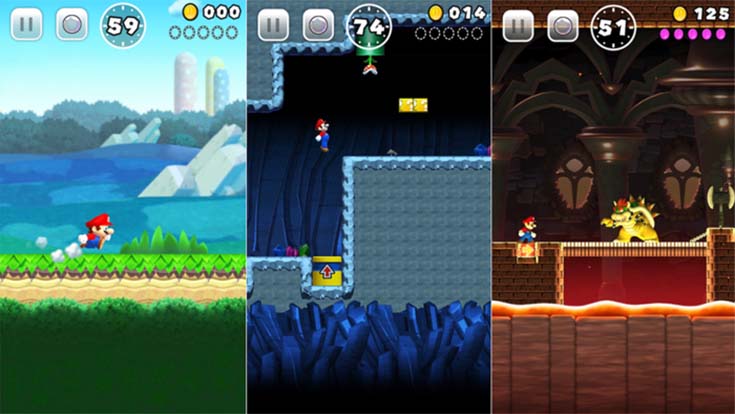 Additionally, there are six different characters, each with unique features and traits. However, you will need to replay the levels multiple times if you want to unlock them all. As well-designed as the available 24 stages are, I still wished to see new places and new levels. Hardcore Super Mario fans will mostly replay the levels to earn coins, which can be later spent in the game's Kingdom Building Mode. This is a simple city-building feature where you can place decorations and structures to create your own version of the Mushroom Kingdom. However, this side of Super Mario Run isn't as fulfilling and it seems like Nintendo failed to reach the full potential of this feature.
The Price
Nintendo is one of the few companies that can charge $10 for a game, especially when people pay $1 to $2 for a typical iOS game. This is caused by the App Store's tough competition, where more and more developers are deciding to publish freemium games.
Super Mario Run is priced at $10. Instead of requiring in-game purchases for items, coins and the like, it offers a one-off payment if you want the entire experience. From one perspective, this is great since many of us are tired of freemium games. However, Super Mario Run is a freemium game that can be downloaded free of charge. Nintendo is using it as a demo version, hoping you'll be hooked enough that you'll happily pay $10 for the rest of the experience.
No Offline Mode
So, you have decided to download the game and try it out without having to pay anything. Later, you're hooked and you decide to pay $10 to have the entire experience. However, there is still one important caveat that cannot be left unsaid. To combat piracy and bake the social aspects of the game into its every mode, Super Mario Run requires constant Internet connection. This happens either via Wi-Fi or mobile broadband. It doesn't need a fast Internet connection but needs one nonetheless.
What is interesting is that you cannot play even the main mode. This can be a deal-breaker for many of us who like to play games while commuting. So, you better avoid subways. This doesn't sound fair, especially after you pay the full price for Super Mario Run.
Conclusion
Despite its issues, Super Mario Run is a nice example of Nintendo and Miyamoto's mastery in level design and gameplay. As we can often hear, creating something very simple and intuitive that is also highly complex in its core is far from easy. Super Mario Run brings an incredibly simple concept that a young child could easily pick up and play it. However, the game is complex enough to have you study levels for every detail and nuance.
It all comes down to the price. Even though this title is very expensive for an iPhone – iPad app, it's actually cheap in comparison to Mario games on Nintendo's own consoles. Perhaps the free version should have come with more features, to begin with, but there is still a lot to do see nonetheless.
It is good news that Nintendo finally decided to embrace Apple's iOS platform, and we can only hope to see more titles in the future.
Super Mario Run: Tips and Tricks
Whether you already played Super Mario Run or not, you could benefit from knowing a few useful tips. This might help you collect more coins if you jumping the bandwagon, or this might return you to this title in an effort to get a better score. Let's go over some of the best Super Mario Run tips and tricks.
World Tour Mode
Jumping: How you instruct Mario to jump is very important when it comes to leapfrogging enemies or collection every coin you see. A quick tap will instruct Mario to do a short jump, but a longer press will make help the character achieve greater heights.
Pause Blocks: Red blocks are designed to help you slow down Mario. You'll notice them by their "pause" symbol. Make sure to use these when you can. You can take a break and you can use that extra time to help you figure out which path to take.
Replay: Each level with a number of different paths. If you want to get the most out of Super Mario Run, replay the levels you've already cleared.
Try New Characters: Characters like Peach or Yoshi have different jump styles. Sometimes, you will need to replay the levels using a different character to get the most out of this game.
My Nintendo Account: If you are part of Nintendo's rewards initiative, take the time to register your game. Aside from getting points, you can also unlock Toad as a playable character.
Toad Rally
Colors: When you're picking your opponent, you will see that different colors are presented. Toads are a form of currency and you need different-colored toads to buy specific items. If you need a yellow toad, for example, search for opponents offering that specific color.
Pick Your Opponents: If you are not confident you can beat someone, consider taking some time to pick a better opponent. Losing each round in Toad Rally will actually dock your Toad totals.
Mix Up Your Jumps: Toad Rally tallies your score according to your coin collection and how far you get. However, it also calculates your performance. Add some variety to your run by mixing up your moves with wall jumps and hopping over enemies.
Avoid Dying: Dying will significantly drop your score, slow you down, and reset your coin rush meter.
Kingdom Builder
Special Houses: Even though it can be hard not to spend coins on different decorations for your kingdom, you should wait a bit. Save your toads for houses dedicated to characters like Luigi, Yoshi, and Toadette in order to unlock them.
Keep Your Eye on the Prize: The multi-colored bonus game houses let you play mini-games which regenerate over time. Make sure to check back at least once a day to maximize your payout.
[vsw id="E39ychZKnDI" source="youtube" width="735″ height="367″ autoplay="no"]