As we previously reported, Apple is nearly finished with its new Union Square outlet in San Francisco. The new Apple Store will come with design features that can be found in other Apple Stores, as well with as a couple of unique traits.
Apple's Union Square Store has a plaza with public seating and Wi-Fi, along with a fountain sculpture by Ruth Asawa, which was preserved during the construction phase. There is also a new sculpture, commissioned by the nearby Hyatt hotel, created by local artist Laura Kimpton.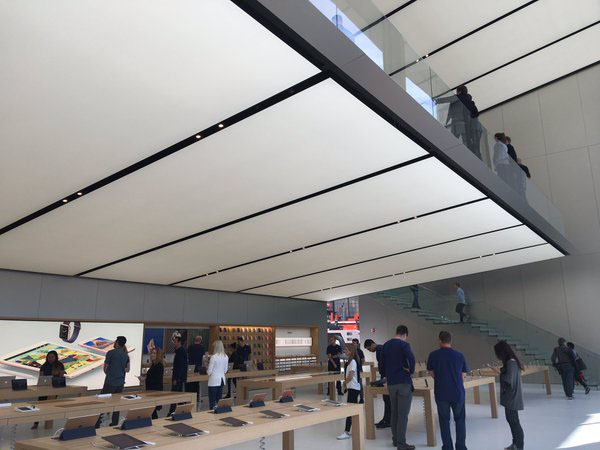 Apple is saying that one of the centerpieces inside the Union Square store will be the "Forum". This is a 6K-resolution video wall with seating in front of it. It will feature programs for children, teachers, and developers, as well as sessions on art and gaming. These events are also planned to take place outdoors, on days with better weather.
The "Genius Grove" is the section where repairs and troubleshooting will happen. Apple's Creative Pros will offer their experience in solving problems with applications that are considered to be the Pro-level.
Lastly, the "Boardroom" will be hidden away from the public. This is where the store's staff can offer help to business customers and developers.
It is also important to highlight that the Union Square store will be powered by renewable energy. This includes panels on the roof. The company is also helping the Ruth Asawa School of Arts build a visuals arts lab with 45 workstations using Apple products.
This Apple Store has been officially opened yesterday, following the Friday closure of its predecessor on Stockton Street.