With macOS Sierra being finally released and available to anyone who uses Mac OS X and has a six-year-old Mac at least, it's time to take a closer look at this operating system's features. We already brought you a guide on everything you need to know about macOS Sierra and to help you get started with new features. Still, a lot could be said about this newest macOS update, especially about Siri and her capabilities.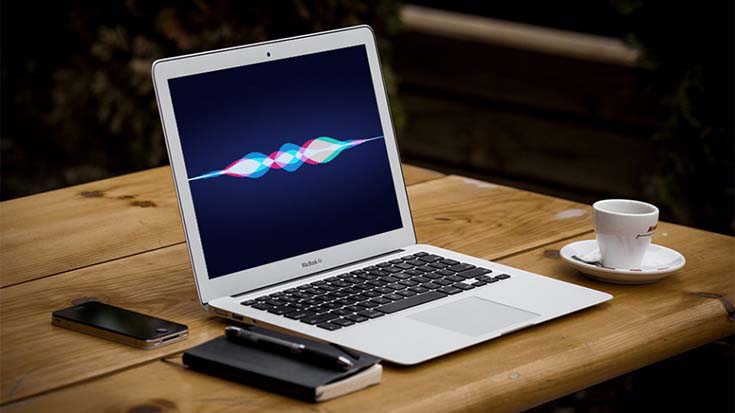 For the first time, Apple's digital assistant is able of answering your questions and help you do more without having to launch apps and software, even on your Mac at home. Longtime users will feel right at home since Siri offers pretty much the same functionality on both platforms. However, this digital assistant has been optimized for computers as well, which is why it's wise to learn a few tricks. Here's everything you need to know about Siri on macOS, as well as some additional tips and tricks.
Checking the Weather: It was always easy to check the weather on macOS using Dashboard widgets, Spotlight, or by using quick-access apps that could be launched from the system menu. Still, Siri can now check the weather too.
What is interesting is that Siri can respond to a variety of weather-related questions. This ranges from "What's the weather forecast for today?" up to checking up the 7-day weather forecast, or asking Siri if it will rain this evening.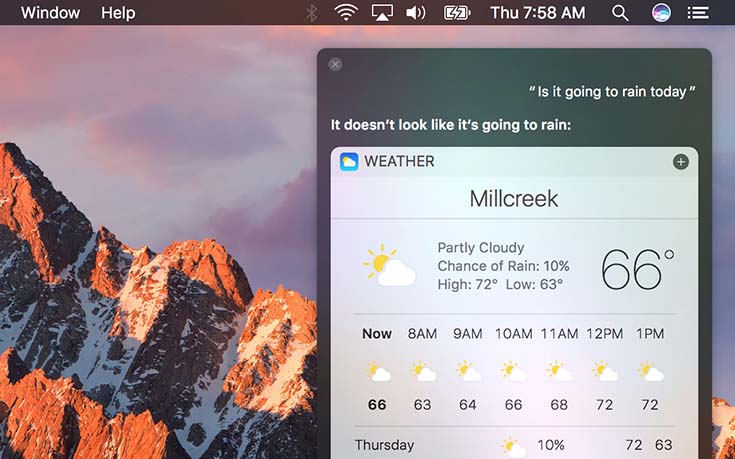 Just like with other widgets, you can easily check the "plus" sign in the top right corner of the information Siri provides, and you should see that exact widget (updated in real time) in your Notifications panel.
Do Not Disturb: Most of us lead hectic lives, which includes countless emails, calls, and messages. This is why you can enable the Do not disturb mode and forget about being stressed from calls and messages.
Even though there are quick shortcuts that allow you to enable/disable Do Not Disturb mode, you can now ask Siri to help you with this. Just tell Siri to "turn on/off" Do Not Disturb and she will do that action. You will see a widget appear in the Siri window confirming your request, and you can issue another voice command or use your mouse to override the change if necessary.
Mute Your Speakers: Just like before, you can still mute your speakers by using a shortcut found in the system menu, but Siri now offers the same functionality.
You need to tell Siri to mute the volume, and she will instantly turn off any audio output on your computer. This could be combined with the hands-free "Hey Siri" command, which means that you can mute your music from across the room, which can come in handy.
Learn New Things: Differently from Google Now, Siri isn't as effective when it comes to complex questions and digging up information on the Web. Still, this digital assistant can answer straightforward questions.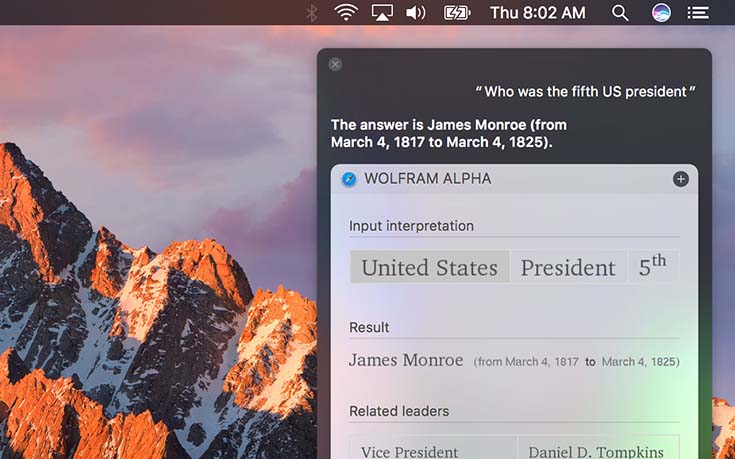 If you're wondering then the original Star Movie was released, or if who was the fifth U.S. president, Siri can help you with that. Luckily, Siri makes use of Wolfram Alpha, so there is a lot of knowledge and information at your fingertips.
Spell a word: Siri can also help you with your spelling, which means that there's no excuse for those spelling errors in your emails and messages. Just ask Siri "How do you spell X?" and you will get to see the result in addition to other helpful information. In addition, she will read the spelling back to you letter by letter, which is handy if you're writing something and don't want to cycle between multiple open windows.
Enable/Disable Wi-Fi: Just like we told you earlier about how you can enable/disable Do Not Disturb mode, or mute your audio output, you can also use Siri to manage your Wi-Fi. Whether you're trying to conserve battery life or ensure your privacy, simply ask Siri to perform this action.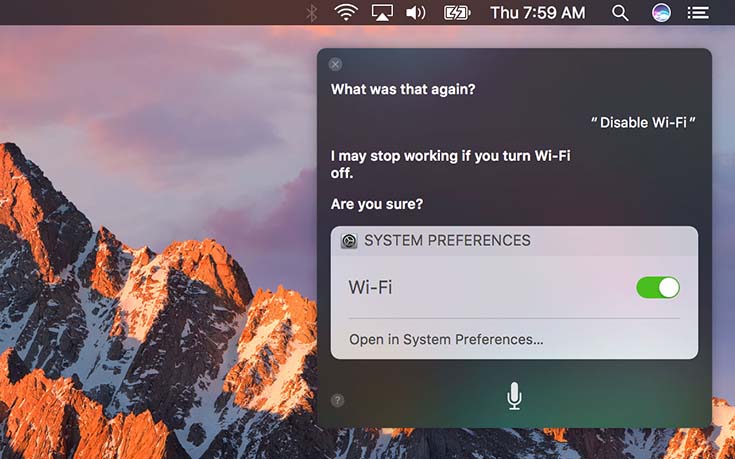 What you also need to know is that disabling Wi-Fi can affect Siri, since this is a cloud-based service after all. What this means is that disabled Wi-Fi will limit Siri's effectiveness for some queries. This usually refers to Web-based questions, since Siri will be still able to search your computer for files, set up alarms, or anything else that doesn't need an Internet connection.
Set Up Reminders: As you probably know, macOS Sierra comes with a built-in app called Reminders. As its name implies, this is where you can save your reminders and set up alarm system so you don't forget something important. Still, asking Siri to set up a reminder seems like a much easier and more convenient way.
You need to ask Siri to remind you about something at a given time or under a certain condition. For example, you can say "Remind me to call Steven at 9 pm" or "Remind me to call mom at noon". In addition, your reminders will be synced via iCloud to your iOS devices, so you can be sure that you won't forget something important. Furthermore, you can use Siri to set up a location-based reminder, like "Remind me to pick up milk after I leave my home", and you will be reminded to pick up milk since this reminder will be synced to your iPhone. As you can see, it is finally easy to set up reminders and stay on top of things you need to do.
Check Sports Scores and Stats: Many of us are using Google when it comes to discovering scores and stats, as well as for pretty much anything else. Now you can use Siri for the latest score.
Just like with many other actions, you can ask Siri to check for scores using questions like "Who won the Bills game last night?", or "Show me X's current stats".
Turn Bluetooth On/Off: Even though the latest Mac models come with the latest Bluetooth update that is highly energy-efficient, it is still a good idea to turn off this feature if you want to preserve battery life. This can be also especially handy if you use a separate Bluetooth keyboard and mouse.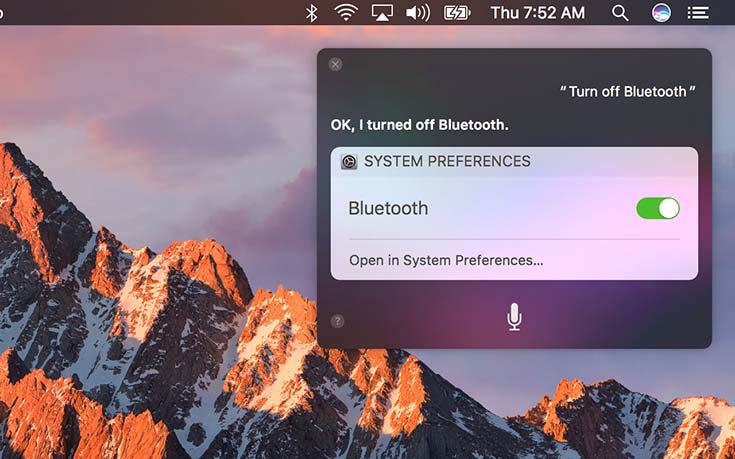 You can always enable/disable Bluetooth using the system menu bar, but now you also use Siri. Simply instruct her to turn off Bluetooth, and you should see a confirmation panel. Just like with other system options, you can use this panel to turn the Bluetooth on if you've made a mistake.
Find files on Your Computer: Some of us like to keep files and folders tidy, making it easy to find what you're looking for. However, more often it's a case of complete chaos, making it very hard to dig up a file when needed.
Now Siri can help you with that. You can ask her to perform common Finder searches, as well as showing you files that you worked on yesterday, files containing a certain Spotlight-compatible criterion, or files matching certain tags. You can also try with "Find me documents I've worked on this week/this month or over the last two days". Since you will receive a rather large list of files, you can ask specifically for files that were created in Numbers, Keynote, or Pages.
If you're not using tags to keep your system organized, you are making a big mistake. Tags can help you organize your files by project, without having to keep them in separate folders. If you are interested in learning more about this feature, here is Apple's guide on tags.
Check Your Computer's Free Space: In case you have one of the newest MacBooks with SSDs, you are probably having a hard time finding space for all your files.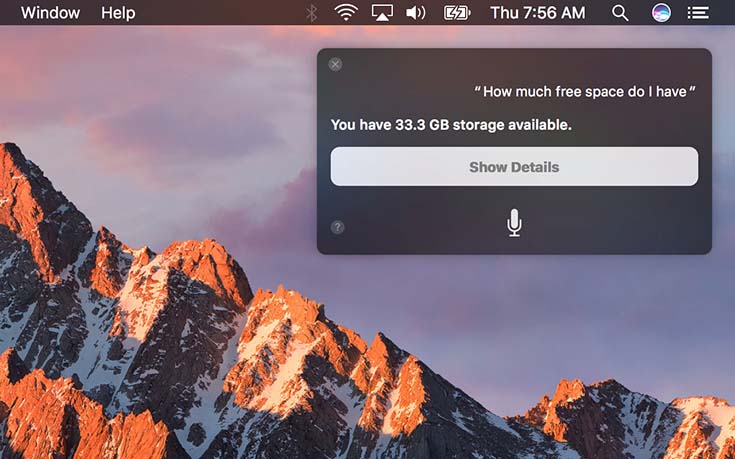 If you don't want to launch a Finder window or turn on detailed desktop icons for your Mac's storage drives, you can just ask Siri "How much free space do I have?". Siri will answer the question with a simple sentence, but you will also see a button with "Show Details" on it. This is how you can get a full report on your Mac's storage, as well as see what groups of files are taking the largest amount of space on your drive.
Search the Web: We all use Google throughout the day to look for information, files, and images. With Siri on your macOS Sierra machine, you can simply ask the digital assistant to do a web search.
Just ask Siri to "Search the Web" for the desired phrase or specific types of files. You will receive the results in Siri's window, but the good news is that you can also drag and drop those results to your computer. This includes URLs and images that you can insert into your documents right away.
Still, there is one issue with this. Since Apple has a deal with Microsoft, these results will come from Bing. Even though Bing is just fine for most of us, there are many users who prefer Google due to its complex and highly accurate algorithms. Sadly, there is no way to set up a new search engine, so you will be stuck with Bing.
Send Messages and Tweets: If you want to send an iMessage to tweet an interesting thought, you can use Siri to help you with that.
When it comes to iMessages and texts, you need to tell Siri to text or message a contact, followed by the content of your message. If you have multiple contacts with the same first name, Siri will ask you to clarify the intended recipient. If you want to avoid this from happening often, you can refer to your contacts by their full names while dictating to Siri.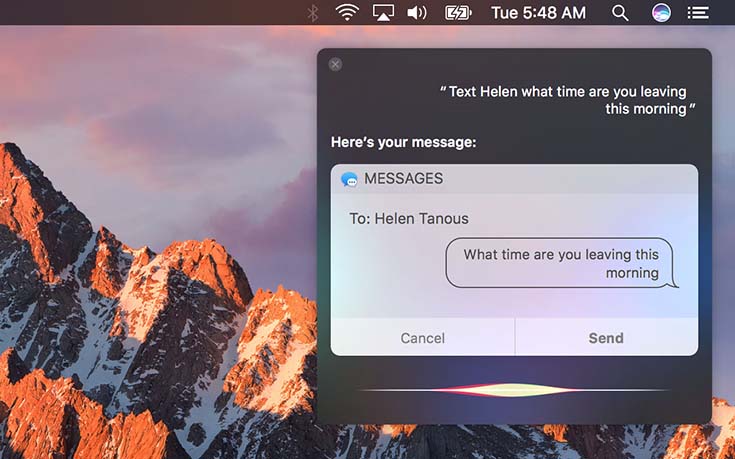 When it comes to Twitter, you will first need to set up your Twitter account. This can be done by opening System Preferences and then be going to Internet Accounts. It is also interesting to note that this can be done with other social networks like Facebook and LinkedIn.
Before sending a message, you will be able to preview it in Siri's window, so you can be sure that Siri wrote it as you said it.
Play Some Music: If you're in the mood for some music, you can ask Siri to play it. She can recognize the metadata of your iTunes music library, which means that she knows artist's names, genres, tracks, albums, and playlists. You can use all of that information to give precise instructions to Siri and play exactly what you want.
Furthermore, you can also access your Apple Music subscription and play tracks or radio stations. For example, you can say "Play this week's top 40 songs" and Siri will come up with the playlist and start playing the music.
Find Specific Emails: Just like with the rest of the files on our computers, we can be very unorganized when it comes to emails and inboxes. Siri can help you with this, by asking her to find emails based on what is in them or who sent them.
For instance, you can say "Find me emails from (person's name)" and it will give you a list of emails that you can preview. You can also ask for specific attachments, which is very helpful.
Pin Siri Results to the Today View: One of the best things about Siri is that you can easily create widgets of something that's important to you. For example, if you always want to know the current weather forecast, you can ask Siri for today's weather and click on the plus sign in Siri's window to pin that information to your Today view in the Notification panel. This goes for a large number of other Siri-related questions, so you can always have up to date information without having to activate Siri all the time.
Customize Siri to Your Liking: We will finish this guide by telling you how you can fine-tune Siri to fit your preferences.
You can find the digital assistant's settings by going to System Preferences and then be choosing "Siri". This is where you can change her language, voice (which includes male and female versions in a number of available accents), input microphone (which can be used if you have an external mic), as well as set up the keyboard shortcut which launches Siri.