Just like every year, we have been hearing a lot of rumors regarding the next generation iPhone. It seems like we will be getting plenty of information as we approach September, even though we already know a lot about the iPhone 7.
In case you've been keeping track of the latest information on the upcoming smartphone, you already know that there's not much hype surrounding it. Even though we expect to see a smaller update in terms of hardware and software, there are still some interesting tidbits that tell us about the future of iPhone.
If you're interested in learning about the iPhone 7, you're one the right place. JustGoodBites has already covered this topic in the past, but this time we are bringing you an overview of the most recent information and the most trustworthy leaks. Continue reading to learn more.
Different Form Factors
According to fresh information, Apple is planning on offering on three new iPhone 7 models in September: the iPhone 7, iPhone 7 Plus, and iPhone 7 Pro.
The images you can see below were posted by nowhereelse.fr, which is one of the most accurate leak sites on the Web. They show all three devices side-by-side, which also addresses some of the earlier rumors. Let's see what this means.
The iPhone 7 Pro seems to be the only model with the dual lens camera system. We previously wrote on this subject, and you can discover more details by following this link. What's new is a Smart Connector, identifiable by the three dots on its lower back. This means that connected peripherals will be able of sharing power and data, just like with the new iPad Pro models. Even though this is not the first time we've seen the Smart Connector on an iPhone, these images are clearly showing that Apple is experimenting with this feature. After all, it wouldn't be surprising to see yet another iPhone with a distinctive set of premium features. The downside to this is that neither the iPhone 7 nor iPhone 7 Plus will receive the new camera system, which we are sure is going to make many iOS users unhappy. The premium top tier model will be likely $100 more at each capacity size based on the current pricing structure.
There is also another reason why this image shows Apple experimentation instead of the company's real plans. The iPhone 7 Pro seems to slightly larger than that massive iPhone 7 Plus. This means that the smaller 4.7-inch iPhone will be further off the pace and that the company is focusing on the iPhone 7 Plus. However, the smaller iPhone still outsells the Plus model, making it unwise to force the larger model as such.
A "New" Design
After seeing a number of leaks, including images and videos, it is safe to say that the iPhone 7 won't bring anything drastically different. It seems like Apple is still unsure about the camera, even though different variations are showing protruding camera lenses.
Steve Hemmerstoffer (also known as OnLeaks) is the leaker who successfully leaked the iPhone 6, iPhone 6s, Galaxy S6 and Galaxy S7 designs prior to release. This makes him a trustful source, so we are paying attention to anything he publishes. He was the one who revealed the first iPhone 7 real world photos. The photo showed what we have been expecting: an iPhone 6S lookalike with redesigned antenna lines and a larger camera. However, the image shows the extent to which the new rear camera protrudes.

The iPhone maker already tried to hide how much the camera protrudes on the existing iPhone models by altering the promotional photos. This means that Apple is somewhat ashamed of this part of the phone, making it even more surprising to see a new camera with larger dimensions that before.
Aside from the camera, it is also expected that Apple's next-generation smartphone will ship without a traditional 3.5mm headphone port. Even though Apple's decision to discard this technology started heated debates, it seems like the company has strongly decided to go with the decision. According to a new research note from Deutsche Bank, Apple's upcoming iPhone will ship with a Lightning to 3.5mm adapter, making the transition more seamless. This would be a smart move by the company, and we hope the new adapter will be slim and light. However, there are a couple of ways to make this transition smooth.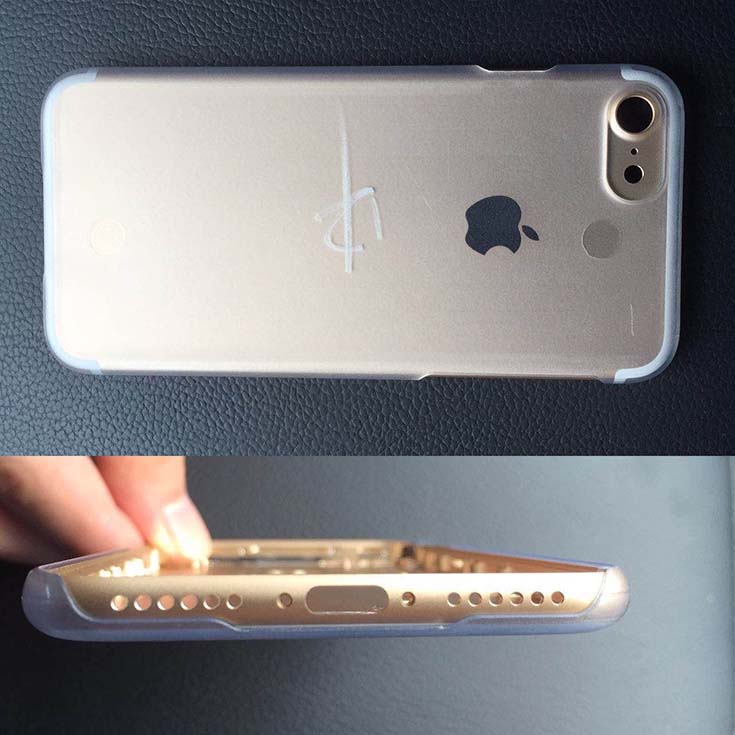 Apple could be making wired EarPods for the new iPhone, and these could be Lightning-only headphones. This could be one of the more elegant solutions, even though this comes with its own set of problems. For example, you won't be able to use those EarPods with your Mac or any other device. This is why we are returning to the Lightning to 3.5mm adapter.
The second solution would make the new EarPods compatible with Macs and other USB-equipped devices. The company could ship a Lightning female-to-female adapter in the iPhone box, essentially the same one it uses for the Apple Pencil. However, this solution sounds messy and overly complicated. The next generation of Macs could come with a female Lightning port and sort this problem out, but this also doesn't look like a plausible option.
It is also important to take a look at why removing the traditional headphone port would be a good idea. The main advantage of the Lightning port over the standard port is power. Today's smartphones have their own headphone power amplifiers, and this is what boosts an audio sound. Using the power from Lightning cables could be a way for headphone manufacturers to build amplifiers right into the headphones. This would boost the quality of audio. However, there are also other, non-audio reasons why this would be a good thing. The iPhone could come thinner, while its screen would become bigger. If you take the end of your headphone's jack and place it over the top of where the headphone jack is on your phone, you will notice that the tip stops just short of where the screen begins. This is what makes the iPhone screen limited as it is.
Dual Lens Camera
As we said earlier in this article, Apple is experimenting with a dual-lens camera system, based on LinX camera technology that Apple acquired last year. Let's see how this system works as well as why people are getting excited over this innovation.
The dual lens system incorporates a wide-angle lens and a telephoto lens. Interestingly enough, a recent Apple patent shows a split-screen viewfinder where users can see the full image in the wide-angle lens and zoom in using the telephoto lens. This means that the camera will be able to capture two photos at once or to use one of the lenses to shoot video and the other to take pictures at the same time. It is also natural to assume that Apple will use LinX's technology, especially since the company acquired it for $20 million.
There are numerous benefits to using this technology. LinX specializes in multi-aperture cameras for mobile devices, which means that these systems can achieve amazing results despite their smaller size. In addition, LinX's mobile cameras are offering SLR-like images in normal lighting conditions and they can capture more details than standard single aperture cameras. It is also interesting to note that this technology is able to calculate "ultra-accurate sub pixel disparities". What this means is that we can expect to see 3D point clouds which could form a 3D model, even though this requires further development.
The iPhone's Screen
This section of the article will be of interest to those of you who are now using an iPhone with a shattered screen. After all, there is nothing more troubling than the feeling of dropping your iPhone, and it seems like Apple is well aware of this fact.
New York-based glassmaker Corning has been responsible for every iPhone generation so far. However, the recently announced Gorilla Glass 5 is promising to bring much-improved features and enhancements. As it was announced, Corning discovered its Gorilla Glass 5 display survived "up to 80 percent of the time when dropped face-down from 1.6 meters". The new generation is four times as resilient as previous designs and it has been designed to more durable when dropped onto rough surfaces. The company notes that Gorilla Glass 5 is expected to show up on commercial products "from leading global brands later this year".

Aside from the upgraded screen protection, it seems like other specs will remain the same. Even though Apple is still using LCD screens, while most other phone manufacturers are switching to OLED displays, is seems that we'll see an iPhone with OLED screen in 2018. The main advantage of OLED is that supports a wider color gamut, which is immediately noticeable by an average user. What is interesting that Apple actually took this advantage away from OLED with the smaller iPad Pro. The device's LCD screen offer a color gamut comparable to OLED. However, no one can say how the company managed to do this.
Longer Battery Life
The iPhone 6s currently boasts a 1715mAh battery, but the iPhone 7 is rumored to come with a 1960mAh battery. In other words, it should provide one extra hour of battery life, even though we also need to take iOS 10 in consideration since Apple is still optimizing it. Once again, this can be tied to the eliminated headphone port, which makes some space for a bigger battery.
Longer lasting battery life is one of the most requested features from the current iPhone generation, which is why we feel that Apple wants to respond to this issue. The company already surprised us last year by rolling out smaller batteries on the 6s and 6s Plus than its predecessors.
Enhanced Home Button
A couple of months back, there were numerous reports that the upcoming iPhone will have a flat Home button that doesn't click when you press it. Since this button can be powered by the Force Touch technology, it could provide haptic feedback. However, this seems like yet another that Apple is experimenting with this technology, which might not be ready for this fall.
It is true that the Touch ID is now much faster than before, which supports this claim. Furthermore, one less physical part could reduce the possibility of hardware failure. The company has shown how capable this technology is by revealing the Force Touch trackpad, so it can be assumed that we'll see something similar on a smartphone as well.
Storage Models
Even though the 16GB base model is the most affordable one, many regretted purchasing this iPhone model. For a number of years now, Apple forced buyers to choose between the base 16GB model and 64GB options, with no 32GB in between. When iOS8 was first released, it made my 16GB iPhone owners to offload some of their apps and media in order to upgrade. Apple addressed this problem by making iOS 9 smaller and lighter, with temporary app deletion.
When it comes to the current generation, one of the best things about it is that you can record high-quality 4K videos. However, this quickly eats a lot of space. This is one of the reasons why many users accepted reality and chose the 64GB model.
This year, we heard numerous rumors that the base model will bring 32GB of storage. This was even confirmed by the Wall Street Journal, which followed a leak from a HIS Technology analyst, who posted pictures on Chinese social media. On the other hand, and as we previously reported, the iPhone Pro line could feature 256GB of internal storage.
Waterproofing
Apple is also planning on making their smartphone waterproof. Due to the missing headphone port, this could be a reality. Without the headphone port, the company could coat the phone with a waterproof coating and battle against all of those third-party rugged cases.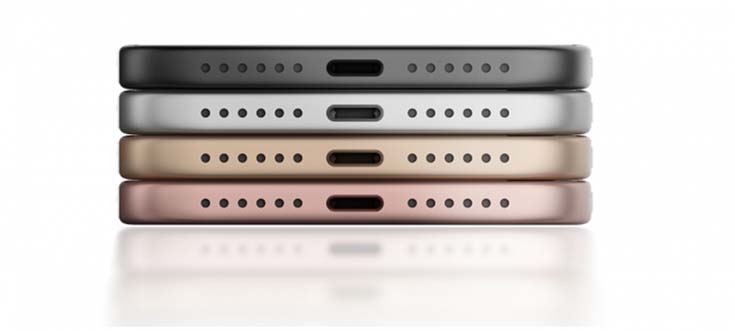 What is interesting to mention is that Apple already made a few steps towards waterproofing with the iPhone 6s. Even though this won't protect your iPhone from water, there were some experiments that showed Apple's interest in this area.
The Real Innovation Comes in 2017?
As you know by now, the iPhone 7 should bring numerous upgrades. However, many of these upgrades won't be as obvious and many would like them to be. In other words, this year's phone will look like an upgraded iPhone 6s. However, there might be a good reason for this.
In 2017, Apple's iPhone will be celebrating its first 10 years, which is an excellent marketing opportunity. However, this means that the company would need to push an upgraded iPhone 7 instead of offering something completely new. Every company needs some hype, and Apple sure won't allow such opportunity to be missed.