The New York Times reports that Apple is disabling its News service in Mainland China. According to the article, Apple has confirmed this action, off the record.
"Apple has disabled its news app in China, according to a person with direct knowledge of the situation, the most recent sign of how difficult it can be for foreign companies to manage the strict rules governing media and online expression there.

Customers who already downloaded the app by registering their phones in the United States can still see content in it when they travel overseas — but they have found that it does not work in China. Those in China who look at the top of the Apple News feed, which would normally display a list of selected articles based on a user's preferred media, instead see an error message: "Can't refresh right now. The news isn't supported in your current region."
It's clear that Apple made significant efforts in bettering relationships with China, which is one of the most promising markets for the company. However, what is troubling is the way Apple is implementing censorship. Those who use the newly released News app in a supported area can use the app while travelling to another country that's not on the supported list. When it comes to China, Apple is disabling the app and the content you might have when you arrive in the country.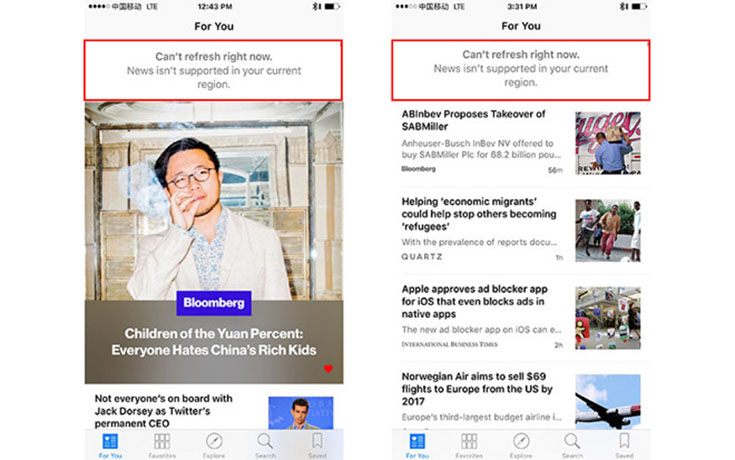 Google is one of the companies that run afoul of the Chinese government in 2010 when it got kicked out of the country. Considering the size of the Chinese market, this company has been trying to re-enter it using a special version of the Play Store, which still hasn't happened yet. This is probably one of the reasons why Apple is trying to maintain a good relationship with this country by implementing this kind of censorship.