Apple has made a lot of progress on its "Apple Campus 2". This building will become the company's new headquarters when completed around the end of the year.
Since there are many who are interested in this magnificent building, there are a couple of YouTube channels that are keeping track of the progress. A video by Matthew Roberts shows the current progress on the roof of the main circular "spaceship" building, but we can also see some new outdoor areas surrounding the entrance of the underground theater. Head below for more pictures.
[vsw id="8onw-9psueE" source="youtube" width="735″ height="367″ autoplay="no"]
As seen in the video, finishing touches are being put on the on-site parking garages that should hold 11,000 vehicles. There are also solar panels now installed across the entire roof of the building.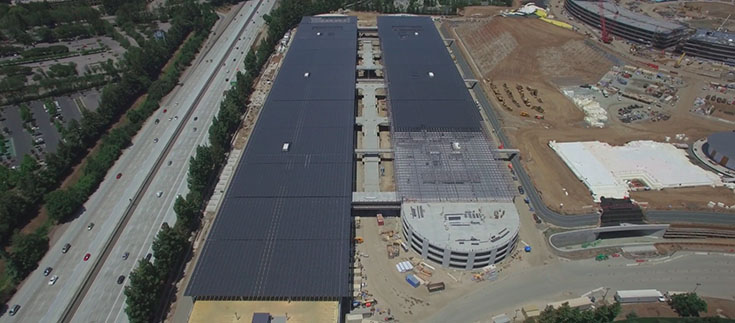 What is interesting to note is that Apple Campus 2 will have a bit differently designed outdoor areas in contrast to what we see in the official images. It appears that a framing plaza or stars will lead towards the circular Theatre entrance.
If Apple sticks to its current timeline, Apple Campus 2 should be finished by the end of this year. This means that employees will begin to move in by early next year. This is when we expect to see Apple hosting its media events in the newly built Theatre.