The newest iOS version (8.4) was released a bit over a week ago, finally bringing Apple's newest effort in streaming music, called Apple Music. This is probably one of the reasons why people rushed to update their iOS devices, and according to the newest analysis, the newest iOS version now accounts for 40 percent of all iOS usage. This is an amazing achievement for a point iOS release.
With so many people using iOS 8.4, there are lot of potential Apple Music users and it seems like everyone rushed to try this new service. Even if you have no plans to pay for this service in the future, you have probably signed up so you can use it for free for the rest of the summer. This seems like a very good marketing decision, since Apple Music is more substantial than other built-in iOS apps, needing more time for users to find about all of its features.
Even if you have been using Apple Music for the last ten days, there are probably a lot of hidden features that you failed to notice. We are bringing you a series of helpful tips and tricks, to help you get the most out of Apple's new streaming service.
Listen to Beats 1 off the air
One of the biggest features of Apple Music is 24-hour live radio station, available for free. There is a lot to like when it comes to this radio station, curated by Zane Lowe, Ebro Darden, and Julie Adenuga. However, if you would like to listen to a specific show, you need to be tuned in at the right time. Since this is not an option for many of us, there is a way to listen to those great shows off the air.
All you need to do is use Connect to follow Beat 1's curators, or a specific artist's show. Within hours of airing, you will be able to stream shows. You can also search for Beats 1 in the search bar where you can find playlists from Darden, Adenuga, and Lowe.
Improve recommendations given by Apple Music
Upon the initial launch, you are able to tell Apple Music what kind of music you like (and dislike), so the app can use that information to create playlists that you are going to love. However, you can continue helping this app by using the heart button on songs and playlists you like.
In case you actually don't like something that was recommended in For You, you can long press and more options will show up. This is where you can choose "Recommend Less Like This". You should start seeing results immediately.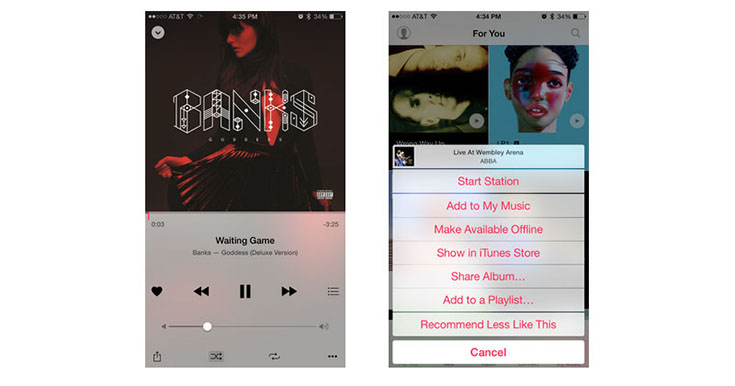 Find playlists that suit your style
There are numerous ways to find great music when it comes to Apple Music. You can use the "For You" and "New" tab, where you can see playlists created by curators. However, if you don't find anything you like, you can simply type the word "curator" or "playlist" in the search field and you'll see a quite lengthy list of what is available. You can also filter by genre, which is a great way narrow down the results.
Take a look at your history
There are several reasons why someone should look into their Apple Music history. For example, this is a great way to find a song that you heared but can't remember its name.
You can find your history in the "Up Next" menu. Tap one the icon in the Now Playing view and scroll down until you see your complete history.
Listening to Apple Music in loud spaces?
In case you like to block out the world and enjoy in your favorite tunes, you can set up Apple Music for easier listening in loud spaces, like airplanes. You can find the Late Night equalizer if you go to Settings – Music – Playback – EQ. According to Apple, this equalizer will tone down loud sounds so they won't be so loud and pump up the sound on quiet parts.
Download music for offline listening
When you sign up for Apple Music, you will have millions of tracks that you can easily find and play. However, sometimes you won't be connected to the Internet, making this service completely unusable.
In order to download songs for offline listening, tap on the "Make Available Offline" which can be found while listening to a specific track, but you can also download entire playlists.
The next time you lose a connection to the Internet, make sure the "Show Music Available Offline" toggle is switched to green. This can be found by tapping on the Artists – Albums – Songs menu.
[ad name="Google rechthoek"] 
Listen over cellular
You need an Internet connection to use Apple Music, no matter what kind of connection that is. Sometimes you will want to switch to cellular by going to Settings – iTunes & App Store, and this is where you can find the switch for Use Cellular Data.
What's interesting is that you can allow the Music app to use cellular data while going to Settings – Cellular, which will keep track of how much data the Music app has consumed since the iOS 8.4 update.
Tired of Apple Music?
Sure, you have three months to decide if you like Apple Music and if you would like to continue using it. In case you decide to stick to some other streaming service, you won't be stuck with the Apple Music app, and you can actually revert it back to the previous Music app.
If you go to Settings – Music, you can deactivate the Show Apple Music switch, which will remove the recommendations and on-demand streaming features. This will deactivate certain parts of this streaming service, meaning that you'll still be able to listen to your locally-stored music in addition to radio stations. Also, the Connect option will be left there as well.