While everyone agrees that iPads and iPhones are great entertainment devices, there are some who believe that you cannot do serious work on them. And while this was partially true in the early days of the App Store due to the limitations of iOS, today this statement cannot be further from the truth. Whether you're a business person, a writer, a student, or just about anyone, iOS apps can provide you with the tools you need to get your job done. In this roundup, we'll take a look at five powerful editors that will enable you to create beautiful and professional documents without the need for a desktop computer.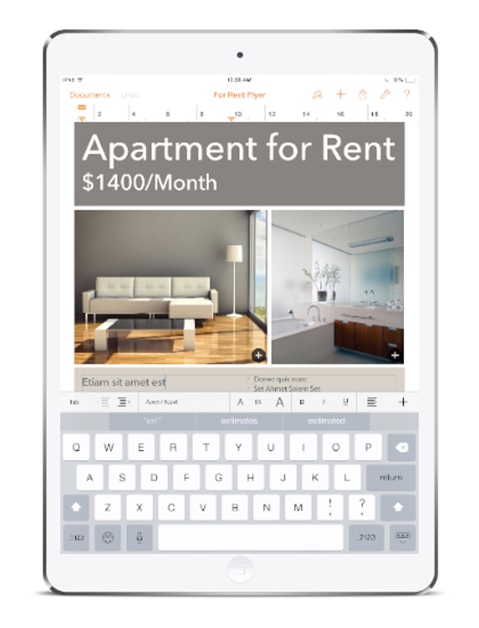 Pages
Part of Apple's iWork productivity suite, Pages lets you lay out and design beautiful documents. When you first start using the app, you can easily mistake it for a plain text editor since there are no toolbars cluttering the screen. But when you select some text, a table or some other object and press the action buttons on the top row, you'll be given context-specific options that allow a fair amount of customization. Another great strength of Pages for iOS is the ability to track changes and share documents via iCloud that can be edited in a browser without having to log in or register with the service. When it comes to price, things are a little complicated. If you have an iPhone 5S or an iPad Air and up, you can get all iWork and iLife apps for free. If you're using an older device, you'll have to pay $9.99.
You can get Pages on the App Store –
Link (https://itunes.apple.com/us/app/pages/id361309726?mt=8)
Microsoft Word
The gold standard of text processors on the desktop, Word for iOS doesn't disappoint when it comes to features. You can lay out documents, insert tables and other objects, track changes and collaborate with people on a document in real time. If you like the ribbon-style interface of Word on the desktop, you'll surely love the interface of Word for iOS. It's very similarly laid out, so things will feel instantly familiar even if you're opening the Word app for the first time. Document storage can be local to your iOS device, or you can employ OneDrive, Dropbox or a SharePoint server and save your documents in the cloud. When it comes to price, there are three tiers: once you have Word installed on your iPhone or iPad, you can view Word documents straight away with no issues. For basic editing, you need to log in with your Microsoft Account. For advanced editing, an Office 365 subscription is required. Advanced editing includes things like inserting page breaks, creating multi-column page layouts, page-specific headers and footers, changing the page orientation, using WordArt and a few more.
You can get Word on the App Store –
Link (https://itunes.apple.com/us/app/microsoft-word/id586447913?mt=8)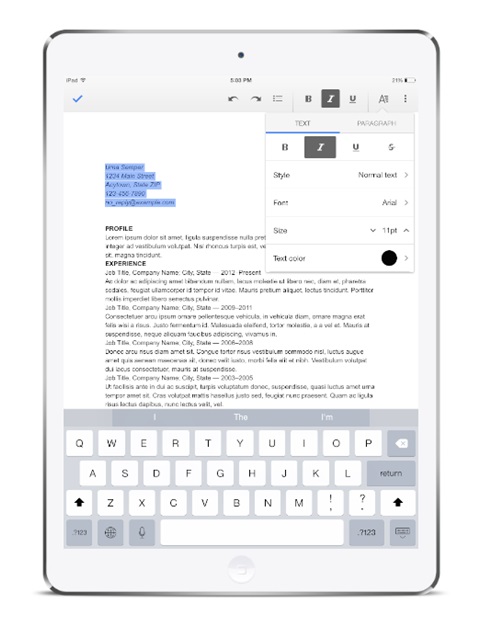 Google Docs
While Google Docs has everything an average person needs to get their job done, it is by no means full of features like the Pages and Word apps. Quite the contrary – Docs is barely more than a plain text editor, with just a handful of text formatting options. There are no layout options and fancy multimedia capabilities. On the bright side, the app is completely free and stores your documents offline as well as on Google's servers, so you can write while disconnected from the internet. Another notable feature that's missing in most document editors is the ability to protect the app with a passcode or TouchID. And as you might expect, Google Docs is all about sharing and collaborating on documents with the ability to leave comments, track changes and have multiple people editing the same document in real time.
You can get Google Docs for Free on the App Store –
Link (https://itunes.apple.com/us/app/google-docs/id842842640?mt=8)