On a first look you might not notice the difference between iOS8 and iOS9, since everything is pretty much the same visually. However, the newest iOS version brought a large number of changes, where some of them are "under the hood" – designed to keep your device secure and well performing, while other changes are visible and they can be found across Apple's built-in apps. This article will show you a few interesting changes, and you will learn a couple of new features so you can get more from your iOS9 device.
Redesigned Search in iOS9
If you swipe right from your Home screen, you will see the new search screen. This is due to Siri's new search capabilities, since this digital assistant has gotten smarter. Siri will now pick up your preferences, so can always use the search screen to open some of the most used apps and read articles might be interesting and correspond to your preferences. This is based on your previous activities, so you can see apps, contacts, and news stories.
In addition, you can use natural language input to phrase questions as you normally would. For example, you can say or write: "Video recorded yesterday" and you will see the result.
The newest iOS version also enables deep linking. This feature allows app developers to integrate search into their apps to create 'deep links'. For example, if you type "Chocolate Cake" you might get a recipe from a third party app. However, this can be achieved only if developers enable this functionality.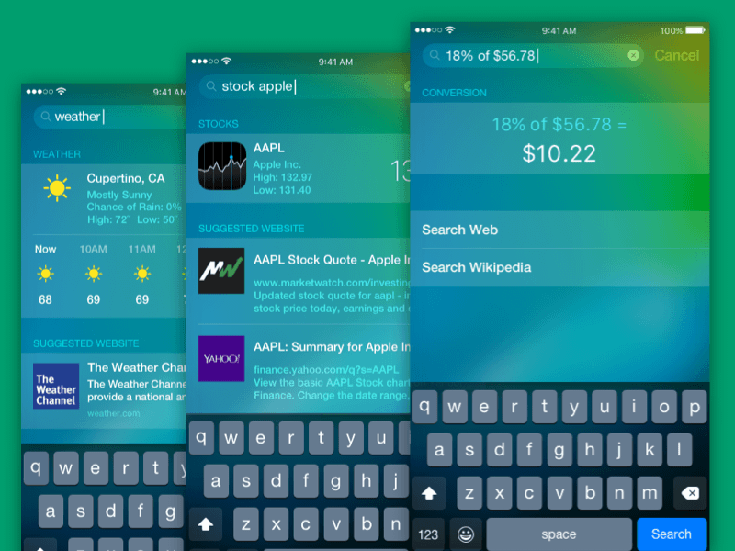 Launch Siri Hands-Free
In case you plan on getting the newest iPhone generation, you will be able to call for Siri simply by saying "Hey Siri", and the digital assistant will respond. This is something that was already available and can be still used with older iOS devices, but only while your device was plugged in and charging.
To enable this feature, go to Settings > General > Siri, and toggle Hey Siri on. You will be ready to go after going a few voice recognition lessons.
Split View
Apple's iOS9 includes a couple of new iPad-only features, where one of them is called Split View multitasking. This option allows you to open two apps in a split screen view. This way you can use two apps simultaneously. This is the first time we get to see true multitasking on the iPad.
Apps need to support this option, so currently you can only use it with built-in apps such as Mail, Safari, and Notes. Third party apps need to be upgraded, and I am sure we will see this feature on many of them.
To enter the Split View, you need to swipe from the left edge of the screen. Swipe downwards from the top on the right hand side to reveal a list of available apps. Now pick an app and it will automatically open. To resize any of these apps, simply move the dividing bar.
Note that Split View works only on the iPad Air 2, iPad Pro, and iPad mini 4.
Picture-in-Picture
In addition to having the built-in apps actively running at the same time, you can now also have a small window running on top of whatever else you are doing. Some apps already support this feature, which can be activated by tapping on the picture-in-picture icon. This will create a small, second screen that can be moved and resized.
Note that picture-in-picture is limited to the latest iPads.
Make the Battery Last Longer
Apple has finally added an option that will prolong your phone's battery in critical situations. This is something that users have been asking for a long time.
If you go to Settings > Battery, you will see a toggle option named Low Power Mode. This will preserve the battery, but comes at a cost. Background app updates will be shut down, as well as animations and syncing.
Easier Selection of Text
In case you are using a text editor on your iPhone or iPad, you are aware how tiresome and even nerve wrecking is to select a piece of text. With iOS9, this changed completely.
Tap and hold with two fingers across the keyboard, which will erase all of the characters from the keys. Now you can swipe to move the cursor and easily select the text you want. This way the on-screen keyboard transforms into a giant trackpad, and I believe this works incredibly well. This is something that will save you a lot of time if you are into productivity apps.
Boost Your Security
The newest iOS version comes with some handy security features, which are making it even more difficult for someone to access your phone.
If you go to Settings > Touch ID & Passcode > Change Passcode, you can create a six-digit passcode to replace your four-digit passcode. In addition, Apple now supports two-factor authentication, which means that possession of your password will not be enough to gain access to your phone. This process requires having a verification code that can be used to verify a trusted device. This can be activated by going to Settings > iCloud > Account > Security.
A Flipboard Fan?
If you are a news junkie and use Flipboard on a daily basis, you'll be happy to know that Apple has come up with their own solution. A new News app is an aggregation service that allows you choose the topics and publications you are interested in.
If you continue using News on a regular basis, Siri will try to learn your preferences, so it should improve over time. You can help Siri by liking a story or double-tapping if you don't like it. There is also an option to save a story for later by bookmarking it.
As we said in the first paragraph, iOS9 is much deeper than it might seem. Even though we tried to give you a couple of useful tips, we are sure you will find some other interesting features that might save some time. Let us know if you find anything, and we'll add new tips to this article.