Ever since the iPhone 4 came out, Apple's smartphone became known for its camera. The current iPhone generation brings one of the best optics among flagship phones, with the 12MP camera that is also able of recording 4K videos. However, another important aspect is the iOS App Store and its selection of photo editing apps.
If you take a look at the App Store, you will see that it offers hundreds of high-quality apps capable of desktop-grade operations. I believe you already know that editing your iPhone-captured shots can dramatically improve their visual quality, and many of you already have your app-of-choice when it comes to preparing the photos for social networks.
In this article, we will try to present you with several high-quality photo editing apps that you should really have installed on your phone if you're serious about photo editing. We talked to several iPhone photographers, and this is what they have to say about which apps you should pay attention to.
Snapseed
This is one of the oldest as well as one of the best-known photo-editing apps, that was acquired by Google some time ago. During this time, Snapseed managed to stay relevant and competitive thanks to its ever-growing list of tools and an amazingly designed user interface.
First, this app won't disappoint you when it comes to basic photo processing techniques, including brightness, exposure, and color adjustments, as well as cropping, straightening, and more. Additionally, the app features several brush-based tools such as a healing tool for removing unwanted objects.
We also shouldn't forget to mention a selection of nicely designed filters, where you can fine-tune their appearance. You will be able to choose from vintage, noir, retrolux, drama, HDR scape, and many more filters and effects.
The newest update brings automatic face detection and blur placement.
You can download Snapseed for FREE from the iOS App Store.
VSCO
This is yet another well-known app that every iPhone photographer should use.
In contrast to Snapseed, VSCO brings advanced camera controls that you can use while taking a photo. This could produce some very strange and intriguing effects when combined with the app's selection of filters.
In general, we would recommend VSCO to those who appreciate classic and modern analog films, since much of the effects are designed to emulate those effects. As you can expect, these filters feature a soft, somewhat faded look that feels retro, but is very popular at the moment.
The good thing is that you can adjust each filter to your taste, in addition to numerous effective basic adjustment tools.
You can download VSCO for FREE from the App Store, which comes with a basic collection of filters. However, additional filters can be downloaded and/or purchased.
Enlight
If you're serious about upgrading your photo editing skills, then Enlight is what you need to download.
This is one of the most comprehensive photo editing apps, which also means that it requires some time to fully understand and learn its numerous tricks. I actually like to compare it to Photoshop, which is an amazing tool that fully depends on your creativity.
As expected, Enlight brings a series of basic photo adjustments, which are normally very precise. You can take advantage of selective controls overtone, color, and details. There are also numerous preloaded effects, amazingly designed. The app can be also used to add text and turn your images into memes.
What is unique about Enlight are its power tools. Using these, you can blot, shrink, and reshape objects, apply different kinds of tilt-shift effects, adjust tonality using multi-channel curves, and more.
Every app that comes with this amount of tools needs to be studied. This is why we recommend having a basic set of photo editing skills before diving into Enlight. On the other hand, the app does bring a quick visual animation of each tool, showing you what can be done.
This photo editor can be purchased and downloaded from the iOS App Store for $3.99.
Mextures
Even though playing around with preloaded effects can be very fun, you will probably want something more after a while. If you're tired of using preloaded filters and effects, our recommendation is to check out Mextures.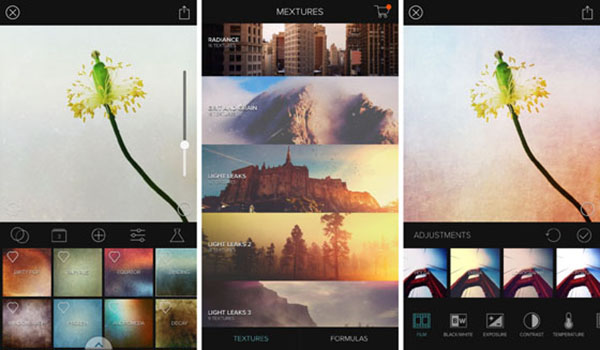 This app brings a series of textures, grains, and light leaks, but the thing is that they are fully adjustable and can be easily combined. This is a way to create your own filters, so you can explore and find your own identity in terms of photography. There are over 150 original textures that you can combine and infinite layers for blending effects.
There are two things that we really like when it comes to Mextures, aside from the original textures. The layering system is one of the best, where you can go back and delete something you've done 30 steps ago. You can go step by step and play with different adjustments until you're happy with the filter. In addition, there's a "Formula Manager" which lets you save your edits, but also share them with others.
Mextures is priced at $1.99 and brings a lot of preloaded content. However, there are a couple of in-app purchases in case you want even more.
SKRWT
Finally, we would like to point you towards an app that resolved a particular issue with the iPhone's camera.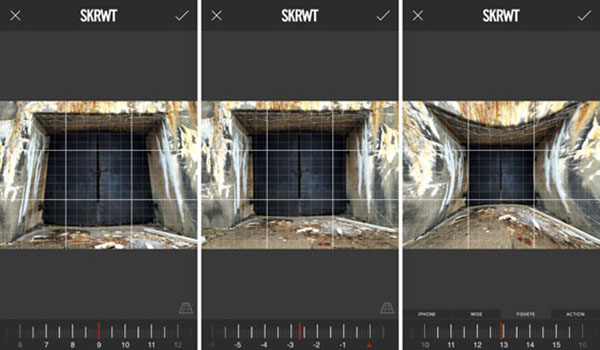 You are probably already aware that having a fixed wide-angle lens results in distorted images. This can be seen with images that feature strong lines where you can notice the curving.
SCRWT is designed to correct these distortions and produce an
that0 4shows how the scene looks to your naked eye. In addition, there is a range of basic adjustment which works really well in addition to several advanced tools like mirroring, optical vignette correction, and more.
SKRWT can be downloaded for $1.99 from the iOS App Store.
No matter if you're brand new to photography and want to explore different photo editing apps, or if you're a professional photographer, your smartphone can help you achieve great results without sacrificing too much of your time.
The key is to pick one or two apps and learn to use them to their full potential.
77